Guide to buying a property in Portugal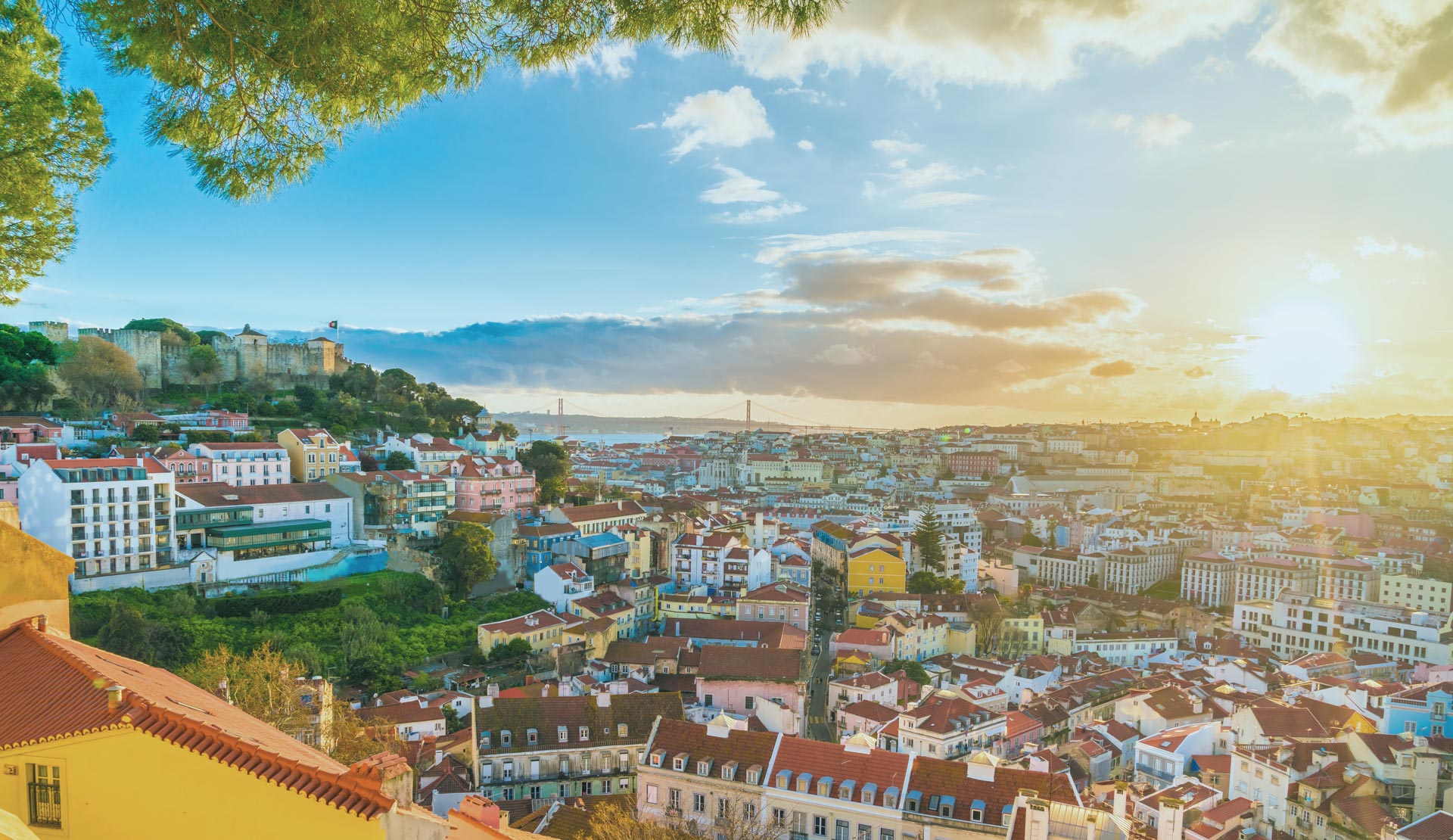 It's no surprise that holidaymakers in Portugal often find themselves browsing ‌local real estate listings out of curiosity. With its all-U-can sun, sea and sardines lifestyle, the Iberian peninsula country is perfect for a permanent move. Around 6% of the Portuguese population is foreign-born and almost 50,000 British citizens, and half as many Italians and French, have already found their coastal villa, country farmhouse, or city-centre apartment. If you're looking to own a home, here's what to know about buying a property in Portugal.
Before you buy…
Watch out for hidden bank fees and fluctuating exchange rates when you're ready to exchange currency for a deposit on a Portuguese property. The solution? With great rates and minimal fees, CurrencyFair's safe, reliable service saves you money, leaving you with more cash to spend on your ideal home in Portugal.
Why buy in Portugal?
It can be warm when everywhere else is freezing, and still affordable when the cost of living is biting further north. In fact, Portugal is one of the cheapest places to live in Europe, without any compromise on the quality of food & drink (fantastic), healthcare (ranked 12th globally), or public transport (in the cities at least). On cost of living, Portugal is ranked 36% lower than the United States and 31% lower than the UK. Exceptions apply, but a single person can live comfortably on €1,500 a month, although average monthly salaries are lower, at around €1,300/month after taxes.
Apply for a Golden Visa
Portuguese seafarers may have explored the world in the Golden Age, but it's the Golden Visa that put Portugal on the global citizens map in 2012. The investment by residency visa means that any foreigner who spends €500,000 or more on Portuguese property is entitled to residency, with a path to full residency and citizenship after five years.
That may seem like a big leap to make, but for those looking to move long-term, Portugal has some lively expat communities and English is reasonably widely spoken.
How do Portuguese property prices compare?
Median property prices nationally stand at €1,449 euros (or USD $1,570) per square metre, but that benchmark can paint a misleading picture. If you're moving from the United States, United Kingdom or Far East, Portuguese property prices will be significantly lower than what you're accustomed to. According to Numbeo, prices are five times higher in Hong Kong, three times higher in London or New York, and roughly on a par (for Lisbon at least) with Adelaide, Australia, or Miami, USA.
However, Portugal has its pricy areas too, and they tend to be the most popular destinations for foreign buyers:
Lisbon: €1,929 or $2,091 per square metre

Algarve: €2,009 or $2,178 per square metre

Madeira: €1,463 or $1,568 per square metre

Source: Global Property Guide
The other factor to consider is that prices are on a steady upward curve, having risen 13% in 2022 alone. Compared to the last property peak in 2010, house prices in Lisbon are now 73% higher, and 70% higher on The Algarve. The notably high level of home ownership in Portugal, which reached an all-time high of 78% in 2021, along with large numbers of second home owners from overseas, squeezes the market further.
How to buy property in Portugal
There are no restrictions on foreign ownership of property in Portugal and the process is no more complex for overseas nationals than in Italy, the United Kingdom, or Greece, for example. You should, however, hire a local notary to act as the intermediary between buyer and seller, and a local solicitor to handle (and translate) your paperwork.
The home-buying process for foreigners
Before you start, you'll need a Portuguese Tax Number (NIF), which you get when you open a Portuguese bank account or can obtain from the tax office.
Search through the usual channels - online listings, local realtors, or through word of mouth. Bear in mind that Portuguese listings for a casa (home), condominio (apartment) or quinta (rustic farmhouse) use the French-style T1, T2 etc format to indicate the number of bedrooms (so a T0 is a studio).
Once you've found a property in your price range, engage a local, registered real estate agent (immobiliara).
It's customary to make a downpayment of around €6,000 once you've agreed on a price with the seller, and you'll usually need to make a deposit of at least 20% as a foreigner, possibly more, depending on your residency status.
Once the sale is agreed, buyer and seller sign a binding contract or Contrato-Promessa de Compra e Vende (CPCV).
Taxes for buyers
Before completion, you'll also need to pay a one-time transfer tax (IMT) which is around 2 to 8% of purchase price, although it is not levied on properties below €92,407 euros, if you can find any.
You also have to pay an annual municipal property tax (IMI) which varies by region and is typically less than 1%, and stamp duty (IS), which is also below 1%.
Obtaining a mortgage
As a resident, you may find local lenders who will offer mortgages, typically on a 25-year term, at attractive rates steered by the European Central Bank, with the caveat that these rates could change at any moment.
To apply for a mortgage, you'll need ID, proof of residency, bank statements, and proof of deposit, among other documents, and will have to pay a non-refundable commitment fee (around €600) to secure your mortgage offer.
Where are the best places to buy in Portugal?
For all its charms, Portugal is sadly no longer a hot tip in the "next big thing" real estate category. Second home buyers have settled and overseas investors have swooped. As a result, your dollar, pound or euro won't go as far, but there are still plenty of opportunities to upgrade from your home-country property.
Where to buy
Lisbon is one of the most affordable and culturally rich (three UNESCO World Heritage sites) European capitals. Its growing popularity with tech companies and digital nomads has given it some new energy to go with the Old World history. Overall, property prices in Lisbon are now on a par with Madrid or Barcelona, but still lower than Paris, London or Dublin. If Lisbon is out of your budget, look to outer towns and districts such as Cascais up the coast, Benfica (home of the football team) or Estoril (venue for the Grand Prix).
Porto, in the northwest of the country, is Portugal's second city and is famous for its port production and culture, although it's also gaining a reputation as something of a start-up hub too. It's cheaper and more laid back than Lisbon, spanning trendy town houses to luxury villas in the more affluent neighbourhoods.
With more than 300 days of sunshine a year, The Algarve is popular with tourists during the sweltering summers and retirees. This Gold Coast strip along Portugal's southern tip can be badly overdeveloped in some places (Faro, Lagos, Aljezur) but still has some undiscovered gems to be found.
Important update!
Since 2022, the Golden Visa no longer applies to property purchases in Lisbon, Algarve or Porto and you'll have to buy in an area designated as "low-density" instead.
That leaves Braga in the north, often described as Portugal's religious capital, which is around four times cheaper than Lisbon and the islands of Madeira, which are closer to Africa than Europe, but are still familiar to holidaymakers and (more recently) foreign property investors.
Arguably the real bargains are inland around the central municipality of Castelo Branco, where you can find an off-grid quinta under €100k or a renovation project for under €50k.
Ready to make a move?
Don't let hidden bank fees and fluctuating exchange rates put the brakes on your Portuguese property purchase. With great rates and minimal fees, CurrencyFair's safe, reliable service saves you money, leaving you with more cash to secure your ideal home in Portugal with a winning bid.
This information is correct as of April 2023. This information is not to be relied on in making a decision with regard to an investment. We strongly recommend that you obtain independent financial advice before making any form of investment or significant financial transaction. This article is purely for general information purposes. Photo credit: Gettyimages