How Hentsu expanded internationally with CurrencyFair Business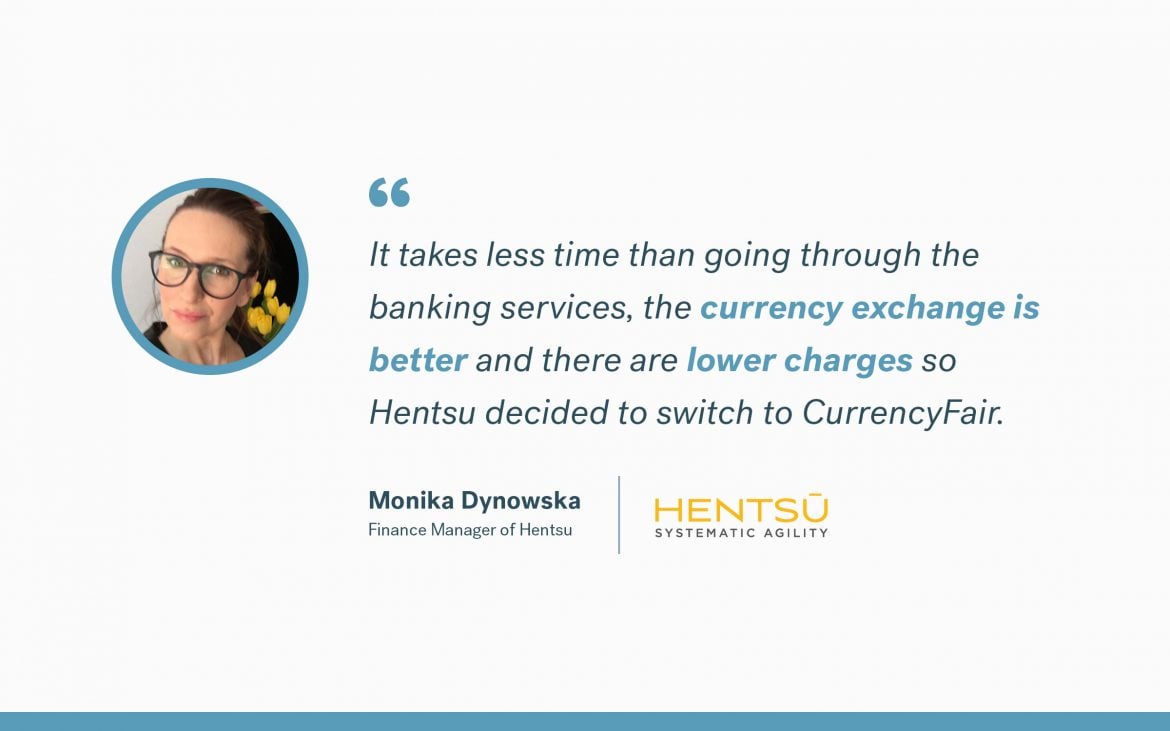 CurrencyFair caught up with Monika Dynowska, Finance Manager of Hentsu, to discuss the company's international expansion, and outlines how she uses CurrencyFair's multi-user access feature to seamlessly lead a global team during the pandemic.

Hentsu is a global public cloud managed service provider for asset management and hedge fund companies.

Originally located London, New York and Boston, the company expanded by opening offices in Belgrade in 2017, and most recently Bangkok.

After joining the company last year, Monika has been focusing on building out the finance department.


Remote working
When lockdown measures were introduced across much of the world in a bid to curb the spread of Covid-19, many businesses had to quickly adjust overnight. For a global company like Hentsu, however, their finance team was already accustomed to working remotely alongside their overseas colleagues.

"I think because we are a global technology company we didn't struggle. We have been working from home since the lockdown and everyone adjusted well. It's business as usual, we haven't been impacted by the situation," Monika explains.
"We will carry on working from home for the foreseeable future. It's worked for us so far, and our clients are happy as there were no disruptions while we transitioned to working remotely full-time," she adds.

"Businesses have been forced to switch to working from home. I think it is very efficient, I feel more efficient. I can concentrate much more and do more work, sometimes you actually end up working longer hours than you would in the office. Saving on travel means a lot too, especially if you live in London!"


Managing costs while expanding internationally
When Hentsu first expanded into Serbia three years ago, they started with just two employees.

Now, they have a team of 20 engineers and developers working from their new Serbian office, located in the heart of Belgrade.

When it comes to funding the business's new overseas ventures, Hentsu used CurrencyFair to avoid the unfavourable exchange rates offered by the traditional banks.
"Last year we did quite a lot of transfers between the US and the UK, and these days we only use CurrencyFair mainly to transfer money to Belgrade and Thailand as it's more convenient," Monika explains.
"It takes less time than going through the banking services, the currency exchange is better and there are lower charges so Hentsu decided to switch," she says.
"Our Serbian office is expanding rapidly, so the amount of funds we send on a monthly basis is increasing on a monthly basis. Using CurrencyFair is very convenient for us because we avoid higher bank fees with our increasing transfer amounts. With CurrencyFair we do not have that issue, and we get the best currency exchange, so we look forward to using them long-term."

"In general we are very happy and if we expand even more in other countries we will continue to use CurrencyFair. I cannot see any reason why we would switch to anyone else. We have been happy so far, and the access online and instructions are easy to follow," Monika adds.

When it comes to seamlessly managing multi-currency cashflow, efficiency and accuracy are key.
"Within finance, I have many things to deal with as it is. The last thing I want is to spend a lot of time setting something up and worrying that something may have gone wrong, whereas with CurrencyFair setting up a transfer literally takes you less than five minutes which is brilliant!" Monika says.

Managing a global team
To streamline their team's workflow, Hentsu uses CurrencyFair's multi-user access feature. This allows CurrencyFair Business account holders to add up to eight team members to one account - each with their own custom role and a personalised degree of permissions.

Hentsu added several users to their account, all with tailored roles. Monika and two directors of the company have unrestricted access to the account, whereas their remote accountant has more limited access and can only operate certain features; for example, she can view all of the transactions on the account, but she is unable to Transfer Out of the account.

Monika can also set thresholds for how much each user can Transfer Out before requiring two-person approval. This optional layer of additional security allows Monika to approve or decline outgoing payments made by other team members - before the money leaves the account.

"Two-step approval is great because it allows for spot-checking in case there are any mistakes. You always have that second person checking that it's the right amount. It also allows you to check that the right account has been chosen, because we regularly send money to three different countries. It's just great peace of mind to have another set of eyes looking over each transaction before the money goes out," she explains.
Peace of mind
"Another feature which is great is real-time notifications. Every time you send money from your online bank to CurrencyFair, once the money hits your CurrencyFair account you're notified by email, and when you're transferring money abroad you are notified when the transfer leaves the account which is great because you don't have to constantly look and check the status of it. The email confirmation is something you always have, if for example there was a delay you have the confirmation you received at hand, rather than having to log in and look for some reference number. It's nicely done!" Monika says.

All too often in the tech space, it can sometimes be difficult to get a hold of a real person at the end of the phone. At CurrencyFair, our dedicated customer experience team is available to assist our customers with any questions they may have, seven days a week. Our considered approach to customer experience ensures each one of our customers feels supported and secure when trading internationally.

Monika says that when their bank delayed a transfer, she got in touch with CurrencyFair's customer experience team to learn more. Although the delay was caused by an issue with Hentsu's bank - CurrencyFair's customer experience team were able to liaise with her bank and resolve the issue quickly.

"The team is very responsive and came back to me very quickly.

"Once you contact CurrencyFair customer experience there is always one person who stays in touch with you, and that's great. With other service providers you might email one person and then have three or four people getting back to you and you have to explain the problem over and over. But with CurrencyFair, I contact one person and this person carries on until the issue is resolved.

"You also see their name so you know who you're talking to rather than 'customer services' in general, so there's always a person you can refer to. If I send an email, I will literally have an answer in less than ten minutes which is ideal.

"Overall, I'm really pleased, it makes my life much easier," she laughs.

To learn more about Hentsu, visit their website.
Would you like your business to be featured on our website? Contact us at marketing@currencyfair.com and have your business's story viewed by our large international audience.