The Ultimate Guide to Moving to France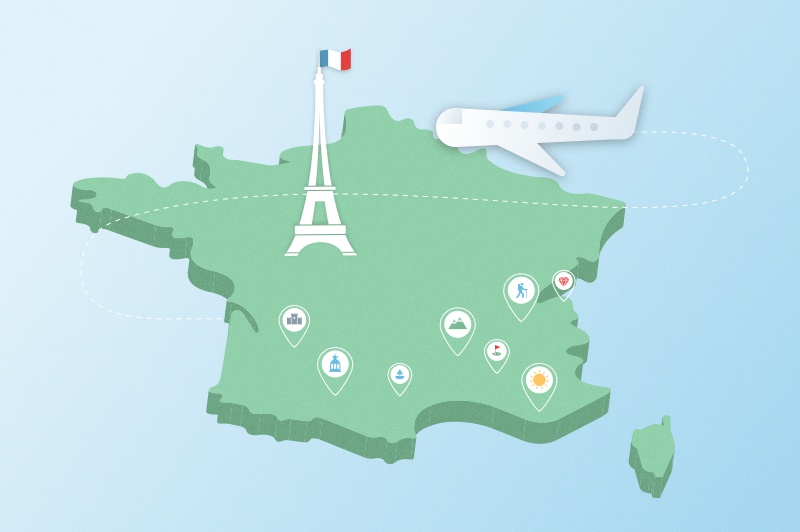 La Vie En Rose: Complete Guide to Moving to France
Evenings spent overlooking the water in La Rochelle, devouring a fresh croissant in Marseille or sipping a beautiful glass of Saint-Emilion while in Bordeaux can entice people to think about making a holiday to France a more permanent one.
For others it is employment opportunities or obligations, that finds them making the move across the Channel in order to provide a better life for them and their loved ones.
We have created a guide to moving to France that will make sure that you will "ne regrettez rien" about your decision to move.
1. Visas
Before you move, you may need to investigate the type of visa you, or your family, will need when moving permanently to France.
For EU/EEA/Swiss citizens: some good news, a visa is not required to visit, live, work or study. Spouses and dependents can also gain access even if they are not EU/EEA/Swiss citizens, but must apply for a residence permit (carte de sejour) within two months of arriving in France.
Passeport Talent: This visa is to attract top talent to France and long term investment from high profile companies as part of the French Tech initiative to make France a "Digital Republic". The details of the initiative are outlined here and we also covered the exciting new era for French business in our article on French startups changing the world.
All non-EU/EEA/Swiss citizens: will need to apply for a long-term French visa (visa long de séjour) and residence permit if they want to stay in France longer than 90 days. This visa can be applied for in your local embassy and is needed for anyone:
employed (with evidence of at least a year-long approved contract)

a temporary worker (with a contract between three months and one year).

a scientific researcher.

a student or intern.

the spouse of a French citizen.

the spouse of foreign national legally living in France and wish to be reunited.

coming to France as a visitor (not working) and have accomodation, travel insurance and sufficient funds to live off during your stay.
Here is a handy "Visa Wizard" to see what type of visa you or your family require and this is the online portal to apply for any visa it determines you need.
French Citizenship
Holding French citizenship will allow you to live and work in France without the need for a visa. If you are wondering what the criteria is to apply for French citizenship, you can do so:
Through your Parents: If you were born outside of France to French parents, you can claim a French passport. Full details (in French) are available here.

Through your Place of Birth: If you were born in France, to parents of any nationality, you can claim citizenship when you are 16 years old.

Through Marriage: If you are married to a French person for at least four years (five years if not living together), you can apply for French citizenship. There is a basic language test - a simple conversation about matters such as the weather, what you like doing in your spare time etc. It makes sense to practice beforehand but if you are able to communicate at a basic level in French you should pass.

Through Naturalisation: If you have been living in France for a period of over five years you can apply for naturalisation as a French citizen. You will need to pass the French language test. As with many legal applications in France, the process is a long one, typically 18 months. Full details on how to apply for French citizenship by naturalisation, and all the above can be found in this detailed angloinfo.com article.
If you are fortunate to meet these requirements to automatically be granted French citizenship, félicitations. France holds a je ne sais quoi appeal for many and the numbers speak for themselves.
The number of British nationals applying for French citizenship has increased nearly tenfold in three years, according to a recent report from France's interior ministry.
Even more interestingly in 2016 - the year of the Brexit referendum - the numbers of Britons applying for French passports had a remarkable increase of 250% - jumping from 386 applicants to 1,363.
If your move to France has been made possible through acquiring a passport or if you have been successful in your visa application, you can now start researching the practicalities of life in France.
2. Prepare for your move to France
Moving countries is a life-changing decision, with many factors to consider and prepare for prior to your move. In this section, we'll help you prepare by covering some of the key practical considerations for anyone relocating to France.
Best places to live in France for Expats
Even if you understand the steps to research and find a property to live in France, it is a bigger challenge to know where to move to. If you are not relocating with your company and have no set destination, your compass can turn in any direction.
Why is France such a popular destinations for expats? Homehunts.com put it best in their article stating,
"...what makes a prime location for an expat? Affordable cost of living, low crime rate, an idyllic climate, and a distinctive, high-quality way of living. "
They also list the best places to live in France for expats to be:
Annecy - located in the Haute-Savoie department of the French Alps and 30 minutes from several popular ski resorts. Annecy is perfect for anyone seeking out year-round outdoor activities.

Juan-les-Pins - is located in Antibes on the Côte d'Azur and is just 13 kms from Nice. Ideal for expat retirees who will enjoy its more unhurried relaxed pace.

Dordogne - is a region of southwest France, set between the Loire Valley and Pyrenees mountains. It is home to picturesque villages like Castelnaud-la-Chapelle, La Roque-Gageac and the Lascaux caves.

Lake Geneva - boasting a high end luxury lifestyle, it is renowned for being a hub for finance, business and the finer things in life.

The Luberon - is a mountainous idyll in central Provence in the South of France. With spectacular views, it is surrounded by vineyards and is composed of three mountain ranges.

Montpellier and Narbonne - Montpellier is home to a large student population. It is the 7th-largest city in France and the fastest growing French city in the past 25 years. Christened the secret French riviera it offers cycling, sailing and more.

Mougins and Valbonne - Just 15 minutes from Cannes, Mougins is a prestigious golf destination and known for its culinary delights and proximity to top ski resorts. Valbonne means "the good valley" in Provençal. Located near Nice, it's just 10km from Cannes.

Paris - well, is Paris. The capital of France offers glitz, glamour and culture.

Toulouse - is the fourth largest French city and known for its Mediterranean climate and beautiful Spanish style architecture given its proximity to Spain.
Opening a local bank account in France
Opening a bank account in France as a non-resident can be difficult, although EU residents have a higher chance of being accepted than non-EU nationals. For example if you are from the US, as ouiinFrance found, there may be a reluctance to open an account for an American citizen due to the IRS issues associated with it.
Here is a list of banks where you can open a French bank account from overseas and do day-to-day transactions:
Britline is operated by Crédit Agricole and you can open an account with them before moving to France. NOTE: Crédit Agricole bank fees and charges can vary by region.
HSBC: it is free to open an account online.
BNP Paribas is one of the largest high street banks. It has a monthly fee of €2.50 but it is free to open an account.
La Banque Postale operates through the French postal network and therefore has the largest branch network. It is free to open an account online.
As with anything that is financially regulated, it will be expected that you can verify your current address and identity. Some banks will even arrange a bank account while you're still abroad, provided you supply proof of a French address after you arrive later on.
In France, as a non-resident, you might also be asked for evidence of your finances in the form of bank statements, personal and employment history and most importantly your current employment status, visa and address. If you are planning to buy French property, you may be able to present a statement from your estate agent (un agent immobilier) on your intention to buy as proof of address.
While banks are ideal for your basic banking needs, when it come to an international money transfer, this is where you should research the fees being charged by them. Opening an account with CurrencyFair allows you to keep your currencies in our virtual wallet but without the extra expenses of a typical bank, like monthly admin fees and inactive account charges. When you have opened your account in France, you can then transfer your funds to CurrencyFair from your new bank account - and are fees are just €3. It means your money is exchanged at the best available rate and ready to transfer when you need it.
Parlez-Vous Francais?
Making the move to another country is daunting enough without the added pressure of adjusting to a different language and culture. Most importantly one shouldn't presume that all French people speak English. Perhaps you will find English-speakers in the major tourist spots of cities like Paris, but beyond the capital the chances of everyone having fluent Anglais decrease.
It is therefore recommended to have a good grasp of the language before you go and to keep setting language challenges for yourself after you have moved, as our customer Samuel advises when he moved with his family to set up a new life abroad.
There are numerous well-known apps and online courses to help you learn the basics like
A particularly appealing website for anyone with children learning French (plus there is a beret-wearing cat as a logo) - is the French Experiment - which offers adult and children lessons that include classic children's stories translated into French.
Of course as anyone who has ever had to learn a language while overseas can attest to, often the quickest way to learn is to be thrown in the deep end and to immerse yourself with the locals who will speak only French with you.
Once in France, the very French sounding Centre D'International Antibes or CIA offers courses for adults, teens and kids throughout France and will keep your efforts to learn French topped up.
Expat Groups
The challenge of learning French will really help you adjust to your new life in France and will help with integration into your new position in a company or find friends in your new local community. Meeting like-minded individuals who are experiencing the same challenges, or have gone through the process as you already, is invaluable.
With the help of technology, nowadays in almost every country there is an expat network for you to connect with online and in person.
General Expat Groups
At CurrencyFair we recommend several expat groups to help you adjust to life in France:
British Expat Groups
British Expats - whose purpose it is to serve the British expat community worldwide. Their forum answers all questions any British expats might have when they have moved to a new country.

Internations - British expats in France - this page of Internations is devoted to exchanging tips and connecting British expats living and working in France.

The Paris Brit Meetup Group - is another meetup based in Paris specifically for British expats or any nationality that "simply wants to make a party in a British kinda way" in Paris.
Irish Expat Groups
The Paris Gaels - The Paris Gaels GAA club was formed in 1995 and was the first GAA Club in Continental Europe to be affiliated to the GAA. The club aims to promote Ladies & Mens Gaelic Football, Hurling and Camogie as well as Irish culture in Paris, France and across Europe.

The Paris Expat Irish Meetup Group - is part of the hugely successful meetup.com family and was formed to enjoy Irish culture, sports, dancing, language, socialising & the pub scene or anything else Irish going on in Paris.
German Expat Groups
Australian Expat Groups
Outside of Meetup.com and Internations there are several helpful blogs for any Australians looking to connect or needing advice on moving to France:
Aussie in France - is a blog run by an Australian translator living in the Loire valley with insights into French culture and life.

Australian Football League in France - France has seven Aussie Rules football teams divided into two leagues: the North and South.
US Expat Groups
The American Club of Paris - allows Americans in or around Paris the opportunity to meet.

American Women's Group - membership in this Group is open to all English-speaking women of any nationality with the aim of helping you love your new life in Paris.
The Education System in France
If you are researching schools choices for children, it is good to understand the basics of the French education system first.
Expatica.com have an excellent and thorough breakdown of the French education system here but in brief, your options as a non-national are:
After kindergarten (école maternelle), which is optional, the French compulsory education system is divided into three stages or 'cycles':
primary school (école) for ages 6-11

middle school (collège) for ages 11- 15

high school (lycée) for ages 15-18
State education is free for French citizens and others who have proof of residence, although parents have to pay for stationery and school trips.

Schools are mixed sex and secular.

If you are enrolling your child in a public school for the first time, contact the service des écoles at your local mairie or arrondissement. Children are generally expected to attend the school near their place of residence.

To enrol in a collège or lycée, you can contact the establishment of your choice directly. If your child is arriving from outside France and is entering collège or lycée for the first time, contact the education authority in your area. For entrance into any school, your child may have to take a French-language test.

The French school year lasts 10 months. Beginning in early September, it ends in late June or early July. There are four school holidays spread over the year, in late October (Toussaint), at Christmas, in the winter and in the spring. These holidays last for two weeks, except for Toussaint, which lasts for ten days around All Saints' Day (November 1). The full school calendar can be viewed here.

Each year, the French Ministry for Education sets holiday dates for different academic zones so that school holidays are staggered and the whole country is not on holidays at the same time. France is split into three zones (A, B and C) each comprising various academic regions:
ZONE A : SouthWest and Central France from the Atlantic coast to the Swiss border.
ZONE B: Northern France, from the Loire Valley to Alsace, excluding Paris area, + Provence.
ZONE C: Greater Paris and Central southern France - Occitanie.
International Schools in France
As we discussed previously in our article on the children of expats, sometimes continuing with a similar structure and language can be beneficial to "Third Culture Children". There are several choices of school to review when sourcing an international school in France.
A good starting point when researching schools is the Council for International Schools. It is a global non-profit membership organization committed to the provision of high quality international educational services.
Looking at the options for expats interested in international schools across France, there is:
ASEICA (Association pour le Soutien de l'Enseignement International sur la Côte d'Azur) is a non-for-profit association that manages the international Anglophone section in 2 primary schools, 4 collèges (junior high) and 1 lycée (high school) in Valbonne, Sophia Antipolis, Mougins, Biot and Roquefort-les-Pins.
For a full list of International Schools in Paris, see the list here.
3. Property in France
For anyone planning on buying property in France before or after they have moved, we have some expert tips in our guide to buying property in France.
However here are some important tips to know before you buy:
Buying Property in France
The process of buying property in France is the same for non-EU nationals as it is for EU citizens or French nationals. We have also included expert advice and tips in our article on buying property in France.
There are three ways property in France can be sold:
Privately by the seller themselves.

Via a Notaire - who is a public officer who operates in every area of the law in France.

Via estate agents or "immobiliers".
The latter is the more popular choice for expats as you are more likely to find an English-speaking estate agent. A notaire will also complete the actual contract process even if you use an immobilier as they are the only persons permitted by law to perform conveyancing in France.
One major advantage to the French property buying process is that if you find your dream home during a research trip and put in your offer, this is generally upheld by the seller and in France there is less likelihood of someone else moving in on your dream home.
Other interesting quirks to note in the French property buying process are:
Tips when buying property in France:
Typically when buying property in English speaking countries, you can generally request a survey of the property. However in France, surveys are less common as the occupation of a "surveyor" does not exist as is does in the UK. Instead the typical work of a surveyor is undertaken by other professionals like an Architect would survey the land or a Géomètre Expert calculates the surface areas of the land. One workaround is to request a conditional clause or "clause suspensive" that allows you to withdraw from the purchase in your final contract or "Compromis de Vente" if any type of inspection highlights any issues. If you are planning renovation work and want the peace of mind a survey could bring, you can find a directory of english-speaking "surveyors" here.
A DTT (Dossier de Diagnostic Technique) is a comprehensive report on a lead inspection, evidence of asbestos, termite problems and energy efficiency of the property and is completed by the seller and checked by the notaire.

Request an estimate of all the extra costs associated with the sale, for example the notaire's fees, solicitors fees, as these costs are then subject to a tax of 19.6%.

Budget for any renovation costs that are to be done. Often this is where estate agents really earn their fee, as they can help source a trusted builder for your work.

Consider the future ownership of your property too. Since 2015, French property ownership has been subject to EU Succession Regulation. It means your notaire will have to consider both French and other legal jurisdictions if necessary. You can read more about this in our article on European inheritance laws.
TOP TIP: Confirm an agent's membership of associations like FNAIM, SNPI or UNPI by checking for accreditation on their website or their office - by arranging the meeting in an official setting it helps ensure they are legitimate estate agents.
Other costs to consider include when buying property in France:
Estate Agent Fees:
Agent fees are normally 4%-10% of the selling price and are included in the price advertised for the property. However the selling price does not include the notaire's fees
Notaire's Fees:
This can't be avoided as they are involved whether you buy privately or via an estate agent.
Their fee is usually 2%-8% of the 'net' property price.
Deposit
The deposit amount required to buy property in France is typically 10%.
Translation Fees:
You might need to use a translator for the final contract. This translation service provider has prices for small projects starting from €39.
Solicitor's Fees:
It is better to be safe than sorry so an english speaking legal adviser who specialises in French property law would be a smart cost to include.
WWhen it comes to planning your budget and all costs associated with your purchase, keep in mind the savings you can make on an international money transfer to buy your dream home in France. The GBP has been on a rollercoaster year due to uncertainty around Brexit and tracking its performance might mean substantial savings for you when it is time to
convert GBP to EUR. Our currency calculator and free exchange alerts can help you manage your transfer and save some money for your new home.
Renting in France
To ensure the reality of moving to France will be just as nice if not better than the dream, renting is a handy solution that allows you to get to know an area and see if it is where you want to remain long-term. In 2015, the French government made some important updates to French tenancy laws meaning that:
Rental contracts have been regulated to ensure consistency across France, helping to minimise conflict between landlords and tenants.

Certain documents – for example, previous rental references or tax returns – can be sourced from your previous country of residence.

Rental caps have been imposed for new leases in popular rental areas to control rental inflation.
Renting is France is generally simple but there are some tips to consider when planning to rent a property in France:
Taxes: The tenant must pay the property tax in January of each year.

Size: Be aware of the actual size when viewing a property you intend to rent. The majority of French property rentals are about 40–99 square metres and often non living spaces, like balconies, are included in the square footage when describing the rental size. So be prepared.

DIY: Minor household jobs like gardening, painting, minor plumbing, gas and electrical issues, cleaning chimneys - these are often to be done by the tenant in France.

Fees: Once you have found your dream home, you will also need to pay the estate agent their fee, which is called frais d'agence.
When signing a rental contract, according to expatica.com you will have to provide several documents, which can include:
Pay slips for at least the previous three months

Your most recent income tax return

Proof of identity

Proof of home ownership abroad or your three most recent rent receipts from your last rental home

Work contract (in French) or an attestation de l'employeur can sometimes replace the work contract.
"TOP TIP: If required to show a proof of address to open a bank account in France, your agent (un agent immobilier) can produce a document stating your intention to sign a lease on a property.
Finding a property to rent
In cities, signs are sometimes placed on the exterior of apartments or in letting agency windows indicating that a property is available to rent. You can also work with an estate agent (un agent immobilier) to help you find a property, particularly if you are looking for a house, as rental is more commonly associated with apartments. An estate agent can be of great help if you are looking to extend your search to beyond the city limits.
Short-term lets are usually for furnished properties and can have a standard minimum one year contract. There are a wealth of holiday rentals that can act as short-term accommodation also. Sites for short terms lets include Airbnb..
Long-term lettings are usually for unfurnished properties: a standard contract for unfurnished (vide) properties has a minimum of three years but the tenant can easily give notice within this timeframe.
Some sites to help you find your rental home include:
France is often considered a top destination for expats looking to venture into a new life in Europe. WIth its stunning countryside, chic cities, favourable weather as well as an affordable cost of living, it is a great choice for anyone planning to move overseas.
Helpful links:
This guide is provided for general information purposes only and is not intended to be a substitute for professional advice regarding any aspect of purchasing a French property. If in doubt you should consult your estate agent, legal or tax adviser. CurrencyFair cannot be held responsible for the consequences of decisions or actions you may choose to take in connections with viewings trips or a property purchase.