Can foreigners own real estate in the United Kingdom? Absolutely. You don't have to be a British citizen to buy, and the UK market (London in particular) attracts a steady stream of high-profile investors. Among them are the late United Arab Emirates president Sheikh Khalifa, who amassed a £5.5 billion property empire spread across some of the capital's most exclusive neighbourhoods, and Chinese billionaire Hui Ka Yan, who paid £200 million for London's most expensive home in 2020.
Is it easy to buy in the UK? Not necessarily. If you're looking to move permanently to the UK, there are residency hoops to jump through, and many foreigners will find the home-buying process challenging and bargains few and far between.
Buying property overseas
If you are transferring a substantial amount of money from a domestic bank account to the United Kingdom, you can easily miss how much you're losing in transfer fees and poor exchange rates with traditional banks. But when you're dealing with house-price-sized sums, just a 1% difference can be worth thousands of pounds. That's why smart property buyers transfer their money with CurrencyFair. It's safe, secure, and you can get bank-beating exchange rates with fixed transfer fees.
Why buy property in the UK?
Whereas the world's most visited tourist attractions are spread evenly around the globe, the most desirable real estate is distributed across a handful of countries only. Just 10 nations account for 75 percent of the world's total real estate value (residential). One of these (in 5th place after China, USA, Japan and Germany) is the United Kingdom.
From an investment perspective, buying a property in the United Kingdom allows access to a historically growing market. The average UK house price hit a record high of £271,613 in June 2022, compared to £89,597 in 2000. There's no guarantee that growth will continue, of course, especially with rising inflation, but UK real estate is often seen as a safe home for foreign assets, most notably among buyers from Hong Kong, Jersey, Singapore, the U.S., and Ireland. It's by no means a stampede, however. Even though more than 250,000 homes in England and Wales are owned by foreign nationals, that's still only 1% of housing stock.
For those who are buying a UK home for residential rather than investment purposes, the advantages of buying in Britain are the proximity to Europe, career opportunities in one of the world's major financial centres, and possibility of owning a historic home with unique character, among others.
Is UK property affordable? How it compares
The average UK property prices below are convenient for comparison between cities, but can never fully represent the enormous breadth of properties on the market. Once you know which UK country, city or county you want to settle in, take the time to explore the most competitive post codes for the size of property you're aiming for. Prices for similar-sized homes between two adjacent streets can vary by thousands.
Average UK house prices by location:
London and City of Westminster: £473,822

Edinburgh £332,436

Cardiff £293,109

Birmingham £261,777

Liverpool £208,370

Manchester £193,415

Belfast £152,603
How does the UK compare to other countries? If you're coming to Britain from Europe, the chances are you'll be taking a step up in terms of housing costs. UK new builds are the fourth most expensive in Europe (after Austria, France and Germany), at €4,058 per square metre.
"What new builds?" seasoned homeseekers may ask. There are still almost 5 million homes in England and Wales that were built before 1900 and only 15 million built since 1945. Switch to the price per metre squared across all properties, and the United Kingdom fares quite well, suggesting that you may be able to upgrade if you're moving from many other countries.
Average property price per m2:
South Korea $12,989

Switzerland $10,575

Japan $6,086

Australia $5,299

Germany $5,263

France $5,177

United Kingdom $4,877

U.S. $2,846
[Source: Compare the Market]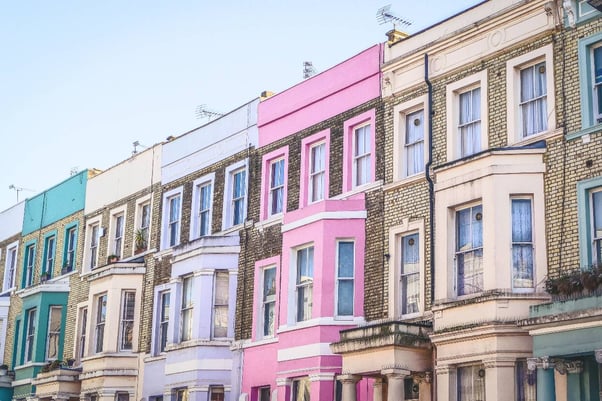 Photo by Lee Jeffs
How to buy a home in the UK
There are no explicit barriers for foreigners who wish to buy a home in the UK, but restrictions have certainly been tightened to address concerns about foreign influence and money laundering.
For example, the United Kingdom golden visa program, known as the Tier 1 investor visa, has been discontinued. Previously, it was possible for foreign buyers to obtain residency by investing £2 million or more. That is no longer an option. Indeed, foreign companies who invest in UK property must now declare the identities of major shareholders on the newly introduced property ownership register.
Securing residency
Owning a home in the UK does not entitle the buyer to automatic residency. To stay longer than 90 days within any 180-day period, you will have to apply for indefinite leave to remain in the UK, which includes salary and financial requirements. Note that Britain is no longer part of the European Union, so European citizens (with the exception of Irish nationals) have no automatic right to settlement.
Getting a mortgage
While we thoroughly recommend that you consult our guide on expat mortgages, the reality is that UK mortgage lenders do not generally cater for foreign buyers. Few lenders want to wrestle with the mountain of paperwork required for American buyers to comply with the Foreign Tax Compliance act, but in general the risk associated with non-resident buyers is simply too great for the typical lender's appetite. If you are lucky enough to find a willing broker, expect to put down a deposit of up to 40% of the property price.
Tax liabilities and rates
As a foreign owner, you will be liable for property taxes, council taxes, and income tax on rental income as part of the non-resident landlord scheme. Should you sell the property, you must also file a non-resident capital gains tax return, and be prepared to pay up to 28% CGT on the sale.
The amount of stamp duty payable depends on residency status and property value. If you are moving to the UK and buying a home as your only residence, stamp duty (ranging from 2% to 12%) is payable if the property value is over £125,000. Since 2021, foreign buyers are also required to pay a 2% non-resident surcharge. If your UK home is not your main residence (ie. you own a residential property elsewhere in the world) you pay an extra 3% unless you switch your primary residency to the UK. For corporate ownership, a flat 15% rate applies.
What to know about the UK market
There are some quirks of British homebuying that might not be covered in our celebrated moving to the UK checklist. Knowing them beforehand can make for a smoother buying experience.
Homeownership is still a privilege
Although house prices are a recurring discussion topic, the number of families who own their home (52.8%) is actually lower than European average, but higher than Germany, France , and Switzerland. Younger people in particular struggle to get onto the housing ladder.
Gazumping is a recurring menace
It refers to the practice of raising the price after a sale has been agreed, and with an average of 29 buyers for each available house, it's all too tempting for the seller to indulge.
Chains bind most sales
Blame insufficient housing stock, but it's rare to find a scenario where both the buyer and seller are not bound by commitments to other properties. Should the sale of the buyer's existing home fall through, for example, the whole chain collapses.
But sales conclude late
American buyers who are accustomed to wrapping up a sale in 30 days or so, with a legally binding contract in the first few weeks, might be appalled to learn that UK sales aren't locked in until contracts are exchanged, which can be in the final days of a two- or three-month process.
Estate agents aren't realtors
American real estate agents serve both buyers and sellers, and go the extra mile to handle their client's business. In the UK, by contrast, the buyer is pretty much on their own when it comes to finding a home, organising the survey, and hiring the solicitor and conveyancer (whose fees can add another £1,000 or more).
Curious property stock
The image of the village stone cottage wreathed in honeysuckle is the exception. McMansions too are rare but city centre flats (apartments) are highly sought-after. Don't be shocked to see a terraced, two-bedroom house that is over a hundred years old with a value over half a million pounds if you're buying in London. Bear in mind too that most flats are leasehold, not freehold.
Save on your property costs
Cut the cost of transferring money to a UK bank account from abroad with CurrencyFair. When you're buying a house, the savings can be significant. Find out how to unlock bank-beating exchange rates and fixed transfer fees.
This information is correct as of February 2023. This information is not to be relied on in making a decision with regard to an investment. We strongly recommend that you obtain independent financial advice before making any form of investment or significant financial transaction. This article is purely for general information purposes. Photo by Mangopear creative