You asked, we listened. The CurrencyFair Marketplace, a peer-to-peer platform for currency exchange, is now available on the mobile version of the CurrencyFair app.

Recently, we conducted a customer survey to see what features or improvements you most wanted to see in the app, and a mobile version of the desktop Marketplace - allowing you to choose your own rate - came up time and again.

To start taking advantage of the Marketplace, and start getting even better FX rates on your currency exchanges, simply log in to your CurrencyFair personal account and select "Exchange".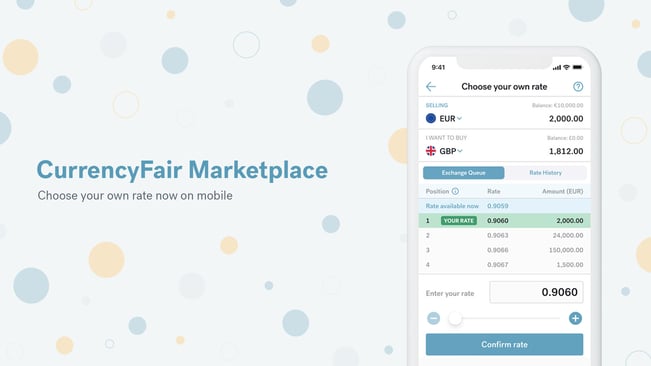 How does the CurrencyFair Marketplace work?
The CurrencyFair Marketplace gives you the chance to get a better FX rate for your currency exchange by setting your own rate and waiting for it to get matched by someone looking to exchange their currency for yours.

You're not guaranteed to get the rate you want, but if you can afford to wait for the match you give yourself the best chance of exchanging your money at a better rate.
How do I choose my own rate on mobile?
To access the Marketplace on the CurrencyFair mobile app, first sign in to your CurrencyFair account on mobile.

Go to the Exchange tab, and select "New Exchange"or the "+"button in the top right-hand corner.

Enter the amount you'd like to exchange and Select "Choose your own rate".

You'll see a calculator displaying the currencies you can exchange, the current exchange rate, and the exchange queue.

You can then enter the rate you're hoping for with either the "Enter your rate"section or using the slider.

Once you're happy with the rate, tap "Confirm rate", which will show you a final review of your order.

Then tap "Place exchange order"and wait for the rate to be matched!

You can always update or cancel your rate at any time.
Log in to your CurrencyFair account to see Marketplace in action.
Getting the most out of the Marketplace:
1. Track the mid-market rate
The mid-market rate is dynamic - it changes regularly when markets are open. If you want to get an exchange rate that is better than the prevailing mid-market rate, keep an eye on the mid-market rate as it fluctuates, and adjust your Marketplace request accordingly. This does not guarantee that you'll beat the mid-market rate, as you still need a corresponding request to exchange your currency with, but it does guarantee that if your money is exchanged, it will be at a better rate than the mid-market.
2. Choose a savvy rate
While you can choose as ambitious a rate as you'd like, there are some things you can check to make your exchange rate more likely to get matched. First, check out the rate history. You can see historic rates and get an idea of what's likely to get matched quickly. If you're willing to wait, you can try to maximise your savings and be more ambitious with your rate. You can always edit or delete your exchange order later.
3. Aim for just below any large amounts of money currently in the exchange queue
The rate you choose will determine your position on the exchange queue, so the best way to beat the mid-market rate quickly is by watching the queue and putting your money on at 0.0001 below the first large sum of money.
Log in to your CurrencyFair account to see the Marketplace in action.