Jane Roffe is a classic example of the endless flexibility and adaptability of small business owners. Her translation business has successfully transitioned across borders and across industries, and continues to evolve.
Starting A Business Abroad - An Expat Success Story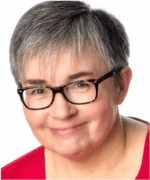 Jane started her French-English translation business as a British resident of France.
"My first challenge was to gain formal translation qualifications while raising three young children." With university translation courses starting to appear online in the early 2000s, Jane completed the training and embarked on a rich and varied career, which over time evolved into her own business: Oxford Comma Translation.
Jane offers translation and editing services for French-speaking clients, working on online video subtitles, academic papers, press releases and more.
Converting EUR to GBP is easy with CurrencyFair. See our live rates here.
A Major Challenge Leads To New Learnings
It hasn't all been plain sailing..
"One of my biggest customers was taken over by a large corporation which already had its own in-house translation solution."
The loss was a blow - but Jane was strong enough to take some powerful lessons from the minor disaster.
"I realised how important it is to not put all your eggs in one basket. Having a diverse client base provides greater security and smoother cash-flow."
The setback also helped focus Jane on sales and business development. Now, she works extra hard to maintain close relationships with clients and encourages them to refer in new clients that prefer a supportive, thoughtful translation service.
Were there any other learnings?
"It may sound counter-intuitive but it definitely helps when you expand your professional network and get in touch with people doing the same work as you. You'll find there's a great deal of support available which always helps and you'll pick up more work too. Don't think that industry associations are overly expensive. You'll make connections, meet new clients, and help others out too - they're very worthwhile."
A Business Move Leads To A New Challenge
Jane's open, consultative approach helped tremendously when she moved her family and the business back to the UK. Her French clients remained loyal and continue to refer new clients to this day.
There was, however, one new challenge - currency exchange.

"Most of my clients were still based in France and wanted to continue paying in Euro. I was invoicing them in Euro and they were paying into a local Euro account but then I had to move that money to the UK and exchange it into sterling."
Jane worked out that by using CurrencyFair she would be bringing more money across on every transaction.
"The local bank's foreign exchange charges were extortionate. I tried other, non-bank transfer companies to bring the money across. It was an improvement but I was still being stung on the rates, so I did more online research and came across CurrencyFair."
Has CurrencyFair Helped?
After years of using CurrencyFair for receiving foreign income, how does Jane find the service?
"I've definitely saved a lot of money and have recommended CurrencyFair to lots of people. The service is very easy to use and the support staff are always very helpful and attentive."
To Jane and Oxford Comma Translation, we say: Bonne continuation !
Learn more about CurrencyFair Business