Even the most frugal spender can miss out on the importance of comparing services for a simple international money transfer

With a diverse range of online money transfer providers offering attractive exchange rates, fast transfer times, and even fee-free transfers, it can be easy to fall victim to enticing claims – but in reality, their exchange rates could be giving their customers less money to send overseas.

This is because some providers include obscure fees and charges in their exchange rate. Others use complex terms and conditions to throw customers off the scent of overcharging. This is why it is important to do make some well-researched comparisons before choosing a global money transfer provider.


CurrencyFair recently researched some leading providers of money transfers to Thailand. From typical banks to popular online transfer providers, this article covers how those sending money to the Land of the Smiles could be overcharged by paying hidden fees when sending money overseas.


Which is better to send money to Thailand: Western Union, PayPal or CurrencyFair?

How do other currency providers compare to CurrencyFair?

Are banks much more expensive than CurrencyFair?

CurrencyFair vs PayPal to send money to Thailand
Money Transfer Companies Compared
Here are some of the providers we looked at:
Western Union

Bangkok Bank

TransferWise

InstaReM

Azimo

WorldRemit

PayPal
Western Union
Western Union is one of the world's largest money transfer services, with over 550,000 agent locations all over the world. The money can be sent and collected as cash, or it can be directly transferred into the receiver's bank account.

Their charges appear in two ways on a money transfer:
Up-front fees
This fee is highly dependent on how much you'd like to send, and where the money is being sent to.

To transfer EUR to THB, the fee to transfer to the recipient's bank account from your bank account is €4.90 – but to send funds to the recipient's bank account from your credit or debit card; an additional fee of €32.90 applies.

Exchange rates
The exchange rate with Western Union fluctuates depending on how to receive the money, as Western Union offers both bank transfers and cash pickup; and then again when choosing to deposit by card or by bank transfer.

To deposit into a bank account with Western Union, and paying by debit or credit card, during our comparison the rate is 32.1147 – so €1,000 will get you 32,114.79 THB (17:17, 15 October 2019). Furthermore, an additional €4.90 charge applies – compared with our standard €3 fee (but don't forget until 31 December 2019, THB transfers are free with CurrencyFair).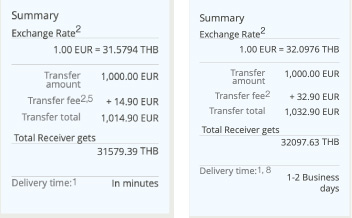 The Western Union threshold to transfer Euros to Thailand is €999, then Western Union will require you to verify your identity. After that, a further limit of €5,000 a day applies. For large money transfers, the decision to split them into smaller amounts means incurring new fees each time–which can be inconvenient.

In contrast, CurrencyFair offers the same fee and best available exchange rates on all size money transfers of Thai Baht.


Bangkok Bank
As one of the largest banks in Thailand with over 1,165 branches, Bangkok Bank is one of the leading traditional banks can convert currency into Thai Baht.

But how much THB will be received for €1,000 with Bangkok Bank?


Fees
Although customers don't need an account at Bangkok Bank to receive a funds transfer at one of their branches, a fee of 0.25% of the transfer amount is charged (minimum 200 baht, maximum 500 baht) along with a cash payout fee of 150 baht per transaction.


Rates
On the bank's website, on the 4 October 2019 at 12:42, for an online transfer of funds, the listed exchange rate is 33.09500 THB – 1 EUR; the recipient will receive approximately 33,095 THB. At the same time, with CurrencyFair a transfer of €1,000 to THB would send 33, 307.60 THB to the recipient. Meaning an additional 212.60 THB for a CurrencyFair customer, before fees.


Transferwise
TransferWise works by guaranteeing the same rate as the "mid-market rate", which is the rate seen on Google–but their fees are where the real cost of a money transfer could very quickly add up.


FeesTo send €1,000 from a debit or credit card (as of 16:55 15 October 2019), a fee of €11.15 is charged to transfer €1,000 to Thailand – so the recipient will receive 33,095.03 THB.



To cheapest way deposit money with TransferWise is by bank transfer. However, in this example to send €1,000 to Thailand by this method, the fee is €7.68.



Whether depositing Euros by debit card or by bank transfer to exchange to THB with Transferwise, the delivery time for both method is the same – but the fees differ.

And the bigger the transfer amount even if using the cheapest method, the more the fee increases:




Sending money to Thailand? Until the 31 October 2019, CurrencyFair is offering
free transfers
of Thai Baht!
InstaReM
If sending money to a bank account in Thailand with InstaRem, a fee of €6 is deducted to exchange €1,000 to THB. That fee is then €12 when sending €2,000 to Thailand and €30 for someone sending €5 000 to Thailand.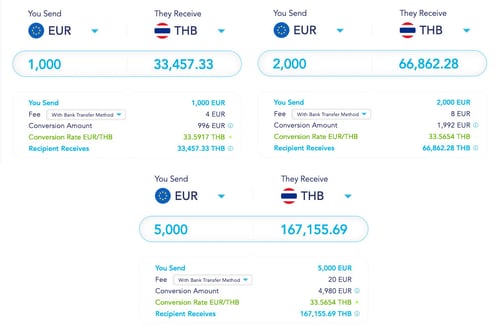 When planning to send Thai Baht from Singapore via InstaRem, the fee is S$6 for using PayNow to transfer S$1,000. The more sent however, the more the InstaRem fee increases meaning a transfer of S$5 000 to THB using PayNow sees a larger fee of S$30 being applied.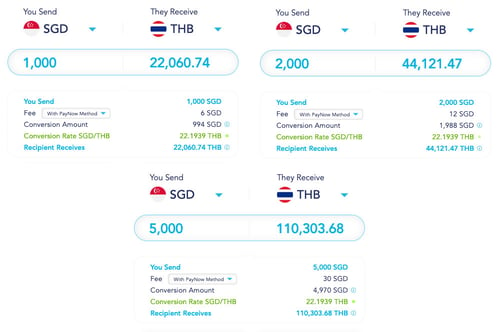 Azimo
With the ability to transfer directly to a bank account, a mobile phone, or to one of their 300,000 cash pick-up points, Azimo is similar to Western Union in many ways.


Fees
Azimo charges customers a flat fee of 99c (EUR) with the first two transactions being free. What is interesting to see was how the exchange rate to send Euros to Thailand changes depending on the country the sender has their Euros in.


Rates
In a comparison on the 15 October 2019, the exchange rate changed with Azimo whether sending Euros from Ireland, Estonia or Italy. It ranged from between 1 EUR – 33.24081 THB to 1 EUR = 33.28810 THB when selecting the "Sending" country in their currency calculator.


With most currency exchange providers, the exchange rate for EUR to THB is the same, no matter the country of residence of the sender.




WorldRemit
Much like Western Union, WorldRemit offer bank deposits, cash pickups, and also airtime top-ups.
Fees
The fee for a transfer of €1,000 to Thai Baht with WorldRemit is 0.99 EUR however there is a limit of €8,000 with WorldRemit to transfer to Thailand.


Rates
When examining their exchange rate, €1,000 converted into 32, 620.53 THB with WorldRemit (exchange rate 1 EUR - 32.62053 THB as of 16:29 on 15 October 2019). At the same time, that conversion with CurrencyFair offered 33, 459 THB– that's 838.47 THB more with CurrencyFair.
Another difference between WorldRemit and our services, is that the CurrencyFair world-class customer support team are available online and by phone – should you need us.




PayPal
When comparing money transfers to Thailand with PayPal (as of 15:54 on 7 October 2019,) the conversion rate was 1 EUR to 31.9961 THB; meaning if we were to transfer €1,000, the recipient would only receive 31,996.14 THB.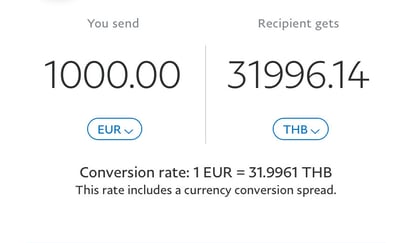 Not only are customers getting a less-than-deal exchange rate, PayPal also tack on hefty fees similar to that of a traditional bank.


The Currency Conversion rate of either 3% or 4% is dependent on a number of factors, including; whether the payment is being sent as a personal or commercial payment, or if you're transferring funds between your PayPal balances held in different currencies.

There are different fees depending on the nature of the transaction. For example, to send a personal payment (for paying things such as your share of the rent, or your half of the total dinner bill), there are a number of variables.

To fund the payment via your bank from most European countries to "any other region" with PayPal, there is a flat fee of $4.99 USD.

When another payment method is used such as a credit or debit card (either fully or partially), three separate fees are added on:
Flat fee of $4.99 USD

An additional charge of 3.4%

And a 'fixed fee' of 11THB.
Despite the belief that money transfers with PayPal are fee free–the fees and charges hidden in their Terms and Conditions can add up to a substantial sum in the final figure received in your THB transfer.


CurrencyFair
Our promise of fairness to you means that we are totally transparent about the small rate that we charge for our services – so you can rest assured that there are no nasty surprises hidden in our fine print.


At CurrencyFair, we offer bank-beating rates, quick international transfers, first-class customer support, and peace of mind.

There are two ways to trade in the CurrencyFair marketplace:


Exchange now
With one of the best exchange rates on the market €1,000 goes a long way with CurrencyFair.


Choose your own rate
Top up your wallet and exchange at your ideal rate on our unique peer-to-peer marketplace. Our secure platform allows buyers and sellers to come together and trade at the best possible rate.

As our marketplace is available on desktop and mobile (Apple and GooglePlay), you can access our platform even if you're on the go.

To date, our customers have securely transferred over €9 billion and saved over €230 million. To join the over 150,000 satisfied customers saving on our platform every day, follow the link below: