Many money transfer companies promise attractive exchange rates, quick transfer times, and low fees.
But as the saying goes; if it looks too good to be true - it probably is.

Tapping 'transfer money to Australia' into Google furnishes you with an overwhelming abundance of services to choose from, all of whom claim to be the quickest, the cheapest, and the most reliable.

But how true are these claims, and if their services are as cheap as they make them out to be - how do they make money?

CurrencyFair put some of these companies under the microscope to unveil how exactly these money transfer companies could potentially pick your pocket when it comes to unfair exchange rates, sky-high fees, and convoluted jargon when sending money to Australia.


We set out to compare money transfer providers in Australia:
Which is the best for sending money to Australia: TransferWise, PayPal, or CurrencyFair?

How do other currency providers compare to CurrencyFair?

What are the hidden charges to look out for when choosing a money transfer company?
Here are some of the providers we looked at:
Western Union
Western Union is one of the largest remittance companies in the world, with over 500,000 agent locations dotted across the globe.

To transfer €1,000 from Ireland to Australia, they offer an exchange rate of 1 EUR to 1.5410 AUD (12:15, 7 November 2019). If you'd like to pay by card and transfer into the recipient's bank account, there is a fee of €2.90; meaning that for €1,002.90 - the recipient will receive $1,541.03, with an estimated delivery time of 3 days.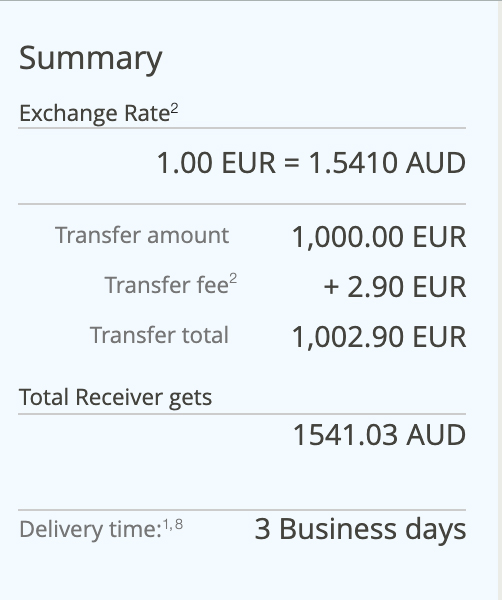 There is also a €2.90 fee for a bank to bank transfer via the Western Union, with the exchange rate remaining the same. This transaction takes slightly longer however, with an estimated delivery time of between 4 to 5 business days.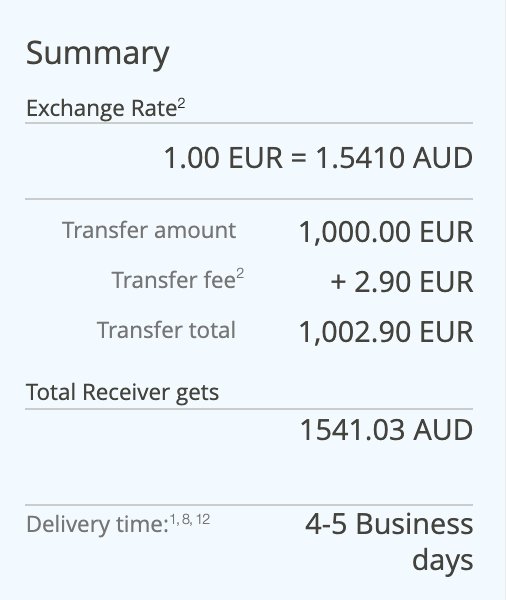 It should be noted that Western Union do not accept business payments.
Furthermore, you are limited to sending €5,000 a day via the Western Union. Breaking up a large transaction over several days not only leads to more fees being incurred - it's also massively inconvenient.
You can also only send up to €5,000 which is not ideal when paying for the bigger things in life such as putting down a deposit for a mortgage, paying for education, or transferring your savings.
With CurrencyFair however, we have no transfer limit, and we offer tailored solutions for our business customers.
TransferWise
This FinTech unicorn is one of the biggest players in the money transfer business in Europe. Here's how their rates work:

TransferWise use the mid market exchange rate, and make their money through their transfer fees. Depending on how quickly you need the funds to reach the recipient, you can opt for different tiers.

To send €1,000 to Australia, we were offered an exchange rate of 1 EUR - 1.60652 AUD (12:21, 7 November 2019).

To fund the transaction through your credit or debit card, a fast transfer fee of €8.05 is deducted; so €991.95 gets exchanged into €1,593.59.




They also offer the options to transfer money from your bank account for €4.57, or from your bank with an online payment for €5.77.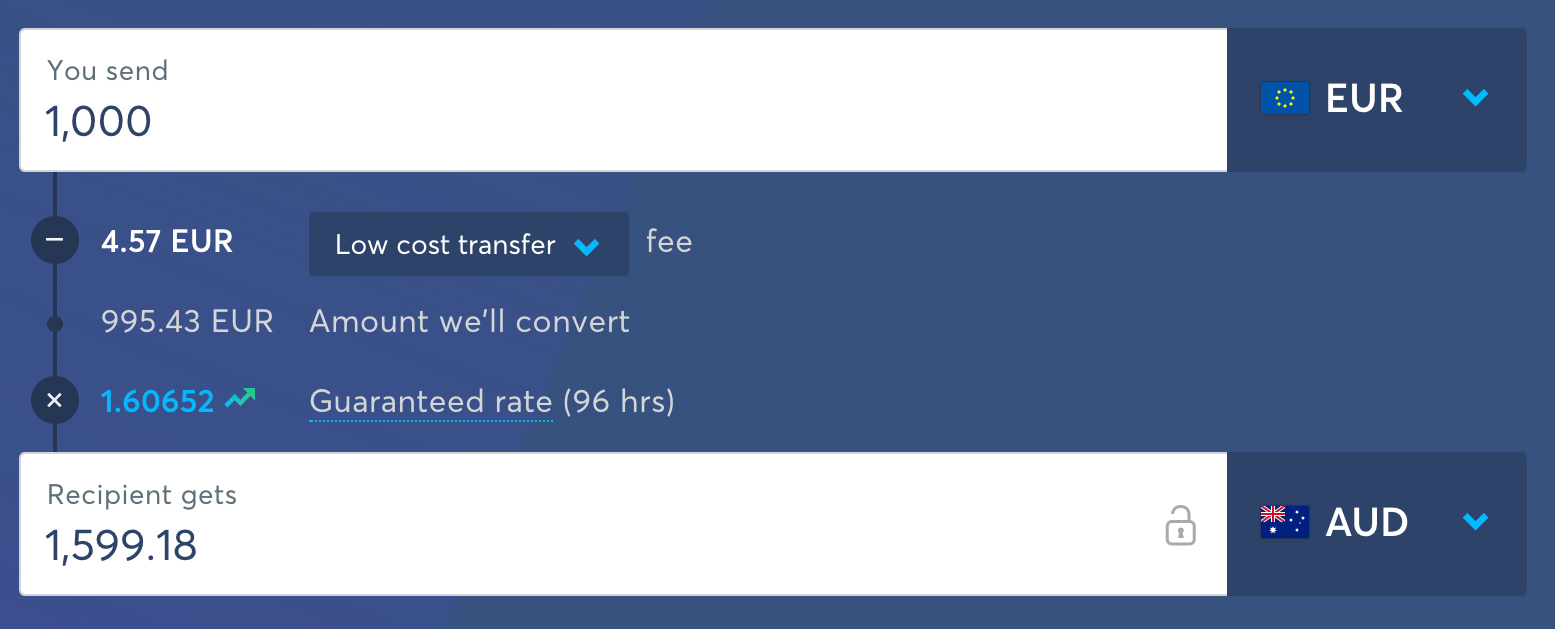 Their fees however can snowball when you send larger amounts, and can fluctuate depending on which currencies you're converting.
At CurrencyFair, our fee is always just €3 (or equivalent) - whether you're transferring €100 or €1,000,000 - in any currency, at any time.
PayPal
It's a common misconception that PayPal is a free service. But this couldn't be further from the truth - it's actually very expensive.

We were offered an exchange rate of 1 EUR - 1.5374 AUD meaning that the recipient would only get $1,537.47 (21:51 7 November 2019, inclusive of a currency conversion spread).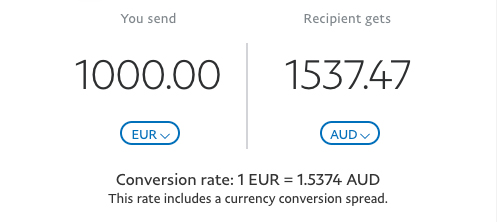 PayPal tack on hefty fees similar to that of a traditional bank; and to find a breakdown of the fees, we had to comb through their perplexing user agreement. Depending on the nature of the transaction, various different fees can come into play.
In the case of a personal payment, for example, a fee of 4.99 USD is added when the payment is made exclusively through your bank or PayPal balance.
If you would like to fully or partially fund the transaction through a different payment method, such as a debit or credit card, three different fees are tacked on:
4.99 USD

An additional charge of 3.4%

Fixed fee of $0.30 AUD.
Completing this transaction through PayPal instead of CurrencyFair means a needless loss of over $55 AUD.


WorldRemit
Offering up an exchange rate of 1 EUR - 1.58777 AUD (12:59, 7 November 2019), a fee of €3.99 is required to send money to Australia from Ireland.

Adding the fee, for a total of €1,003.99 the recipient will get $1,587.77 AUD within two working days.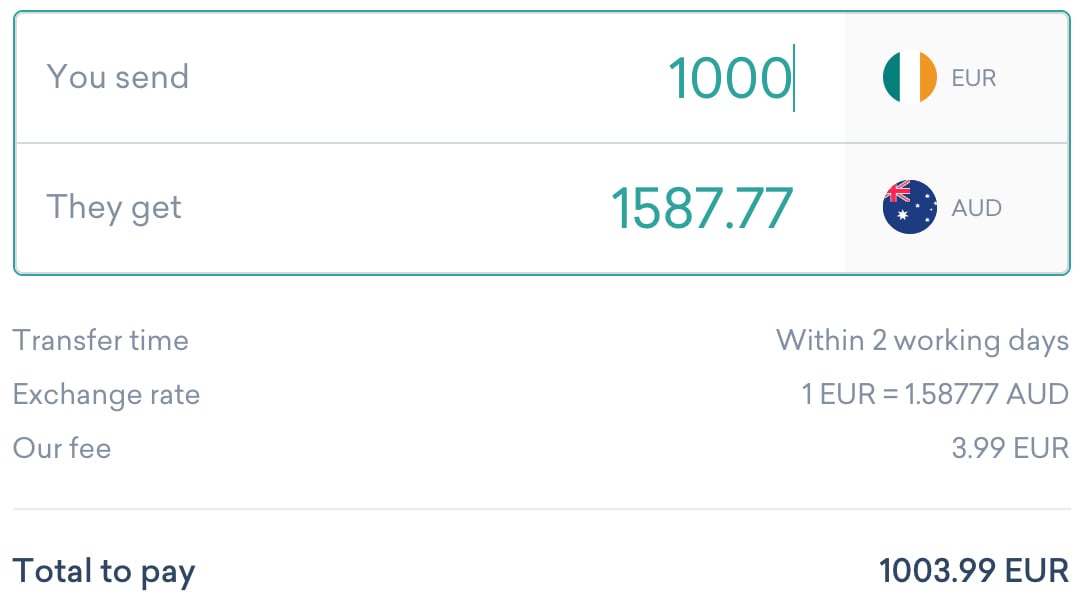 TransferGo
TransferGo's exchange rate of 1 EUR to 1.58764 AUD means that when sending funds through them, the recipient will receive $1,586.07 AUD after a fee of €0.99 is deducted (rates correct as of 10:07, 8 November 2019).



Bank of Ireland
Bank of Ireland offers an exchange rate of 1 EUR - 1.5429 AUD - so by transferring through the bank's online portal, 365 Online, the conversion calculator estimates that €1,000 will buy $1,542.90 AUD (14:31, 7 November 2019).

They do however state that: "These rates are for information only and not to be treated as a definite currency price."

Bank of Ireland do not charge fees for euro transfers to countries within the EU; but for euro payments elsewhere a €12 charge applies.

Where a buy/sell rate applies, however, payments destined for countries outside of the EU are subject to a €5 fee plus a "foreign exchange margin".

What does an added "foreign exchange margin" mean for your pocket?

Typically, banks tack on margins of between 3% to 6% on top of their fees. CurrencyFair, on the other hand, typically only charge a margin of 0.4% for immediate exchanges.

We also empower our customers to choose their own exchange rates on our unique peer-to-peer marketplace.


NAB (National Australian Bank)
National Australia Bank is cited as one of the 'big four' banks on the continent; along with WestPac, Commonwealth, and ANZ.

A recent report from the ACCC found that exchanging money through any of these prestigious banks was "never the cheapest option."


So how does NAB stack up compared to other money transfer companies for converting €1,000 to AUD?




Their online calculator estimates that €1,000 will buy $1,546.31 AUD (figures correct as of 16:35, 7 November 2019).
However, they also state that fees aren't included, and the figures displayed are referred to as "indicative rates".
They have a fee of $10 AUD for international money transfers made via NAB Internet Banking, when foreign currency is sent in. For transfers in which AUD is sent in, this fee jumps substantially to $30 AUD.
CurrencyFair
Our fair exchange rate of 1 EUR to 1.5983 AUD is inclusive of our $4 AUD fee, meaning when you send €1,000, the recipient will get $1,594.30 (17:01, 7 November 2019). Our small fixed fee and fair exchange rate means you save $79 AUD when compared to a typical bank.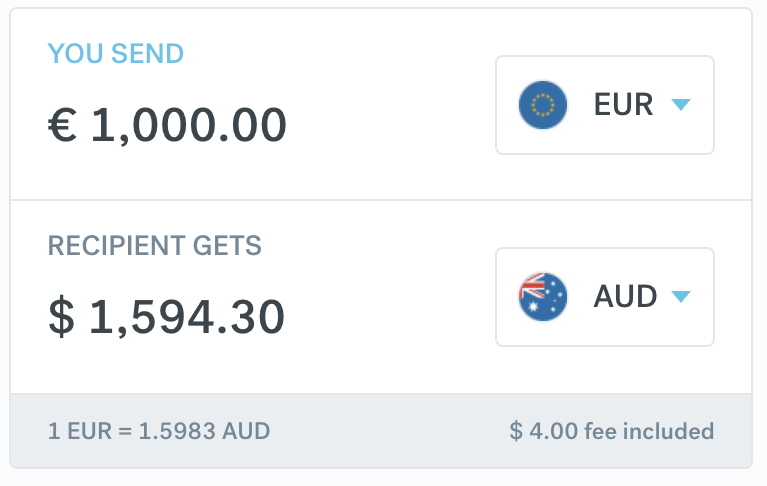 In fact, we're typically eight times cheaper than the banks.
You can also set your own rate on our peer-to-peer marketplace, and wait for the market to meet it - meaning our customers could even beat the currency market rate that you see on Google.
The savings you make my eliminating those hefty international banking fees and exorbitant exchange rates stays right in your pocket.
That's currency exchange, without compromise.