Money Transfer Companies Compared: Singapore
Many online money transfer providers can appear to offer attractive exchange rates, fast transfer times, while some boast of fee-free transfers– but in reality, their exchange rates could be giving their customers less money to send overseas. This is because some providers can hide fees and charges in their exchange rate. Others use complicated terms and conditions around their fees to mystify anyone with currency exchange needs. That is why it is important to do research and compare, before deciding on a money transfer provider.



For anyone planning to send money from Singapore: CurrencyFair investigated some leading providers of money transfers from the Lion City. From typical banks to popular online transfer providers, this article covers how their customers in Singapore could be overcharged or paying hidden fees when sending money overseas.
UOB
UOB, or United Overseas Bank Limited is a multinational banking organisation based in Singapore. It has branches in most South-east Asian countries and provides a wide range of financial services to its customers. Their charges on foreign money transfers are calculated as a percentage of the amount being transferred and start at S$8. Meaning the more you send, the more their fees can be. UOB have a table of charges that outlines how their fee can range from S$10 to S$100. Next there is an additional cable charge and agents charge to be added on to the transfer–all before checking if their exchange rate is the best available. The cable fee to all countries, except Singapore and Malaysia is $30. If using the MAS electronic payments system (MEPS), the UOB fee is S$20.

On the 19 September, 2019 we compared exchanging S$2 000 to Euro using the UOB currency converter and received approximately €1 287. This is excluding fees and charges to be deducted. With CurrencyFair, exchanging S$2 000 at the same time meant sending approximately €1 303 to a recipient. With our current offer of free transfers from Singapore*, it means the recipient will receive almost €20 more than with UOB –even before their fees and charges are deducted. That means the more transferred with CurrencyFair, the more savings to be made.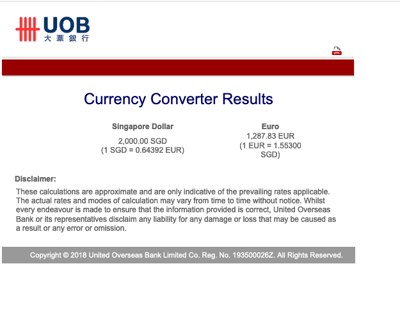 OCBC Bank
OCBC, otherwise known as Oversea-Chinese Banking Corporation is the oldest established bank in Singapore. Foreign currency payments with OCBC incur a commission ranging from a minimum S$10 to a maximum of S$25, before adding not only an additional flat S$20 cable charge fee but a fixed agent fee based on the currency being sent from Singapore. OCBC also place a limit of S$200,000 on transfers. These transfer limits are less than ideal for sending money abroad to pay for bigger money transactions like buying property or investing.

In comparison to OCBC's multiple charges for international money transfers, a CurrencyFair customer pays just one fee with to transfer a currency from their account, typically S$5 (or the currency equivalent).

In contrast to OCBC, CurrencyFair typically charge one fee of €3 (or the currency equivalent). Just part of our mission to bring fairer financial services to our customers. Until 31 December 2019, Singaporean customers can avail of free transfers! (*T&Cs apply).

CurrencyFair customers in Singapore can also avail of FAST to instantly send in S$200,000 to their CurrencyFair account. If they need to end more than S$200,000, a standard bank transfer can be used with no extra fees for larger money transfers.
PayPal
While PayPal is a popular currency exchange provider, it is unfortunate that many customers worldwide still find it difficult to understand how PayPal calculate their exchange rates and where they charge fees for money transfers.

The PayPal fee structure calculates a currency conversion fee of up to 4% that is adjusted and retained by PayPal in their exchange rates. Then, there is a personal payment fee followed by a small fixed fee for the money transfer. The PayPal personal payment fee depends not only on the country of the recipient but the country of the sender. We also compared PayPal's exchange rates with CurrencyFair. On the 19 September, 2019 at 15:57, the PayPal exchange rate exchanged S$2 000 to €1,265.82. Meanwhile, CurrencyFair's exchange rate at the same time offered €1,303.40. Before considering the personal payment and fixed fees PayPal charge, CurrencyFair's exchange rate offered a fairer deal on a money transfer of S$2,000 Singapore Dollars–and almost €40 more for a potential customer.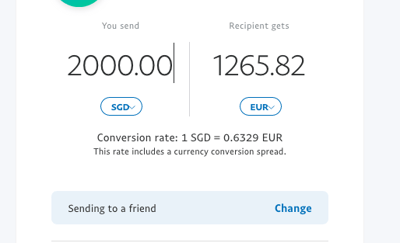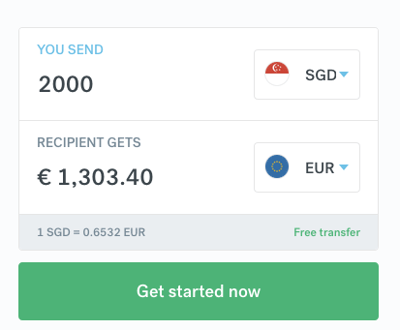 Western Union
Western Union is one of the world's largest money transfer services, with over 550,000 agent locations all over the world.

Their charges appear in two ways on a money transfer:
Up-front fees: This fee is highly dependent on how much and where money is being sent.

Exchange rates: On the 19 September, 2019, at 16:38 the SGD-EUR exchange rate with CurrencyFair was 0.6534, giving customers over €650 when sending in S$1 000 to be exchanged. Western Union, on the other hand, was offering a rate of just 0.6115, giving their customers €611.50 when exchanging S$1 000. Meaning a loss of almost €40 on this example transfer with Western Union compared with CurrencyFair.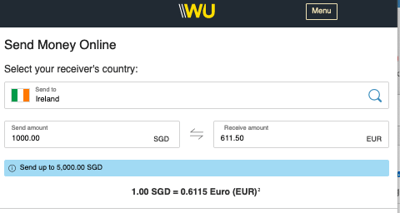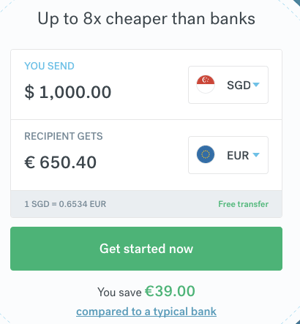 Western Union also sets a daily cap of S$5,000. If transferring a deposit for example for a house or transferring savings over S$10,000, facing this daily limit means having to break out a single transfer into multiple transactions and thereby incurring new charges every time.
Money Transfers with CurrencyFair
UOB, OCBC, PayPal and Western Union are all popular choices for anyone in Singapore wishing to transfer money abroad. As outline above some of these providers have complex fee structures, additional charges, along with poor exchange rates and daily transfer limits that can make money transfers expensive, restrictive and unclear. The team in CurrencyFair believe in keeping things simple: the best available exchange rates with one fair fee–meaning more savings when sending a payment abroad in another currency.

The savviest of consumers can sometimes forget the value to be found in comparing providers. Even for someone who does moneys transfers every now and then, it is worth researching who to send money overseas with. For many consumers and businesses, their choice of money transfer provider can impact the total cost, time and experience of sending funds abroad.

Ready for money transfers that offer a superior service and better value–without compromise?
CurrencyFair are offering three months of fee-free transfers to customers in Singapore until 31 December 2019 (* T&Cs apply)

Our customers are typically charged just S$5 (or the currency equivalent) to transfer out money– regardless of the amount

Our foreign exchange rates are calculated with fairness in mind, typically with a margin ranging from 0.45%–0.6%

We offer the best available rates on each transfer regardless of size, making CurrencyFair suitable for small, regular remittances or for bigger life transactions


The information contained in this article should not be relied upon as a substitute for professional advice in individual cases. Future changes in legislation, tax level, and practice could affect the information in this site. The information shown is based on date or information obtained from sources believed to be reliable but CurrencyFair makes no representation and accepts no responsibility as to its accuracy or completeness and will not be held liable for damages arising out of any person's reliance upon this information.



*Terms and conditions
To qualify for the promotion, you must be a new customer.

To qualify for the promotion, you must be a Singaporean resident.

The qualifying customer must sign up to a CurrencyFair account between 17 June 2019 and end of day 31 December 2019, 23:59hrs.

3 months of unlimited free transfers will be applied to the account on the date of registration. These will be available to use as soon as the account has been verified and activated.

3 months from registration date the free transfers will automatically expire.

CurrencyFair reserves the right to amend this promotion at any time.

This offer is subject to our normal, general terms and conditions.

Image courtesy of Andi Rizal via Unsplash