Have you been considering making the big move to New Zealand? This guide to the cost of living in New Zealand will take you through all you need to know before making the decision – from the price of rent in New Zealand and cost of property, commuting costs, and education, to what you can expect to pay for health, fitness and entertainment.
Sending money to New Zealand? Try our free calculator and see how much you can save with CurrencyFair.
Cost of Living in New Zealand
According to statistics by Numbeo, New Zealand is the 15th most expensive country in the world. It ranks just after the Qatar, and is cheaper than other popular expat destinations on this side of the world, such as Singapore and Hong Kong. It shares a similar cost of living to Australia, proving to be just a little more expensive until rent is taken into account. This is where things tip in favour of New Zealand, and overall, make it the cheaper of the two Oceanic countries.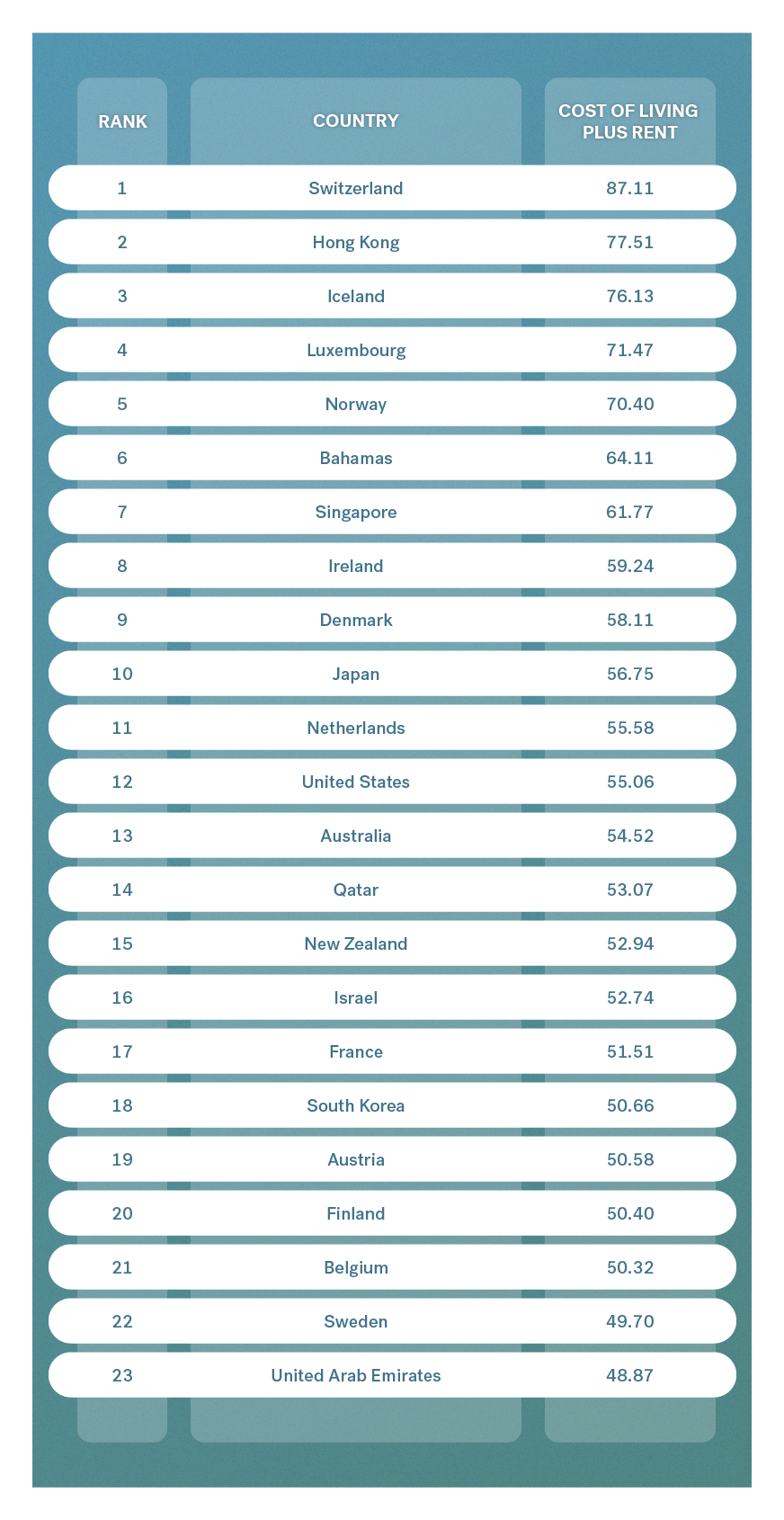 Auckland is the most expensive city in NZ, and is a significant step up in cost when compared to its successors, Wellington and Christchurch. As of May 2019, the average monthly net wage in Auckland was NZ$3,874.89 (Numbeo). This is slightly higher than in Christchurch where the average person earns NZ$3,617.04 after tax, but is a significant step down when compared to capital city Wellington's whopping average of NZ$4,416.52!
Cost of Property in New Zealand
While New Zealand is renowned for its breath-taking landscape, most of its population lives in the built-up areas of the country. Those considering to live more rurally may get a better deal on property, but will more than likely have to factor in the cost of buying and running a car too.
Planning to buy property in New Zealand? Find out how to save on your transfer with CurrencyFair.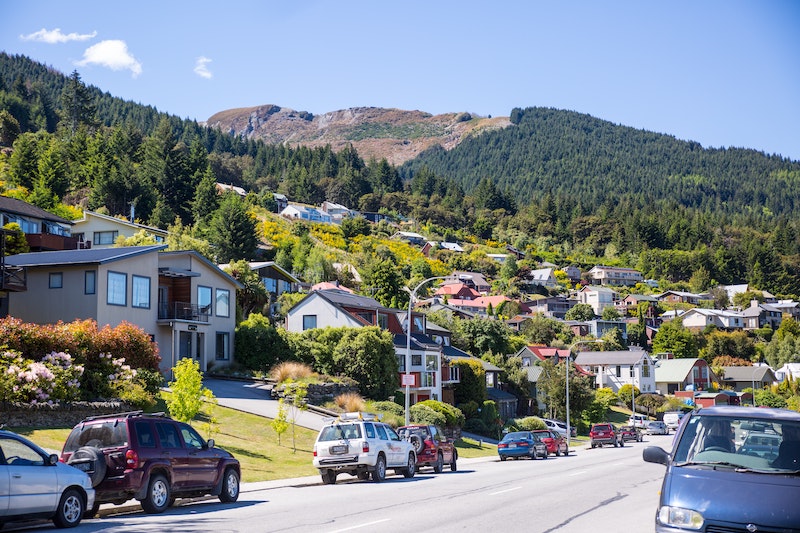 Renting Property in New Zealand
The property-to-rent scene in New Zealand is highly variable depending on where you are and what you're looking for, as with anywhere else in the world. More uniquely, however, is the typical renting arrangement: Rent is paid weekly, and long-term leases are quite rare.
The typical 3-bedroom apartment in the city centre will set you back NZ$2459.44 each month, which compares very favourably to prices expected in Hong Kong (NZ$7571.42) and Singapore (NZ$5652.76). It's also better value than the price of a similar property in urban Australia, which is priced at NZ$2865.93. Check Numbeo's comprehensive price list to see how NZ compares to your home country here.
Buying Property in New Zealand
Other expats may be seeking to settle down in New Zealand more permanently by purchasing property. Relative to the country's average income, its housing prices are the 17th least affordable in the world (Numbeo). Expats hailing from the US, Canada, and the Middle East will find life in New Zealand to be more affordable, while many Europeans will have to get used to a greater proportion of their income going towards keeping a roof over their heads.
Within New Zealand itself, prices are highly variable depending where you see yourself building a nest. Below is a sample of the average price per square metre of an apartment in three of the country's major cities.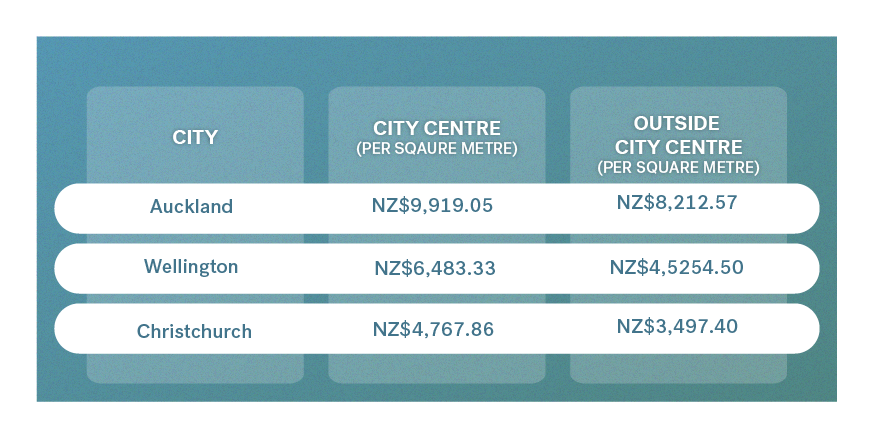 Figures from Numbeo.
As seen above, there is a very obvious difference in property prices, which depends a great deal on property demand and the population density of the area. Maybe settling in the idyllic NZ countryside wouldn't be so bad after all – if you've got money to spend on transport, that is…
Cost of Travel and Commuting in New Zealand
Ninety percent of New Zealand's population lives in its major cities, so it's understandable that these are the key hubs for public transport in the country. Living outside of these regions may afford you scenic views and some peace and quiet, but will also require getting around by car. New Zealand's petrol price averages at NZ$2.20 per litre, which is generally considered to be cheaper than prices in Europe. Car prices are similar to other parts of the world, according to Numbeo's indexes.
If you're looking to avail of public transport in one of New Zealand's more built-up areas, unfortunately, things don't look so good. An average monthly transport pass costs NZ$150, making it the fourth most expensive in the world – beaten only by Ireland (NZ$170.94), Australia (NZ$157.63), and Iceland (NZ$151.80).
Cost of Education in New Zealand
While private school attendance is relatively common, New Zealand's free public education system is also said to bereputable. However, third-level education is not so cheap – especially for third-level students. A student can expect to pay upwards of NZ$20,000, depending on their chosen field of study. To put this in perspective, consider the typical tuition fees in England (NZ$17,392), Ireland (NZ$5140), or Germany and Norway (free)!

Some families considering migration to New Zealand may also be wondering about childcare: The good news is, the first 20 hours of early childhood education are funded by the
government. This might be one of the reasons why New Zealand's price of pre-schooling (averaging NZ$660.82) is typically cheaper than in other English-speaking countries.


Use CurrencyFair to reduce the avoid the hidden costs of money transfers to pay university fees.
Cost of Health and Fitness in New Zealand
New Zealand's public healthcare system is one of the most comprehensive in the world, according to Internations, with free public hospital treatment, x-rays and lab tests for expats with a 2-year minimum work permit.
New Zealand's great outdoors provide the perfect backdrop for getting some exercise, but if you're more inclined to use a gym, Numbeo quotes the average monthly membership at NZ$60.22. In comparison, UK inhabitants normally pay NZ$56.46, and those in Australia pay around NZ$67.83.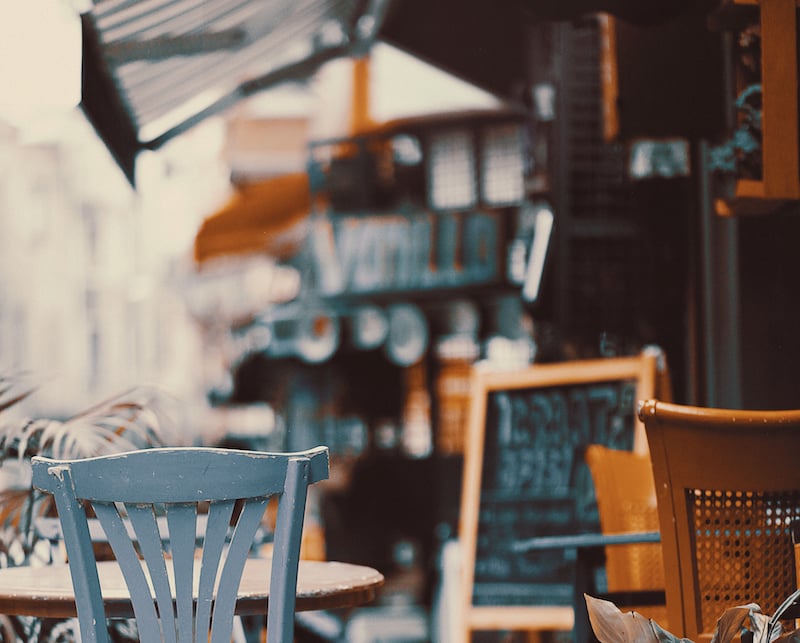 Cost of Entertainment in New Zealand
Diving into a new country's culture and lifestyle is vital when settling in as an expat, so naturally you will wonder how much it's all going to cost. Numbeo's index shows that the average three-course meal for two in a mid-tier restaurant will cost NZ$90, while a pint will set you back about NZ$8. This is on the higher end of price ranges which are typical in Western countries.
One obvious benefit of living in New Zealand is having a wealth of outdoor adventure activities at your disposal. The country's extremely low population density means that it's easy to get away for a peaceful retreat in the open air with some breath-taking views – which don't cost a penny! In this case, it's more of a question of getting cost-per-wear from your hiking boots.
Is Moving to New Zealand a Good Idea?
When compared to other English speaking countries, New Zealand's cost of living errs slightly on the cheaper side of things. However, NZ expats say that securing a job here before making the move will require a lot of initiative and persistence. If you're willing to put in the time and roll the dice, it seems likely that a move to New Zealand would pay dividends in the form of a pleasant lifestyle and gorgeous surroundings.
Make the move to New Zealand a little more straight-forward by opening a CurrencyFair account before you leave.
For when you need to transfer savings to New Zealand or send money home from New Zealand, CurrencyFair offer you the support, speed and great exchange rates for your money transfers. Banks hide their fees in poor exchange rates, often charging as much as 3%-6% in excessive margins. CurrencyFair is around 0.45% away from the currency market rate, meaning it can be up to eight times cheaper for you to send money online to New Zealand with CurrencyFair.