The region of Hong Kong really brings the phrase 'small but mighty' to life. Although the city takes up just over one thousand square kilometres, it packs in a population upwards of seven million. Hongkongers are diverse in their origin, culture, and reason for living in the 'Pearl of the Orient'. The city maintains a very approachable mix of East and West, offering great career opportunities and a high quality of education.

Before making the move, it's vital to ensure that you can afford all that comes with the Hong Kong lifestyle. In this article, Hong Kong's cost of living will be explored by looking at expenses relating to everything from rent to restaurants.
Wondering about the value of HKD in your home currency? Check the rates on our CurrencyFair to find out.
The Cost of Living in Hong Kong
While many aspire to live in Hong Kong for the affluent lifestyle and exciting career opportunities, it all comes at a price. Hong Kong has the fourth highest cost of living plus rent in the world. It is beaten only by the Cayman Islands, Bermuda and Switzerland according to Numbeo's index. Therefore, it is the most expensive region in all of Asia in which to live.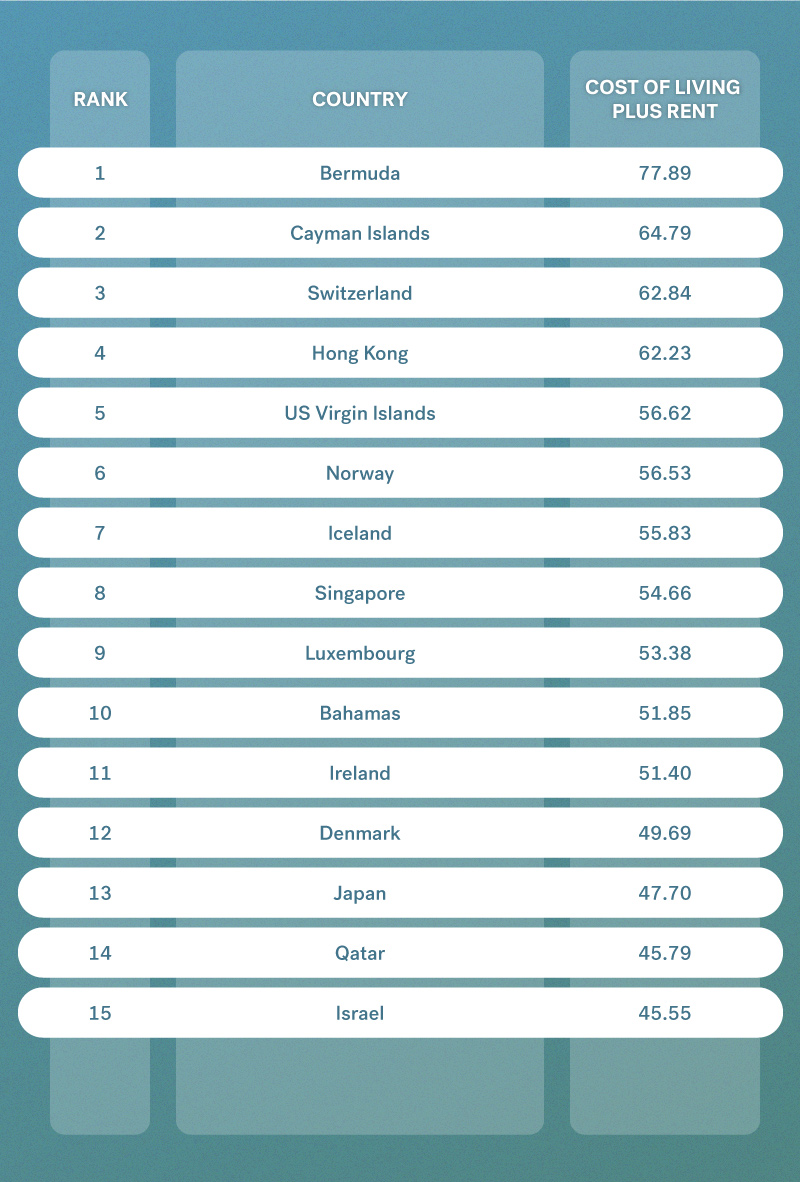 Property Costs in Hong Kong
A country's demand for space is a major factor in what expats can expect to pay for housing when migrating. As noted in the table above, the countries with the highest cost of living plus rent are those that are geographically smaller – Hong Kong included. It is important to bear in mind that given the density of the tiny region, a property with space will come with a much bigger price tag.
Renting in Hong Kong
Hong Kong is known for its safe and friendly neighbourhoods, with a rental market that charges a premium for those attributes. Travel site Culture Trip states that monthly rent starts at HK$5,000, but those looking to find a "nice" studio or shared flat can expect to pay around HK$10,000.

Expat resource InterNations warns that apartment ads can often be misleading and typically will only offer short-term rentals. The site recommends that expats do their research on a property and its landlord before signing a lease to avoid risk of scams or fraud. In addition, prospective tenants are warned that the property's size will be displayed in square feet and not square metres on advertising materials.

Expats should also note that upon signing a tenancy agreement, a stamp duty fee will be applied, which is a small percentage of the annual rent paid. Although this may seem insignificant, it could be quite a large amount given the high prices of rent in Hong Kong. The charge is split between the tenant and landlord and should be factored into budgets in the planning phase to ensure smooth sailing.
Buying Property in Hong Kong
It has already been established that space is limited in Hong Kong residences. As with some other regions in Asia, property cannot technically be bought here – all property is owned by the government. A long-term 50-year lease operates in place of sale agreements. This 'rent' is paid annually to the government and is usually 10% under the property's value.

Foreigners must pay the additional stamp duty tax when "purchasing" property too. In this case, the tax would be 15% of the value of the property. Considering that decent Hong Kong properties can be valued in the millions, this charge is definitely worth taking note of before committing to a life in "Asia's world city".

Below, Numbeo details the average cost of an apartment per square metre both inside and outside of Hong Kong's city centre:



Avoid unnecessary costs when purchasing property abroad by using CurrencyFair. Find out how it works here.
Educational Costs in Hong Kong
Hong Kong is known for its high standard of education. With a large proportion of its population hailing from different parts of the world, there are is no shortage of international schools to choose from. Despite this, expats planning to put their children through international school education should be well-prepared for steep school charges: The Hong Kong International School, for example, charges a tuition fee of HK$245,950 for a Grade 12 student. University education will also come with a big bill. Education resource site Study in Hong Kong says that one year of tuition will cost HK$90,000-265,000, depending on the choice of school and course.
Healthcare Costs in Hong Kong
Both private and public healthcare are highly reputable in Hong Kong, and life expectancy there is one of the highest in the world. Some expats have private healthcare offered as a benefit at their place of work. Unfortunately, if this is not the case, going the public route may mean long waiting lists. Resources, however high-quality, are sparse in the region. Investing in private care may be the way to go, although Hong Kong's system is the second most expensive in the world after the US, says Healthy Matters. The Hong Kong-based health site also claims that a visit to the GP can cost up to HK$1,000.
Travel and Commuting Costs in Hong Kong
When considering living in such a small space, one might think that getting around will be easy. However, the population density of Hong Kong means the very opposite: The city can get cramped and congested during peak traffic times. Keeping a car in operation can be very costly in Hong Kong, with the country's petrol prices being the most expensive in the world (Numbeo).

Alternatively, Hongkongers can avail of an array of public transport options. A contactless Octopus card can conveniently be topped up for use on the MTR, trams, buses, and is even accepted in some stores and cafés. Numbeo states that the average monthly expense for public transport is HK$500. This is cheaper than many Western countries' equivalent.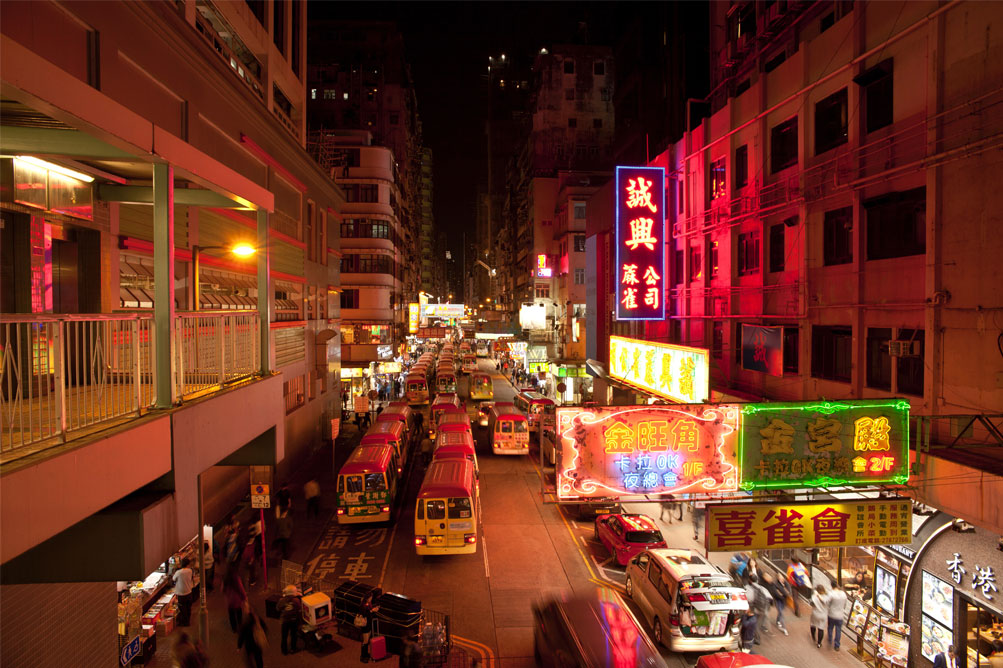 Entertainment Costs in Hong Kong
Many come to Hong Kong to advance in their field of work, but stay for what the city has to offer after-hours. Inhabitants pass the time by exploring the many islands close by, checking out the Happy Valley racecourse or sampling the bustling nightlife. Hong Kong truly is the city for those who like to work hard and play hard.

While there are plenty of upmarket bars and restaurants of every imaginable cuisine in Hong Kong, the city is also well-known for its more affordable street food. According to Price of Travel, the average street meal starts at HK$35, which is the equivalent of US$4.50. In contrast, Numbeo prices a slightly more lavish three-course meal at HK$200, and a pint afterwards at HK$50.
Is Moving to Hong Kong a Good Idea?
While life in Hong Kong has promising prospects for many, it must be acknowledged that life here will come at a high price. While the concept of earning more money there is exciting and rewarding, making sure you have enough savings to first find your feet will ensure that the move goes smoothly. Forward planning and finding opportunities for cost savings will be the first step to making your dreams of moving to Hong Kong come true.

To put the costs listed in this article into perspective, we have converted them into euros, pounds sterling and US dollars: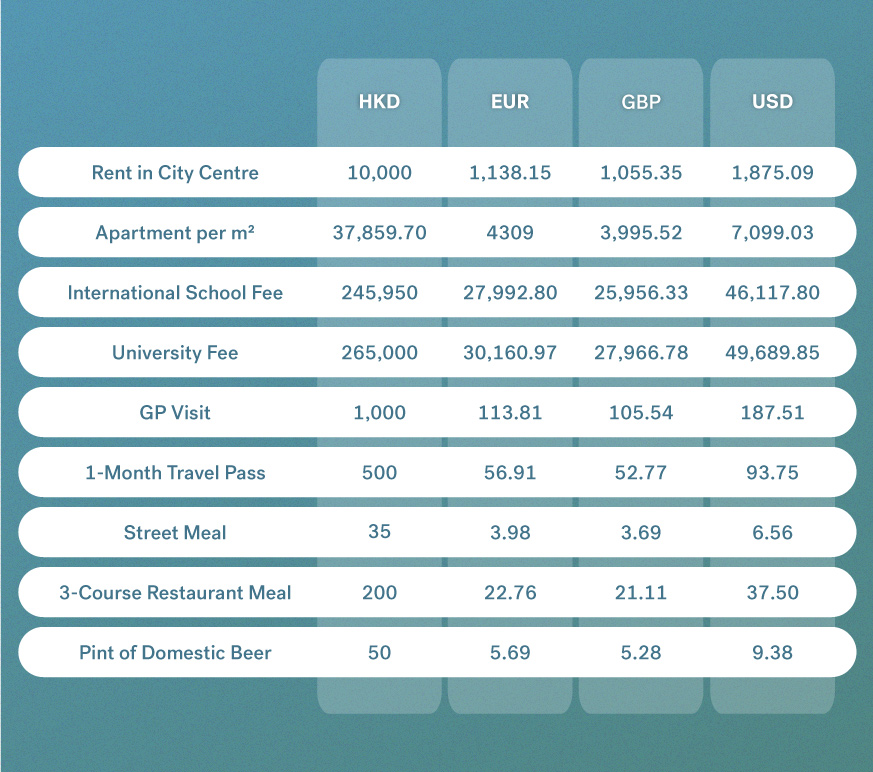 Using CurrencyFair could be one way to avoid unnecessary expense when making purchases, sending money to others or to your own foreign account. CurrencyFair offers the support, speed and great exchange rates needed for your money transfers. Banks hide their fees in poor exchange rates, often charging as much as 3-6% in excessive margins. CurrencyFair is around 0.45% away from the currency market rate, meaning the best available exchange rates to send money online with CurrencyFair.


The information contained in this article should not be relied upon as a substitute for professional advice in individual cases. Future changes in legislation, tax level, and practice could affect the information in this site. The information shown is based on date or information obtained from sources believed to be reliable but CurrencyFair makes no representation and accepts no responsibility as to its accuracy or completeness and will not be held liable for damages arising out of any person's reliance upon this information.