3 Big Questions To Ask Your Currency Exchange Provider
Growing a successful business can be a challenging and daunting labour of love. Managing cash-flow, controlling costs and keeping customers and suppliers happy - just some of the daily tasks faced by entrepreneurs.
For businesses that work with overseas suppliers and international customers, there is the added factor of currency exchange to consider. Moving money across borders, quickly and at the best rate, should be a straightforward task for business owners.
In this article we've outlined three questions every small business owner should be asking their currency exchange provider.
1 – What's the margin on your exchange rate?
Banks and other currency exchange providers are often quite coy about the exact margins they add to their exchange rates, and with good reason.
When buying currency you are offered a rate by your bank. Quite often this can differ from the "real", pure exchange rate (typically what you see on Google) by as much as 5%. This exchange rate margin takes a percentage of your money - a direct cost to your business.
Businesses need to understand how their exchange rates are calculated, and how much margin is built into the rates. Often a service will claim to be "commission free", while charging heavy markups on their rates.
By asking the simple question: "what's the margin on your exchange rate?", business owners can get a truer picture on exactly what happens to their money when changing currencies.
2 – I'm looking for a better rate – what can I do?
Are you planning an overseas project or campaign in the near future? If your need for foreign currency isn't immediate, and you can wait to process the transfer, sometimes it can make sense to hold out for a better rate.
By placing an order for your required trade, at your desired rate, you can often get more for your money.
Unfortunately, most currency exchange providers don't offer this flexibility. You would need to monitor the exchange rate, wait for the right moment, phone up, and place your order.
And let's be honest, who has time to do all that?
3 – When will my funds arrive in the recipient account?
For any small business, managing cash-flow and moving money quickly are important in day-to-day operations.
If you use your bank for currency transfers, you may have some experience of the delays involved. Your money, once it leaves your domestic account, is sent to an intermediary bank, which forwards the funds on to the receiving bank. This means delays, and of course extra charges, leaving you with less time and less money.
Settling invoices on time, maintaining good supplier relationships, paying contractors as agreed - these are all important considerations when growing a business. When transferring currency, always be mindful of potential delays and hidden charges.
CurrencyFair is the simple, low-cost way to transfer currency.
Our fees are small, transparent and fair, and remain the same no matter how much you transfer. The great rates you see on our live calculator are the actual rates our customers are getting at that time. Read more about our pricing here.
If you're not happy with the exchange rate when you decide to make your transfer, you can request a better rate in our Exchange. Your funds will then wait for the rate to move in your favour, and once it does your exchange automatically takes place. This feature is unique to CurrencyFair customers.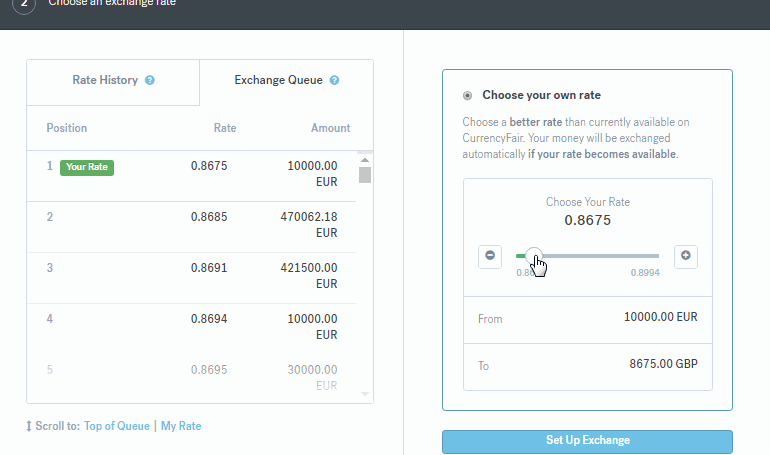 Transferring money using CurrencyFair is fast and easy. Not only can you avoid international transfer charges, but also the unnecessary delays. Instead of sending money from, for example, the UK to Australia, we utilise our local accounts in each country and use a quick and free domestic transfer on both sides. The result is a faster, cheaper process for all parties.