The early bird gets the worm, and the organised Christmas present-buyer gets the good Advent calendars before they're all sold out. Advent calendars have traditionally been a means of building anticipation around the holidays for children, but the tyrannical days of children having all the fun are no more. We've collected a list of cool Advent calendars for sale online to bring a little magic to everyone's holidays.

Advent calendars for dogs? You got it. Beauty Advent calendars to treat yourself? Done. Advent calendars full of jam? You do you, boo. Don't forget to pick up a fancy loaf of bread for your toast. With all the options available to purchase online, they're the perfect gift to send to friends and family abroad. And if you're sending money abroad this holiday season, you should know that CurrencyFair is up to eight times cheaper than the banks. You can send money overseas to 150 countries at better exchange rates, with no hidden fees, with a CurrencyFair account.
Unique Advent calendars
Advent calendars originated in Germany in the early 20th century, with Gerhard Lang (1881-1974) considered to be the "inventor"of the printed Advent calendar. As the story goes, his mother sewed 24 cookies onto the lid of a box and he was allowed to eat one a day leading up to Christmas. Gerhard went on to produce the first printed and commercial Advent calendar in 1908, forever immortalising himself for something that was his mother's idea. From cookies to chocolates, coffees and craft beers, Advent calendars today come in all shapes and sizes. In no particular order, here are some of the most well-reviewed, unique Advent calendars you can snap up for Christmas.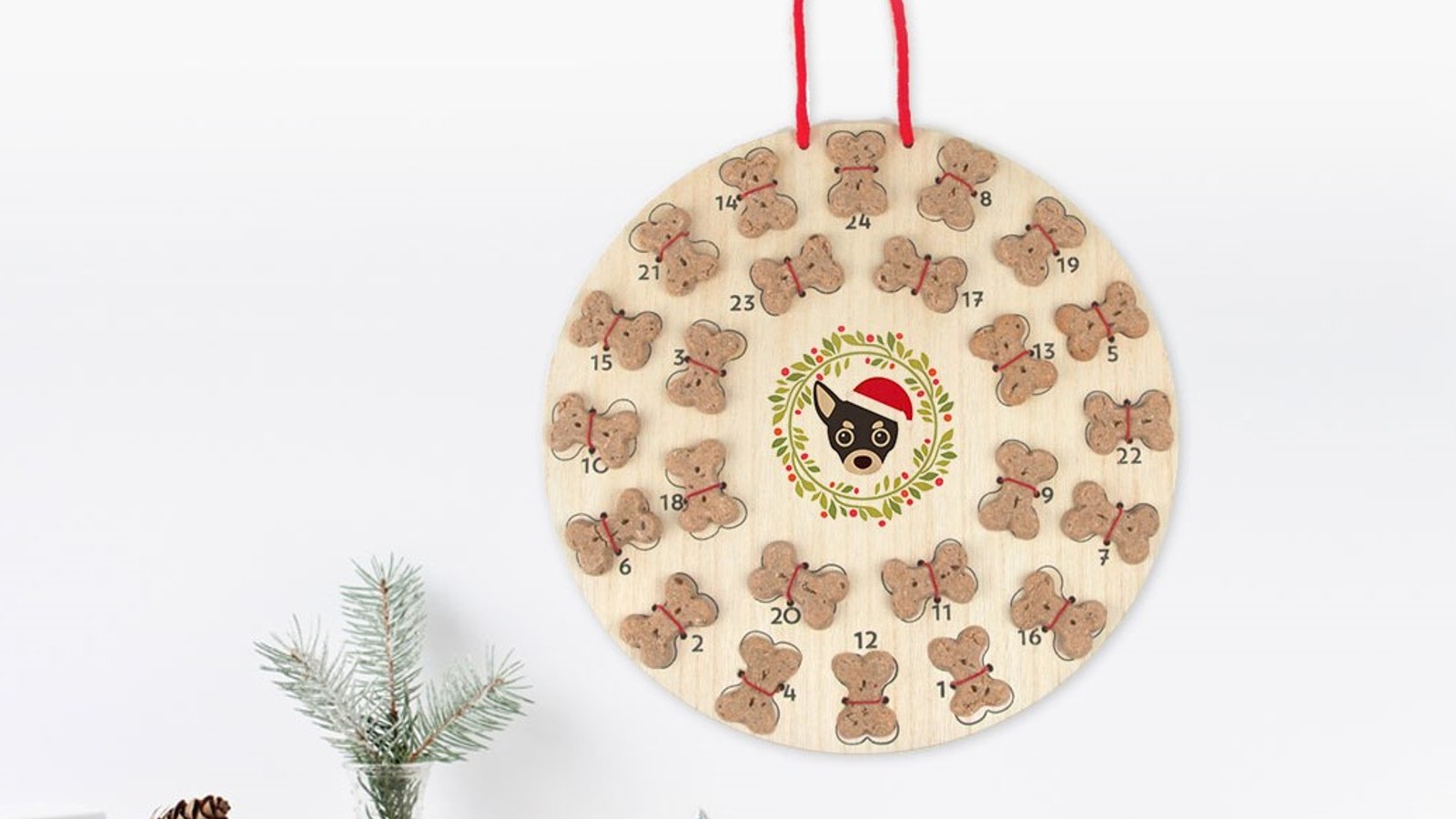 Advent calendars for dogs
'Christmas Wreath' Advent Calendar
After extensive testing with a labrador named Kolo, The Independent, a British newspaper, voted Yappy.com's wooden, refillable Advent calendar for dogs as its best overall. There's space in the middle for a personalised icon of your pooch, and numbered spaces for you to fill with the treats (duck and orange flavoured biscuits, no less) provided. It is priced at £24.99.
Rosewood Advent Calendar for Dogs
For a budget-conscious option, the Rosewood Advent Calendar for Dogs is the cheapest on The Independent's list, priced at £2.99. This cardboard Advent calendar is filled with dog-safe chocolates made from carob, featuring a simple red and gold design. Fun fact: it is the theobromine in chocolate that is toxic to dogs, which is found in cacao. This is why dark chocolate is more toxic to dogs than milk chocolate, thanks to its higher cacao content.
Reusable Advent calendars

Image source: www.loccitane.com
Fabric Advent Calendar Penguin Pals
This handmade reusable Advent calendar comes from DiborHome, an Etsy seller based in the United Kingdom (UK) with over 1,000 positive reviews. The double-layer fabric Advent calendar features 24 generously sized pockets to add your own gifts and count down to Christmas year after year. It is priced at £24.99.
L'Occitane Reusable Advent Calendar
This fabric Advent calendar comes from L'Occitane, an international beauty company. Pictured above, its nature-inspired reusable cotton Advent calendar comes recommended from The Irish Independent, a news and media company. It's filled with L'Occitane products for your hands, feet, hair, face and body. Priced at €180, this would be a great beauty Advent calendar for any skincare-obsessed people in your life.
Personalised Advent calendars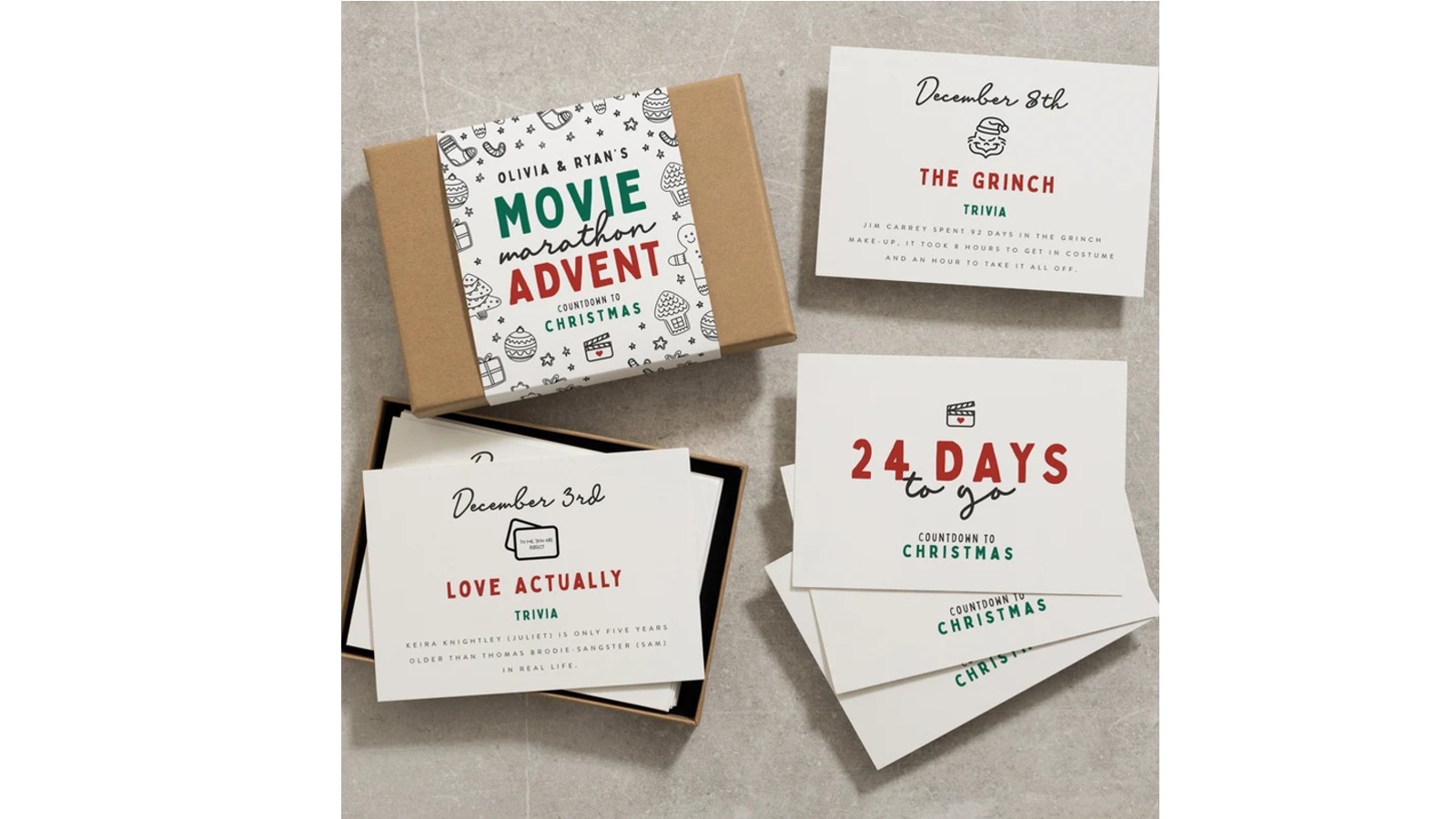 Image source: TwistStationary on Etsy
Family Movie Advent Calendar
Host your own festive film festival and count down the days to Christmas using this handmade, personalised movie Advent calendar. With over 20,000 positive reviews on Etsy, each box contains 24 Christmas films to watch along with a bit of interesting trivia on each movie. The cards come in a keepsake box with a personalised card sleeve. It is priced at £12.95.
Personalised Velvet Advent Calendar
This handmade velvet and glitter Advent calendar features 24 individual pockets to fill with your own treats and small gifts. The store has over 60 positive reviews on Etsy, and each Advent calendar comes priced at £35.00 with the option to add a personalised word or name for free.
Cool Advent calendars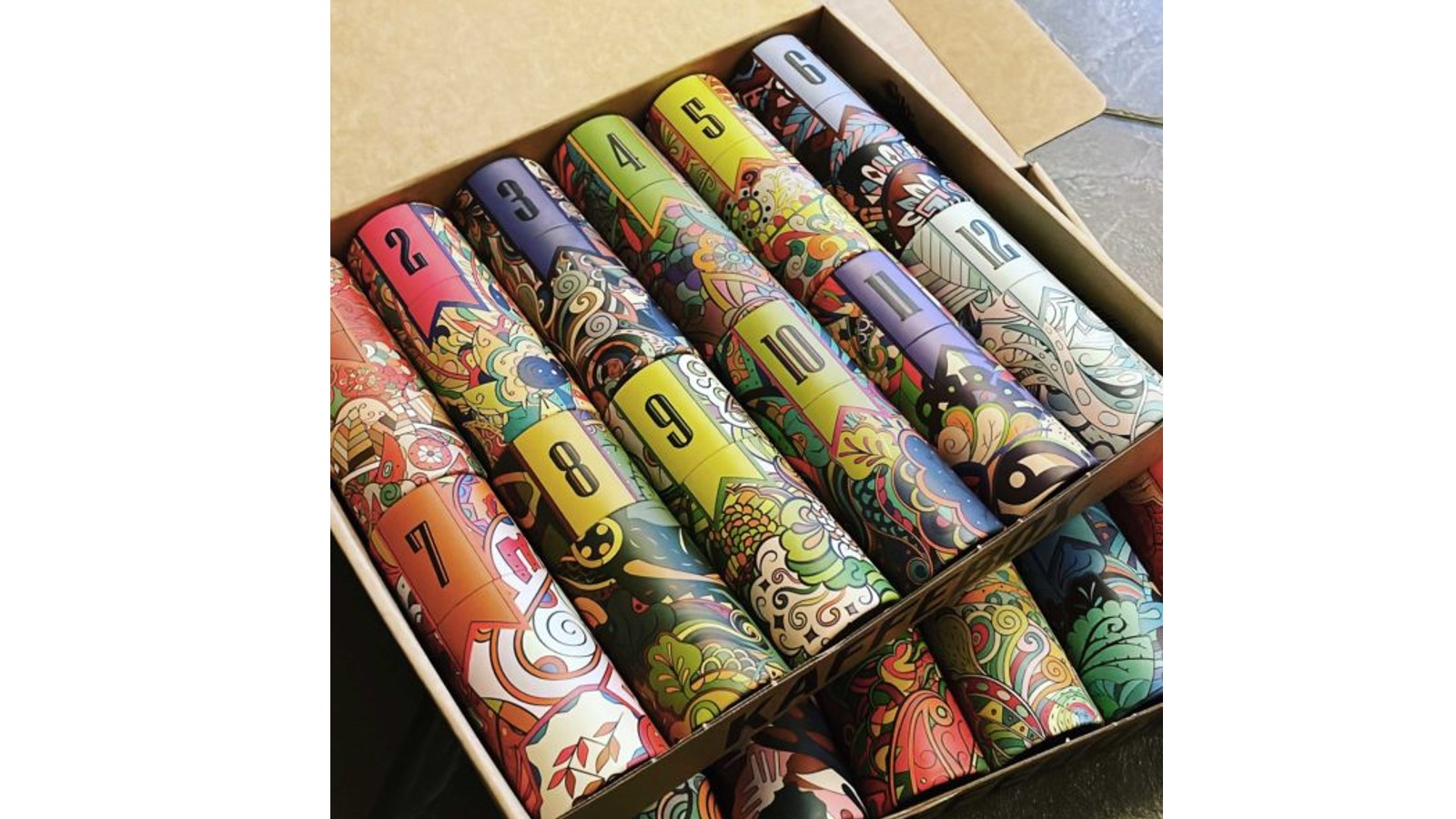 Image source: KaffeBox.
Kaffe Box Speciality Coffee Advent Calendar
​​The Specialty Coffee Advent Calendar from KaffeBox, a monthly coffee subscription service based in Scandinavia, has a 5.0 rating out of 41 reviews. It features 24 festively-decorated canisters containing 50g of coffee each from 12 Scandinavian speciality roasters. As any coffee aficionado will know, the freshness of the roast has an impact on the flavour. Kaffe's coffee Advent calendar is sent as two shipments of 12 tubes each to allow the beans to be roasted to order. It is priced at €163.
Bonne Maman Jam Advent Calendar
Once again recommended by The Independent, who rightly couldn't resist the pun by calling this Advent calendar "jam-packed and delicious". This unique Advent calendar comes with 24 mini jars of jam in different flavour combinations from the french conserve brand Bonne Maman. Priced at £25.99, it includes old favourites like raspberry and strawberry, and new holiday flavours such as cherry with hibiscus flower, sweet orange and passion fruit and peach with jasmine.
Craft Beer Advent Calendar
Hello! magazine, a publication based in the UK, has this comprehensive list of beer Advent calendars for Christmas for even more inspiration, but many of the companies on its list do not deliver outside of the UK. However, Beerwulf, one of the beer delivery companies on that list, delivers to the Netherlands, Belgium, France, Germany, Austria, Spain, Portugal, Italy and Luxembourg. Its beer Advent calendar is priced at £65.99 and comes with 24 unique beers from 24 brewers.
Holiday Luxury Chocolate Advent Calendar
This luxury chocolate Advent calendar from Godiva, a Belgian chocolate company, has over 400 five-star reviews on its American website. For delivery to Canada, China, Europe, Japan, Hong Kong, or Turkey, you can visit each country's website and get your festive chocolate fix wherever you are in the world. Here's the Godiva chocolate Advent calendar in Europe, for example.
Save money on your overseas transfers this Christmas
The festive season is a time when many of us are sending money abroad to our friends and family.

Don't forget that CurrencyFair offers rates up to eight times cheaper than the banks to send money overseas. You can choose to send money immediately with our quick, low-cost money transfers or set your own rate on the Marketplace, and wait for the market to meet it — meaning you could even beat the currency market rate that you see online.

Join over 170,000 happy customers who have saved millions with CurrencyFair.
This information is correct as of 15 November 2021. This information is not to be relied on in making a decision with regard to an investment. We strongly recommend that you obtain independent financial advice before making any form of investment or significant financial transaction. This article is purely for general information purposes. Photo by Elena Mozhvilo on Unsplash.