Bridging the gap between education and technology
A CurrencyFair #CommunityStory from Lucas Moffitt
CurrencyFair began as an answer to a common problem; expats looking for a cheap, simple way to move money to and from their new home countries. By using our innovative technology our customers can access great exchange rates when they need to transfer money abroad.
In Lucas Moffitt we found someone just as passionate about the benefits of technology as we are. After a thoughtful tweet from Lucas complimenting us on how how helpful our emails are, we were intrigued.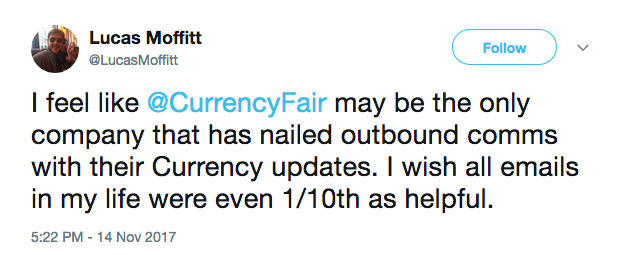 We quickly got in touch and found out how Lucas is leveraging technology to give millions access to education.
Tell us your story
I am an ex design and technology teacher from Newcastle, Australia, who moved into software engineering and the product world to help bridge the gap between education and technology. Having spent 26 years in Australia, my wife and I decided we were in need of a change and packed up our lives to head to Europe. After a three-month holiday we ended up in London and just decided to stay.
Looking at your website www.lucasmoffitt.com and numerous articles on Medium, Education and educational technology seem to be something you are passionate about. Why does this matter to you?
Having a background in tech, and after spending time as a teacher, I decided I'd be more useful helping bridge the visible gap between technology and education that I was dealing with on a daily basis. It is important to me that, if I'm not directly teaching, I should be helping those who are. Since then, I've founded and co-founded several Ed-tech companies around the world including Australia, Singapore and the UK and Ireland.
Talk to us about your websites and apps. What inspired you to create them?
Over the last few years I've helped hundreds of thousands of teachers build and manage their lesson planning, assessment and other classroom management tasks with teachercollection. I've enabled young spellers to change the way they expand their vocabulary and spelling prowess with smartspeller. I've supported budding academics mitigate risk with academicwordsmith. I've worked with many large European publishers to design and build adaptive learning products now serving millions at knewton and, most recently, designed new ways to think about digital accreditations at accredit.ly
How do you quantify success?
I try to measure success in terms of improved student outcomes or enabled teachers, which admittedly is a fairly generic "catch-all". But ultimately, when you see the products you build or helped to build in the hands of children, fundamentally changing the experience for the better, that's a successful day.
What does "Fair" mean to you?
Fairness or being fair is a key part of education, ensuring that the experience is fair for everyone, but it's hard to explain what that looks like. The best example of fairness for me was witnessing an immigrant student in Norway using a product I was involved with. This student didn't understand English or Norwegian or even much of their own language, and was several years behind the other students in the class. In a traditional school environment each student would have their textbooks out and working from those, but there can be a negative stigma attached to someone who may be in grade 5, but clearly working from a year 1 or 2 textbook. Fairness was the fact that, thanks to the technology, no one knew that the student was years behind in content except for the teacher and the student's parents. The technology allowed them to directly work on what they needed the most.
What was going on in your life that made you seek out CurrencyFair?
I had just moved to the UK and had a nightmare of a time transferring money for a rental deposit via my bank. Immediately after the transfer came through, I vowed not to use my bank for international transfers again.
"I looked at the available options online and CurrencyFair was the clear winner."
Exactly what does CurrencyFair help you do?
Since moving to the UK, CurrencyFair has helped me transfer money to pay off student loans in Australia, co-found companies in Singapore, purchase goods in other countries as well as pay for contractors across the world.
Why would you recommend CurrencyFair to others?
I have already recommended CurrencyFair (five mates and counting) and will continue to recommend it to anyone who ever needs to transfer any amount of cash between countries.



The team at CurrencyFair admire Lucas' passion for democratizing access to education and improved educational services. As one of the leading platforms for cross-border transfers, we share his vision of using technology to let our community access the best exchange rates anytime they need them.
We wish Lucas continued success in his work and are excited to see what he creates next.
Lucas has not received a gratuity in relation to this interview.