Top 10 German cities to retire to as an expat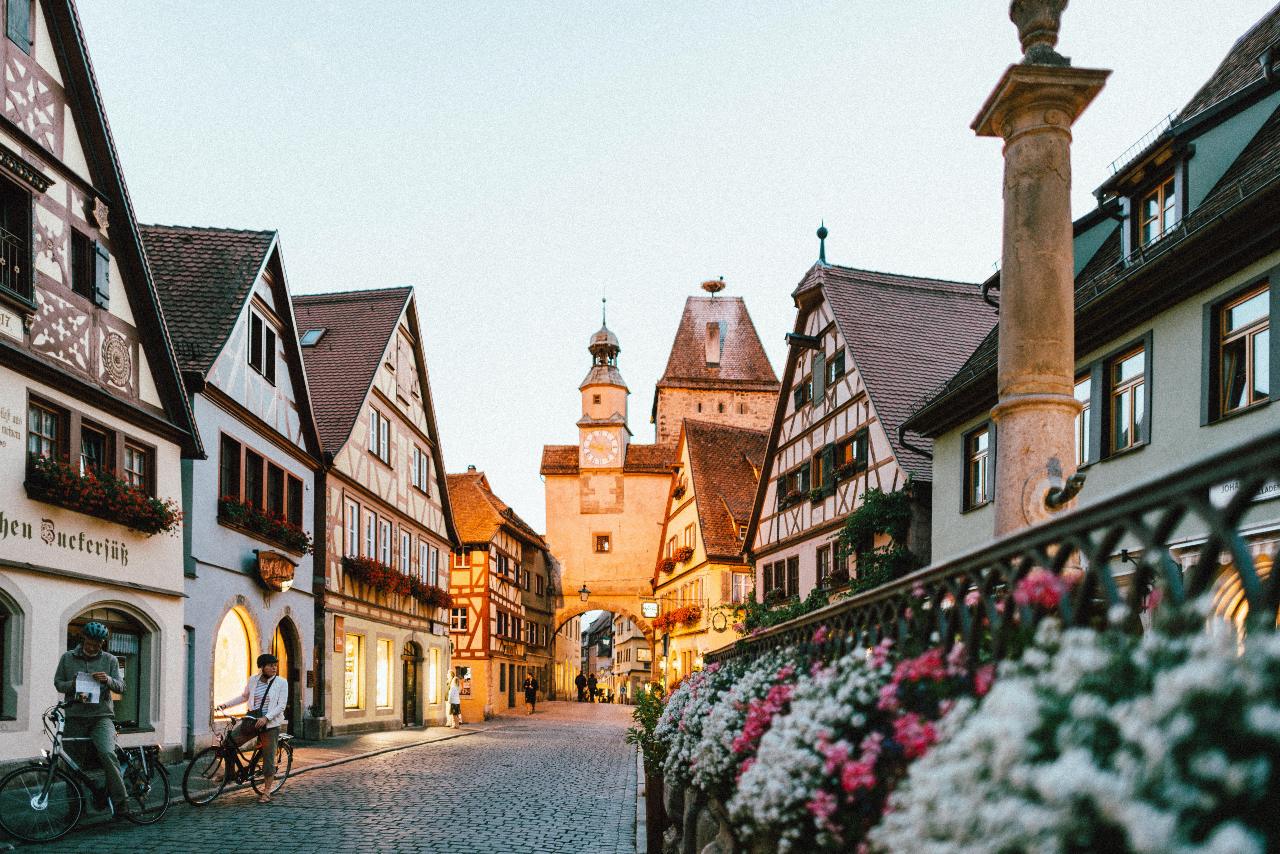 You might be surprised to learn that Germany is the fourth most popular destination for American retirees. It can't match Spain, France and Portugal for the promise of a sun-soaked retirement with laid-back days of good food and golf. Neither will your 401(k) get you much in the way of beachfront property or condos under US$100,000.
So what's the attraction of Germany? For the 25,000 American expats aged 65 or over who live in Europe's largest economy, it's the high standard of living, social stability, and rich culture. If you want to spend a retirement in Europe that leans more towards inspiration than relaxation, consider these popular German cities for retired expats.
Receiving your pension abroad? Avoid hidden currency exchange fees when transferring a pension overseas.

Overseas retirement in Germany
Spike Lee, Donny Osmond and Nancy Cartwright (the voice of Bart Simpson) all turn 65 in 2022. What could they look forward to if they chose to retire in Germany? There's certainly the opportunity to maintain an active lifestyle and nourish the creative spirit.
Rest assured that pickleball, the fastest growing sport among US seniors, is gaining momentum in Germany. Golf is popular too, although perhaps not to the same degree as in the US. If you can't imagine retirement without a fairway nearby, you'll find the main golf regions in Germany in North Rhine-Westphalia in the west, and Bavaria and Baden-Wurttemberg in the south.
For hikers, Germany boasts 124,274 miles of marked trails to rival the best of Appalachia or the Pacific Northwest. Choose from the challenging Bavarian Alps, vast Black Forest, or historic Rhineland wine country.
The cost of living in Germany for seniors
Compared to North America, Germany is certainly affordable. Your retirement pot may go further than in the US, yet not as far as in some of the cheapest countries in the world for expats. It's possible to live comfortably on $1,500 to $2,000 a month (housing included). Rent is around a third lower than in the US, partly because home ownership is less common.
You can look forward to outstanding healthcare, excellent public transport (to neighboring countries too) and modestly priced groceries, dining and entertainment. Among the cons of living in Germany that many expats experience are the difficulty in making friends and the importance of speaking German. Without a workplace as a buffer, these challenges can be fiercer for the expat retiree.
How to retire in Germany
There is no specific retirement visa in Germany. As a US citizen, you can enter for up to 90 days as a tourist, then apply for temporary residence. This is valid for one year and is renewable. After five years, you can then obtain permanent residency. It's also possible to apply from the US via a German consulate or embassy. In either case, you will need to show that you meet the following criteria:
Proof of sufficient funds. The threshold varies according to which of Germany's 16 states you live in. You will need to show that you can sustain yourself without recourse to public funds. Germany and the United States have a Totalization Agreement in place so you will be able to continue receiving benefits, social security and pension overseas.
Health insurance. Since 2009, health insurance is compulsory in Germany. Most retirees will also supplement basic cover with private health insurance to provide for the greater likelihood of medical and dental treatments as an over-65.
If you are transferring your pension to Germany, bear in mind that pension income is taxed, but that no tax is payable on the first €9,744. You are entitled as an expat to set up a private account with a German pension fund.
The best places to retire in Germany
Not all the German cities in our previous top 10 for expats secure a spot when it comes to retirement. There's no room for Frankfurt and Dusseldorf, for example, which are great for work opportunities, but less alluring on a senior's budget. Here's where you can live your next chapter in style and comfort, however.
Berlin: Capital gains
The German capital is still a magnet for young, hip Germans and expats (particularly the eastern part of the city), but not to the extent that it precludes seniors. There are more than 170 excellent museums and galleries to stimulate the mind, as well as hundreds of parks and green spaces. The only drawbacks are that rents are steadily rising, and the winters are brutal. (Photo by Ansgar Scheffold.)
Munich: Southern charm
Affluent retirees will be drawn to Munich, the Bavarian capital and Germany's third largest city. It's bursting with culture (60+ museums), close to the Alps, and renowned for being a safe, clean (if rather conservative) city. You'll need a substantial pension pot, but there's a large expat community waiting to welcome you. (Photo by Sandra Grünewald.)
Heidelberg: A familiar base for US retirees
The historic southwest university town of Heidelberg on the Neckar River will probably be familiar to any US military veteran who served in Germany. Its Baroque architecture and Romantic-era heritage are still a draw for expats. The town has a subtly different flavor to other German cities. Indeed, locals often refer to Heidelberg as the "most northern town of Italy". (Photo by Mateo Krössler)
Bremen: North Sea refuge
Hamburg might be the city you'd want to work in as an expat, but nearby Bremen is the one to retire to. It's not only the home to Beck's beer, but there's also a sizable English-speaking community to join while you're honing your language skills. Bremen is a historic city dating back more than 1,200 years and there are ample opportunities for sailing, kayaking, cycling and hiking. (Photo by Dyana Wing So)
Regensburg: Historic beauty
There was a time when the Bavarian city of Regensburg towered over rival Munich. Admittedly, that was during the Holy Roman Empire over a thousand years ago. Today, it's a city full of treasures, with UNESCO World Heritage status, the Danube River running through it, and a beautifully preserved Medieval city center. (Photo by Chi Nguyen Phung)
Leipzig: The best of Saxony
If you're looking for a more laid-back alternative to Berlin, head just 100 miles south to Leipzig, a city famous for its parks, music (especially classical), and culture. You'll pay significantly less for the pleasure, too, than if you'd settled in the German capital. Exploring Leipzig on foot or by bicycle is easy if you want to immerse yourself in the buzz. (Photo by Paul Kapischka)
Cologne: Retirement on the Rhine
Younger expats typically find themselves on the left side of the Rhine in Cologne, but as a retiree the right side might be more appealing. It's certainly greener on the other side, and the views of the famous Cologne skyline are better. Either way, you'll be drawn repeatedly to the Old Town with its bars, restaurants and cultural attractions. (Photo by RAVI TRIPATHI)
Karlsruhe: Great quality of life
This southern German city has an unfair reputation for lacking excitement, but its charms might be more apparent to the retired expat. There's plenty of culture to enjoy at a slower pace, and you're near France and Switzerland for a change of scenery. In terms of healthcare, safety and housing, the city consistently ranks highly when it comes to quality of life. (Photo by Paul Cuad)
Darmstadt: An attractive alternative to Frankfurt
Darmstadt sits on the fringes of the Frankfurt metropolitan area, establishing it as a cheaper option for those who commute to Germany's financial capital. If you're settling here as a retired expat, however, you'll find Darmstadt cosmopolitan, lively, and stimulating. Famous for its Art Nouveau architecture, it's also one of Germany's most forested cities. (Photo by Gaëtan Werp)
Jena: Off the beaten path
A small town with just over 110,000 inhabitants, Jena is more famous for its science and university than for its tourist attractions. But if you want to immerse yourself in a quiet, low-rise, central German town where you won't hear much English spoken, Jena hits the spot. This part of Thuringia is famous for its sausages and is celebrated as the home of German Romanticism. You'll have plenty of time to explore the hills and forests of the surrounding Saale valley, or while away retirement in the old town cafes. (Photo by Lukas D.)
These are just a handful of the best places to live as a retired expat in Germany. Whichever ones make your shortlist, it's important to release the full potential of your pension fund to support the lifestyle you've worked so hard to sustain. That means not losing out when it comes to cross-border transfers. With CurrencyFair, you can send your money from the US to Germany up to eight times cheaper than with traditional banks, using the real time conversion rate and paying lower fees too.
Receiving your pension abroad? Avoid hidden currency exchange fees when transferring a pension overseas.
This information is correct as of November 2022 This information is not to be relied on in making a decision with regard to an investment. We strongly recommend that you obtain independent financial advice before making any form of investment or significant financial transaction. This article is purely for general information purposes. (Featured photo by Roman Kraft)