Sailors have been competing for the America's Cup for longer than foreigners have been allowed to enter Japan. The world's oldest yacht race was first held in 1851, two years before Commodore Matthew Perry sailed his fleet into Tokyo Bay and established formal relations between the western world and the Tokugawa Shogunate. How things have changed.
Today, Japanese crews compete in the cup, the commodore is only the second most famous Matthew Perry where forging friendships is concerned, and some three million expats live in Japan, of whom 75,000 are from the United States. Here's what to know if you're considering living in Japan as a foreigner too.
Sending money overseas? Save money when you send money with CurrencyFair's low-margin FX rates.
Living and working in Japan
Although more than 1.5 million Japanese citizens now live in the United States, migration in the other direction is less common. The culture shock and language difference are major barriers, but many Americans might simply consider the options limited.
The most popular jobs for expats in Japan are English teaching, Information Technology (IT), sales, engineering, banking and tourism. In most cases, a move to Japan means taking a pay cut, with average salaries in Japan ($38,515 in 2020) almost half those of the United States ($69,391). Clearly, there are other reasons for relocating to the Land of the Rising Sun.
Why move to Japan?
In an increasingly homogenised world, few countries are still able to deliver as genuine a culture shock as Japan. From singing toilets to vending machines that dispense cars, it promises expats a new life full of surprises. Gaming is a passion, but gambling is illegal. Service is consistently outstanding, but tipping unheard of. It also happens to be one of the safest countries in the world, with very little crime and some of the strictest gun (and sword) laws on earth. In 2021, there was just one death from gun violence in Japan, compared to 45,034 in the US.
American expats in Japan can expect an outstanding public transport and healthcare system, cities that are clean and convenient, and a lower cost of living. On average, everyday life is 13% cheaper in Japan than in the US and rent is 53% lower. That does not apply, however, to Tokyo, which is the fifth most expensive city in the world for expats.
Of course, expat life in Japan is not all cherry blossoms and karaoke. On the downside, the famously demanding work culture allows for just 10 days paid holiday a year, bureaucracy can be an ordeal, and the culture is still stubbornly cash-driven for Americans used to quick, cashless payments.
How to move to Japan
Japan has 30 different types of long-term visas, and you'll need one of them to stay longer than 90 days. Although you can get a taste for Japanese life on a tourist visa, you cannot come as a tourist and switch to a work visa. If you're passing through as a digital nomad, you can work on a tourist visa but cannot work for a Japanese company or overstay your 90 days.
The procedure for moving to Japan
A Japanese sponsor (eg. business or educational institution) must invite you to Japan.

They will apply to their nearest Regional Immigration Bureau to obtain a Certificate of Eligibility.

Once you receive this certificate, you can apply for the appropriate visa at the nearest Embassy or Consulate General in your country.
Visa processing times are characteristically fast (around 5 days) but work, family or study visas can be valid for as long as three to five years.
What visa do I need for Japan?
The Japanese Ministry of Foreign Affairs details the full list of requirements for each type of visa, but these are some of the more pertinent features to know:
Visa applications for highly skilled professional roles are generally evaluated on a points-based system, much like the process in Canada or Australia.

Be prepared to provide a substantial volume of supporting documents. A Bachelor's degree is practically a prerequisite for a work visa.

Learning Japanese will certainly help with your visa application or job search, but for Skilled Worker visas (e.g.. healthcare, agriculture, hospitality), basic Japanese is officially required. Bear in mind that you can't bring dependents on this visa, which is also limited to five years.

Expats on a student visa can work up to 28 hours per week.
Where to live and work in Japan
Foreigners in Japan are referred to as 'gaijin' (i.e. 'outsiders'), a term that's used without any pejorative intent. You'll find most of them in Tokyo, home to over 540,000 expats. This sprawling metropolis actually incorporates 26 cities and 23 municipal wards, but the areas most popular with expats include Ebisu (close to the famous Shibuya crossing), hipster-heaven Nakameguro, anime-stronghold Ikebukuro, and Nakano, another hot spot for manga and entertainment.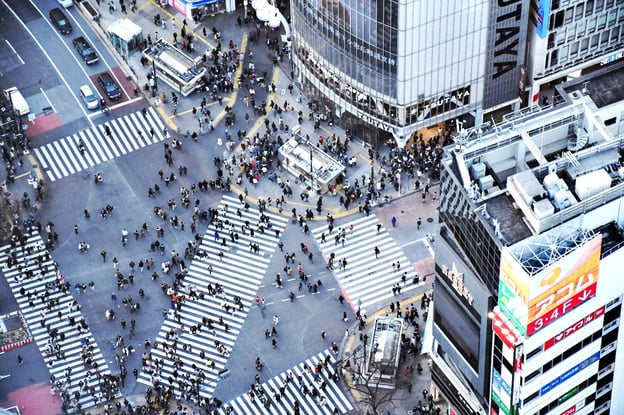 (Photo by Daryan Shamkhali)
A cheaper alternative to Tokyo is Osaka, Japan's second city and a major financial centre. Although Osaka is known as the country's culinary capital, it's equally famous for its rain, grime (by Japanese standards) and crime (again, it's relative).
Hot and humid Aichi prefecture is an industrial bastion that sits halfway between Osaka and Tokyo. The capital city is Nagoya, Japan's third largest city, but the area is a huge magnet for tourists on account of its castles, shrines, and samurai heritage. It's also the home of Toyota.
Ultimately, most expats will find themselves in the city where their sponsoring employer is based. As soon as you know where you'll be living, start consulting sites such as Living Japan for classified rental ads in English.
Life in Japan as an expat
For a country that is synonymous with technology, efficiency and automation, it's surprising how much still gets done by hand on paper in Japan. Leaning towers of documents and even fax machines are still a common sight in Japanese offices or administrative departments.
Once you arrive, you can apply for your Basic Residence Registration System residency ('Zairyu') card online, but you'll probably need to open a bank account in person. That's partly because digital or handwritten signatures do not carry much weight in Japan. Instead, documents must be approved with a 'hanko', a personal seal that must stamp applications for bank accounts, utilities, loans and more. Once you have your residency card, you must carry it with you at all times.
Japanese healthcare for expats
As a resident, you can sign up for Japanese National Health Insurance (for example, if you're a student or part-time employee) or Employees Health Insurance if you're a full-time employee. These schemes typically cover 70% of any healthcare expenses, giving you affordable access to a world-leading healthcare system.
Tax matters
American expats in Japan will still have to file annual tax returns with the Internal Revenue Service in the United States, but will not need to file a tax return in Japan on salaried income, since tax is usually deducted at source.
Once you are classed as a Japanese resident, your worldwide income will be taxable at rates ranging from 5% to 45%. Non-residents are subject to a flat 20.42% tax rate. In either case, treaty arrangements with the US make it unlikely that you'll be subject to double taxation.
Before you embark on any personal or professional odyssey to Japan, it's important to factor in the effects of currency conversion on your plans. Those square watermelons or rounds of sake aren't cheap, so choose your money transfer route carefully to secure the best rate and keep fees as low as possible.
Sending money overseas? Save money when you send money with CurrencyFair's low-margin FX rates.
This information is correct as of December 2022 This information is not to be relied on in making a decision with regard to an investment. We strongly recommend that you obtain independent financial advice before making any form of investment or significant financial transaction. This article is purely for general information purposes. Photo by Jezael Melgoza on Unsplash