2020 posed a unique set of business challenges. We were faced with a global pandemic, threats of economic recession, as well as periods of socio-political unrest. Digital marketing agencies had to navigate what was quickly dubbed the "new normal", advising clients strategically on how industries might shift while also suffering unprecedented business difficulties of their own. When shutdowns occurred in the spring of 2020, 66% of marketing agencies experienced a decrease in overall revenue. Many were forced to lower their overheads almost overnight, and ask themselves serious questions about what it takes to stay relevant in the current climate.
At the same time, their expertise has never been more valuable. 67% of agencies say that the main reason clients choose them is because they've established themselves as strong strategic partners. And with more budget shifting to digital marketing, agencies who specialise in online activities can expect to increase their revenue in 2021. The percentage of marketing budgets spent on digital is forecast to grow almost 10% by the end of the year. However, agency competition also has grown recently, and this trend is predicted to continue throughout the next 3-5 years.
It's clear that there are opportunities to be seized, but in this competitive environment, agencies must be smart about how they manage their time and resources. The key to success for digital marketing agencies in 2021 and beyond, is delivering more value to clients while keeping processes efficient and costs down. Fortunately, there are a whole host of tools available to boost productivity within your agency, freeing up teams' time for delivering client value and generating more revenue.
We've compiled a round-up of tools to help you reduce administration, so you can focus on creating great work for your clients.
#1: The project management tools
The marketplace for online project management tools is flooded, so it can be difficult for agencies to find a good fit.
There are popular kanban (a lean methodology) solutions out there such as Trello, Asana and Monday, which all use online boards with columns and moveable cards to plot projects and tasks. Or, you could opt for software that offers even more capabilities for agencies, allowing you to share goals and accountabilities, predict revenues and map your resources.
Screendragon is a great example of a tool that works well for agencies. It offers at a glance insights into upcoming revenues and resourcing needs. Agencies can pick and choose which elements they want to use, ranging from creative proofing to asset libraries, financial tracking and standard project management.
Clarizen allows you to create a line of sight across your entire agency, sharing goals with teams and aiming to increase accountability. You can store discussions and files across teams and clients, and carry out digital proofing and approvals. Clarizen also offers real-time insights into resources and financial management - crucial in these ever-changing times of Covid.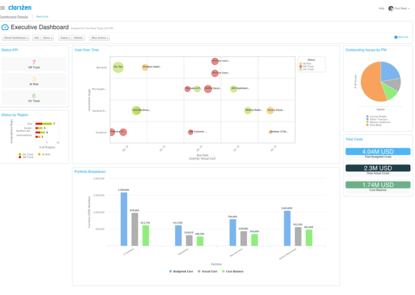 Function Point is designed especially for creative agencies. It aims to improve revenue and productivity by letting you monitor projects from pricing to brief and completion. You can also use it to identify bottlenecks, and dive into job profitability. You can then work out how to prioritise projects and goals for every team member.
And if you're looking for solutions that integrate client billing with team tracking, check out Paymo, Ravetree and Celoxis.
#2: The scheduling tool
If you're wasting time diving in and out of calendars for various clients' projects, a tool such as CoSchedule could offer you instant visibility of milestones and deadlines across all your work. You can develop content within the tool and share it with your colleagues and clients, and their marketing suite functionality also enables social publishing and automation.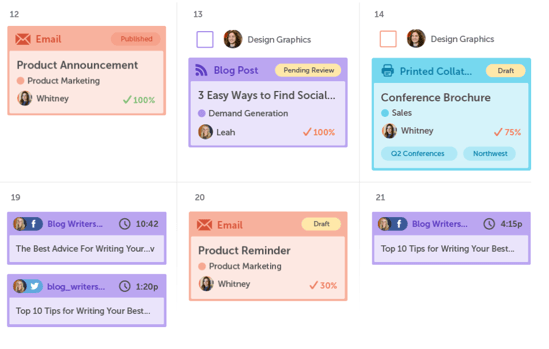 For agencies managing multiple projects for different clients, it's an excellent way to save time and avoid tool-hopping. Teams have one place for all content, project updates, and deadlines.
#3: The business intelligence tools
Most agencies need access to instant data on campaign performance, but perhaps don't have hours to spend digging into different reporting tools for insights. Data visualisation software can help to amalgamate all of your data, and automatically schedule regular reports to you and your clients.
Whatagraph is an all-in-one reporting tool that does just that, transferring data from any source. You can use pre-defined templates, and even add your agency's branding. AgencyAnalytics is a cheaper alternative, and Google Chart Tools offers similar functionality and is free.

If you prefer a business intelligence solution that's integrated within your existing toolkit, Function Point offers reporting as well as project management functionality.
#4: The content collaboration tools
If you find you and your teams spend hours looking for or updating content for client decks, then it might be worth investing in a content collaboration tool. Xtensio, Templafy and Quip (for Salesforce users) allow you to easily create, manage, and share business collateral. These tools ensure brand and messaging consistency, and save your teams valuable time searching for approved content.
Prezi is also a brilliant resource for building dynamic presentations, and bringing your remote meetings to life.
#5: The optimisation tools
When it comes to optimising digital performance, automation software really comes into its own.
Optimizely is a popular choice for A/B and multivariate testing, website personalisation and user testing. Unbounce offers the same functionality, along with the ability to build landing pages. Userbrain gives you access to website user testing, without the hassle of recruiting the testers yourself.
SEMRush and Moz are popular choices for managing you or your clients' search metrics, keyword and link-building strategies, as well as optimising your site content for maximum visibility.
And if you're in the business of optimising leads for your or your clients, Funnelytics provides meaningful website data and insights into traffic flow through sales funnels. It allows you to determine the most profitable paths and give your clients clear advice on how to increase conversions and sales. In times of economic uncertainty, these insights are more valuable than ever.
#6: The designing and prototyping tools
If you create websites for your clients, check out Adobe XD for bringing your ideas to life before you commit to the build. Its super simple user interface makes it easy-to-use even for non-designers, and the collaborative functionality allows internal teams or clients to give direct feedback. Ultimately, it will take your designs to the next level and offer clients a realistic picture of how their website will look and work. And it will save you time explaining everything.
If you'd rather look for an alternative to Adobe XD, check out Microsoft's Axure RP, InVision, or Marvel.
#7: The app connectivity tools
And finally, many agencies use Zapier for joining the dots between their various applications. The solution can hook up over 3,000 apps, from Facebook Lead Ads to Slack and Quickbooks, and cut out hours of manual labour.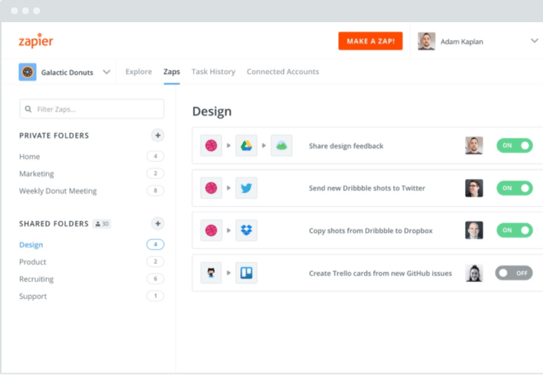 For example, an agency integrated ManyChat, a messenger marketing platform, with Google Sheets. Before using Zapier, they would need to export the data from ManyChat, populate the Google Sheets, and clean up the results to send onto their clients. Now, Zapier automatically sends that data between the apps, saving the agency 30 hours per week.
How to build your tech toolkit
With such a plethora of tools available, it can be tough to choose which ones will work best within your business. There's nothing worse than investing in a new solution, only to discover a few months down the road that most employees have abandoned it, returning to their tried and trusted manual processes or spreadsheets.
We've compiled a few pointers that you should consider, before you sign any contracts.
User feedback
Seek input from the teams who will be using the tools, before you start your search. Find out where processes are clunky or wasting time, and involve all stakeholders in building out your criteria for selecting a tool.
Don't forget to source opinions from outside of your organisation too. Try to discover what tools other agencies are happy with, whether from asking within your own networks or doing some research on comparison sites such as G2 or TrustRadius.
Once you've created a shortlist, involve as many people as is feasibly possible in trialling or demo-ing the solutions you're considering.
Ultimately, the tool selection might be one person's decision, and perhaps it will be heavily influenced by cost or another factor, however this process will highlight sticking points that you may have overlooked. Securing team buy-in at this stage also puts you in the best position for rolling out your selected tool.
Integration with existing tools
If it's important that your tools speak to each other, check that any new solution integrates with the systems you already use. Or, that you can work with a solution such as Zapier to connect the necessary applications to avoid tool-hopping.
For example, Clarizen comes with a bot to increase engagement in Microsoft Teams and Slack, where your teams might spend their time already. And Celoxis, along with many other tools, has an open API so you can seamlessly connect it with your other business applications.
Alternatively, you might prefer to invest in one comprehensive solution that serves many needs. As an example, HubSpot Marketing Platform allows you to build landing pages, host documents, manage user journeys and optimise for conversions.
Decide which parts of your business must be connected, and start from there.
Onboarding and training
If you think you'll need support to get all team members on board with the new tool, check what's included within your subscription or contract. Some solutions will offer support packages, and others may require that you pay more to access those services. Find out whether you're entitled to training programmes or webinars run by the company, and make sure your teams know about them, as well as any ongoing support offered.
And don't make any assumptions about your teams' technical capabilities or willingness to use a new tool. Even though the new solution may be super simple to use, that doesn't mean that all employees will take the time to get to know how it works. If you've established set processes for how to incorporate the solution into your business, document any steps clearly and in writing. This is even more valid in our current remote work environment, where you won't be able to check in face-to-face with employees to see how they're finding the new way of working. Catch up with staff one-to-one or in small groups, for example on a Zoom call, so that you can address any questions or issues immediately.
What it takes to stay ahead of the game in 2021
No agency is immune to the disruption caused by the pandemic, or economic uncertainty. To gain a competitive edge, digital marketing agencies must use the most efficient number of tools for their business to cut down on operational inefficiencies and costs, and deliver even more value to their clients.
By building a comprehensive tech toolkit, you can automate your repeatable processes, and ensure that all team members have visibility on project tasks and deadlines. Ultimately, you're minimising hours spent on mundane tasks, and freeing up more time for your employees to excel at what they do best.
Read 'Outsourcing your digital marketing - opportunities and potential pitfalls' here.
Sources:
https://martechtoday.com/2021-outlook-for-digital-marketing-agencies-the-future-is-bright-245644
https://prometheanresearch.com/digital-marketing-agency-industry-report/
https://zapier.com/blog/messenger-funnels/