How To Open a Bank Account in Australia
If you're planning on migrating to Australia, there are probably a thousand things you need to organise. Setting up a new life abroad is never an easy task. Finding both accommodation and a new job are two crucial steps to this process. Arguably opening a bank account in Australia is another. Crucial or not, having a local bank account will make receiving wages from this new job a lot easier, as well as simplifying your everyday payments.
Popular Aussie Banks:
ANZ (Australia and New Zealand Banking Group)

NAB (National Australia Bank)

Commonwealth Bank

Westpac

HSBC (international bank)
Opening a bank account in Australia is an easy and straightforward process. Usually Australian banks require a 100-point check – which means that to open a bank account you must supply documentation that has a total point value equalling 100. However, if you choose to open a bank account within 6 weeks of arriving in Australia, the only form of identification that they require is your passport.
If you're looking to reach those 100 points, here's a list of some of the documents you could use.
Documents needed for opening a bank account in Australia:
Passport, birth cert, or citizenship certificate (70 points)

Drivers license, public service employee ID card (40 points)

Utility Bill, bank statement or other official document with your name and address (25 points)

Credit card, library card or other card with your name on it (25 points)
Australian Bank Comparison
There are many banks in Australia, and they all have different benefits or drawbacks. This article will look at the 5 biggest Australian banks and their everyday accounts for people coming to live in Oz.
If you want to look into more of your options, you should check out Canstar. Canstar is Australia's biggest financial comparison site and they compare different banks and types of accounts you can have. In fact, they even compare international money transfer services. Currency Fair was awarded their 5-Star Rating for Outstanding Value in International Money Transfers in 2019.
National Australia Bank (NAB)
Classic account offers no monthly fees and a contactless visa debit card. It has no overdraft fees or minimum deposits. NAB has over 1,500 branches and offers no ATM fees at over 7,000 ATMs across Australia.

Commonwealth Bank (CommBank)
Smart Access Account this account is specifically aimed at new arrivals in Australia. You can open it online up to 3 months before you move and transfer money in instantly. However, you will need to fully verify your identity and provide the 100 points worth of documents, in branch, upon your arrival to Australia. There is a monthly fee of $4 but this fee is waived if you deposit a minimum of $2000 per month. This account comes with a contactless Mastercard debit card.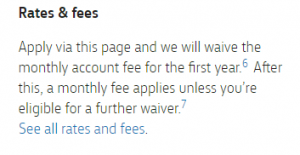 There is also a Student Smart Access account which waives the monthly fee and minimum deposits and gives you a credit card free for the 1st year. This account also offers no fees for a loan and a free travel money card.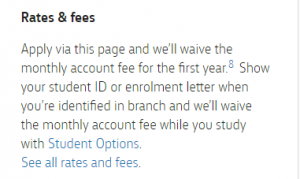 ANZ (Australia and New Zealand Banking Group)
You can open an ANZ Access Advantage account online with ANZ up to a year before you move. The account is free for 12 months but has a monthly fee of $5 after that. This fee can be waived for 3 reasons:
If you're under 25,
If you're a full-time student or if you deposit $2000 per month.
This account also comes with a contactless visa card.

Westpac
Westpac Choice for migrant's everyday bank account is designed for people moving to or recently arrived in Australia. It offers a contactless debit Mastercard and no withdrawal fee at any major bank ATM in Australia. The account is free for 12 months and the $5 fee is waived if you deposit $2,000 per month after that. The fee is also waived if you are a full-time student.

HSBC
A HSBC Day to Day account has no monthly fees or minimum deposits. It also offers fee free access in Australia at over 13,000 ATMs. This account also provides you with a visa debit card with contactless capability.

All data and rates collected on the 20th March 2020. This publication is provided for general information purposes only and is not intended to cover every aspect of the topics with which it deals. It is not intended to amount to advice on which you should rely. You must obtain professional or specialist advice before taking, or refraining from, any action on the basis of the content in this publication. The information in this publication does not constitute legal, tax or other professional advice from CurrencyFair Limited or its affiliates. Prior results do not guarantee a similar outcome. We make no representations, warranties or guarantees, whether express or implied, that the content in the publication is accurate, complete or up to date.