CurrencyFair Versus Irish Banks
At CurrencyFair we pride ourselves on being transparent and fair. Unlike many banks, we don't hide our fees in our exchange rate or charge a different rate depending on the amount you wish to transfer.
We decided to shine the spotlight on Irish banks, and find out how much our customers can save by choosing CurrencyFair over the banks when transferring €10,000 to Sterling.
How Much Will I Receive When I Transfer €10,000 To UK Sterling?
We put three leading Irish banks to the test by asking them all how much we would receive were we to transfer €10,000 to Sterling. The banks we spoke to were Bank of Ireland, AIB and Ulster Bank. (Note, we also spoke to KBC, however they told us they did not provide a currency exchange service).
We examined the exchange rates quoted and any bank fees charged, and compared this to the rates available with CurrencyFair at the time. The savings on offer with CurrencyFair were substantial.
By choosing CurrencyFair for your EUR-to-GBP transfer, we would be up to £221.50 better off. That's enough for a day of exploring in London for a family of four purchasing the London Pass tickets - with money in the kitty for lunch.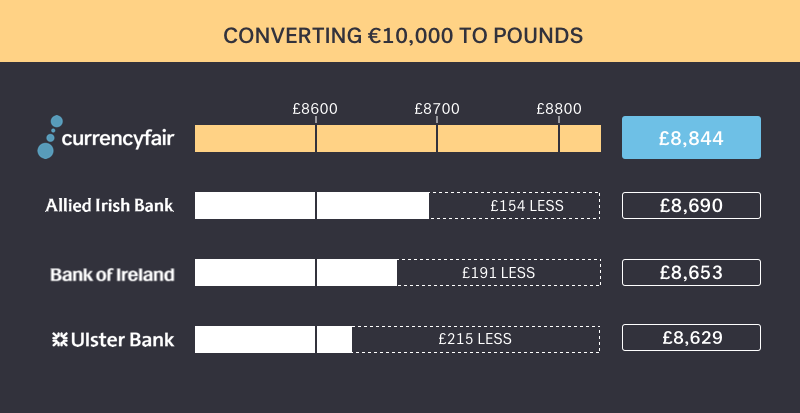 Get the best available live rate with CurrencyFair

The Irish banks we looked at set their exchange rate at the start of each day, when markets open. This is the rate their customers get for the day. Every time we contacted the bank (even though the live exchange rate had in fact changed), we were quoted the rate that had been set hours earlier.
With the daily exchange rate being set and fixed each morning, the banks build a hefty margin into these rates to ensure they are covered should the rates move substantially during the day.
At CurrencyFair, we offer a live rate, based on the best available exchange rate at the time, which can always be seen via our live currency calculator. This is the instant rate available for an exchange that happens immediately.
One of the banks we looked at even offered a lower rate for the exchange of smaller amounts. We don't believe that's fair. In our opinion, great exchange rates should be available to everyone, regardless of the size of the transfer.
How CurrencyFair is different from Irish banks
Live rates: CurrencyFair offers the best available live exchange rate, while the three banks we spoke to all set their daily rate at the start of the day. This daily rate often hides a chunky margin, making the rates less competitive.

Same day transfers: CurrencyFair use Faster Payments to transfer GBP out to UK bank accounts. This means the money often reaches your account within an hour, at no extra cost. When we spoke to Bank of Ireland and AIB they both quoted a standard delivery time as 3-4 business days, with next-day transfers available for a fee of €25.

One great rate: CurrencyFair offers the same great exchange rates to every customer. AIB, on the other hand, quoted us two different rates for our GBP transfer: one for amounts greater than €900 (0.8703), and then a lower rate for amounts less than €900 (0.8632). It'll surprise nobody to know that neither rate was as good as the rate available with CurrencyFair (0.8849).

No limits: Bank of Ireland has a daily limit of €/£20,000 on personal accounts - which means the volume of transfer you wish to do is capped each day. But with CurrencyFair there is no limit to how much you want to transfer with us.
Why hand over so much of your hard-earned money to the banks? Sign up with CurrencyFair and join hundreds of thousands of customers getting a fairer exchange rate.
Note: These were rates quoted to us on November 20th 2017.