CurrencyFair vs ANZ, CommBank, NAB and Westpac
Nowadays almost every decision you make is usually based on initial research that is done online. From booking flights for a trip away to finding the best price on the hotels, the power is firmly in consumers' hands for them to be able to compare and contrast competing providers of the same service.
Banks have not caught up with the changing times. For example when you need to send money overseas via an online money transfer, most traditional banks will show the exchange rate being offered and the fee they will charge to do the transfer.
What is not clear to their customers are the hidden fees and charges bundled into the exchange rate. These are rarely, if ever, explained - only in the small print, if you look really hard for it.
At CurrencyFair, we are transparent in how we process all our international money transfers like when exchanging Australian Dollars into Sterling. We decided to benchmark our rates and fees against the leading Australian banks to highlight how you could save over £400 by using CurrencyFair instead of a traditional banking provider.
Our bank-beating exchange rates are usually as close as 0.45% to the Interbank rate. High-street banks on the other hand hide their fees and charges in the exchange rate they offer you, which can then be as far as 3%–6% away from the same Interbank rate.
Our bank-beating exchange rates mean you avoid hidden mark-ups and excessive fees charged by traditional providers, helping you send money up to 8 times cheaper than with a typical bank.
To highlight how much more you could be paying in excessive fees and poor exchange rates with these other providers, we compared CurrencyFair with the leading Australian banks when you are exchanging your Australian Dollars into Sterling - with some very interesting results.
How much will I receive when I exchange A$15,000 to Sterling?
For our comparison, we examined the exchange rates quoted and any bank fees charged by the leading Australian banks. We compared this to the rates available with CurrencyFair at the time. You can always transfer your GBP for just £2.50 (or its currency equivalent) from your CurrencyFair account so we converted this into AUD to match the banks AUD fee.
The savings on offer with CurrencyFair were substantial - enough to cover the cost of cover the cost to fly you and three friends to Brisbane and back with your airport taxes covered.*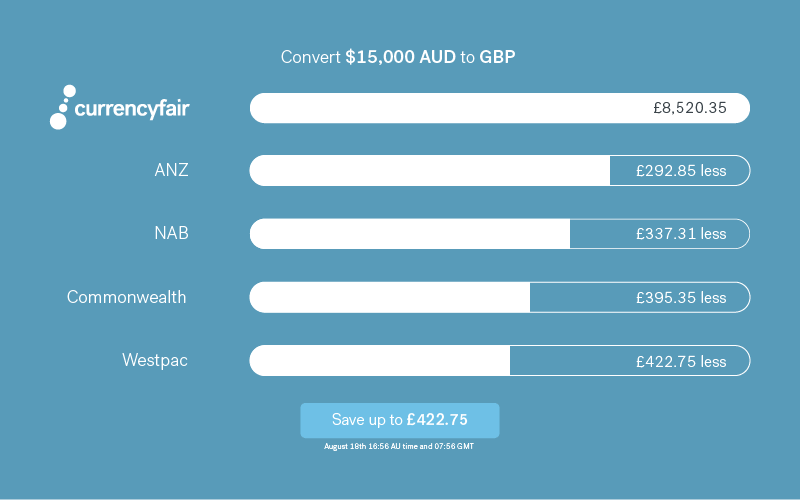 Comparing CurrencyFair with leading Australian banks
How we collected our data is very simple - we base our price comparisons on exchange rates we get from the banks' websites.
We called the Australian banks in our comparison during Australian business hours and asked them what the current AUD-GBP exchange rate was. For all the banks contacted, the exchange rate quoted over the phone matched the rate being shown in the currency calculator on the bank website.
We use each bank's currency calculator on the specific date to obtain the exchange rate from AUD to GBP. We then compare these rates to the best available AUD-GBP rate on currencyfair.com at the same time.
Why do banks have unfair exchange rates?
Banks add an unexpected margin onto the exchange rate they obtain each day to ensure they are covered should the rates move substantially during the day.
At CurrencyFair, we offer a live rate, based on the bank-beating exchange rate at the time, which can always be seen via our live currency calculator. This is the instant rate available for an exchange that happens immediately.
How CurrencyFair is different from Australian banks
Live rates: CurrencyFair offers thebank-beating exchange rate on AUD to EUR. The exchange rate we offer does not include a chunky margin to hide fees and charges, which means competitive rates and more savings for you.
One small fair fee: If is free to send in money to be exchanged with CurrencyFair. For just £2.50, you can transfer your GBP out of your CurrencyFair account (or its currency equivalent). In contrast, the fees being charged by the Australian banks can range from up to A$30 - almost 10x as much as our transfer fee.
World class customer support: With our 5-star "Excellent" rating in Trustpilot, our local Australian office in Newcastle is available during Australian business hours.
Join hundreds of thousands of customers getting the best available exchange rates when they want to convert Australian Dollars into Sterling.
Don't take our word for it, here is what our customers have to say about our service and rates:



You can do all this in your account anytime, anywhere on CurrencyFair.com, or from our iOS or Android apps.
Send your money with CurrencyFair - It's only fair.
* for a return flight priced at £84 leaving on Sep 11th returning on Sep 18th 2018 with Jetstar. Quoted on Skyscanner on Sep 6th 2018 at 14:29 (GMT+1)