Cost of Living in the UK for an expat from Ireland
People all around the world often harbour the dream of moving to start a new life overseas.
For some, it's the need to escape a dreary 9 to 5, a chance to start a new life in a new city and to take advantage of improved opportunities for them and their family.
The UK continues to be an attractive destination for expats from across the globe. But how expensive is it to live in the UK compared to living in Ireland?
We breakdown the cost of living across the UK versus at home in the Emerald Isle.
UK Cost of Living Survey results: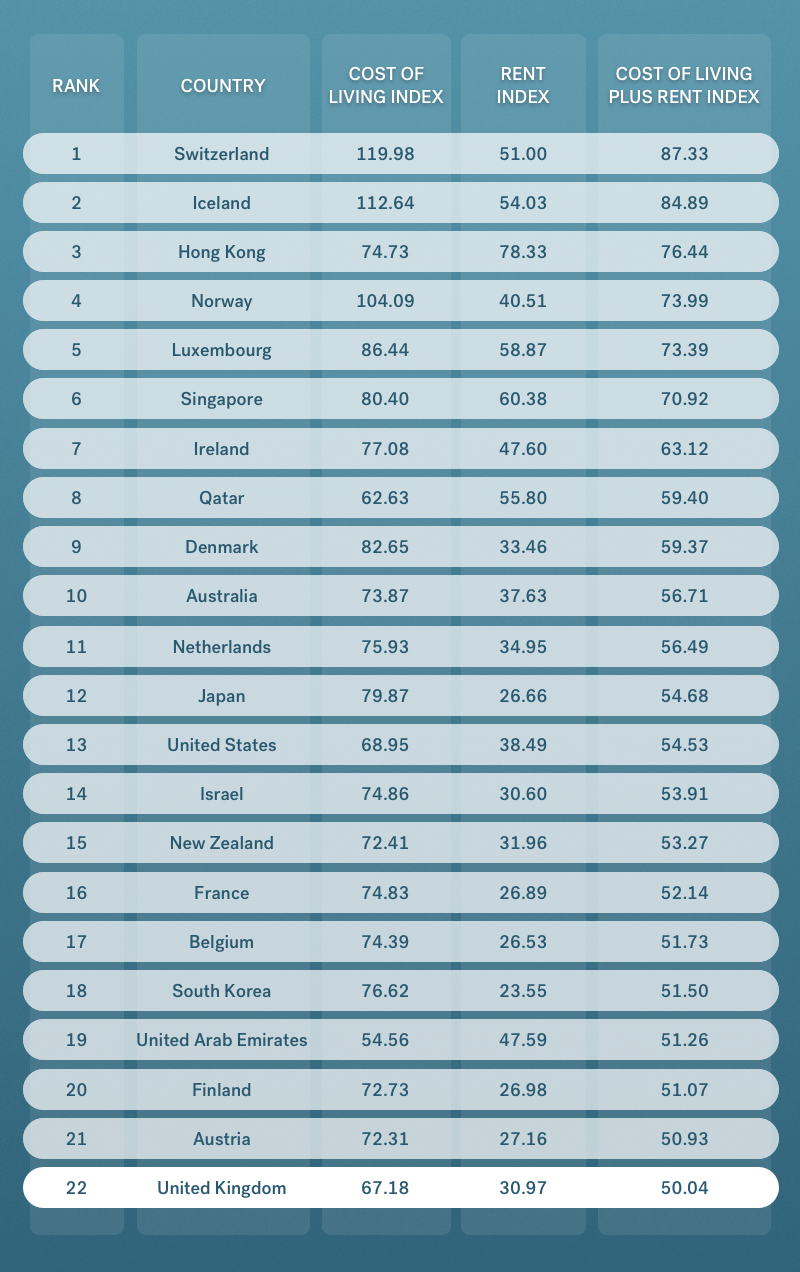 The UK is ranked in 22nd position at 50.04 in this 2018 Numbeo cost of living survey, compared to Ireland which took 7th spot at 63.12. The UK is rated as having a cheaper cost of living plus rent index compared to countries like the United States and the UAE too. This index measured the cost of living which is for things like groceries, restaurants, transport costs plus accommodation costs like rent or a mortgage.
For many expats, a move to the UK can lead to new career opportunities, a better lifestyle and a chance to experience a new culture.
With the average monthly salary in the UK coming in at approximately £1,817 according to Numbeo July 2018 results, a move to the UK from Ireland does not mean you will be earning more than the average back home as the average salary in Ireland is calculated to be higher at approximately £1,943. But the cheaper cost of living in the UK means you can save more while you earn there.
Another unit this survey measured was relative purchasing power for buying goods and services in a given country for the average wage in that country. Here the UK scored well, taking twelfth place in the international rankings.
Where to live in the UK?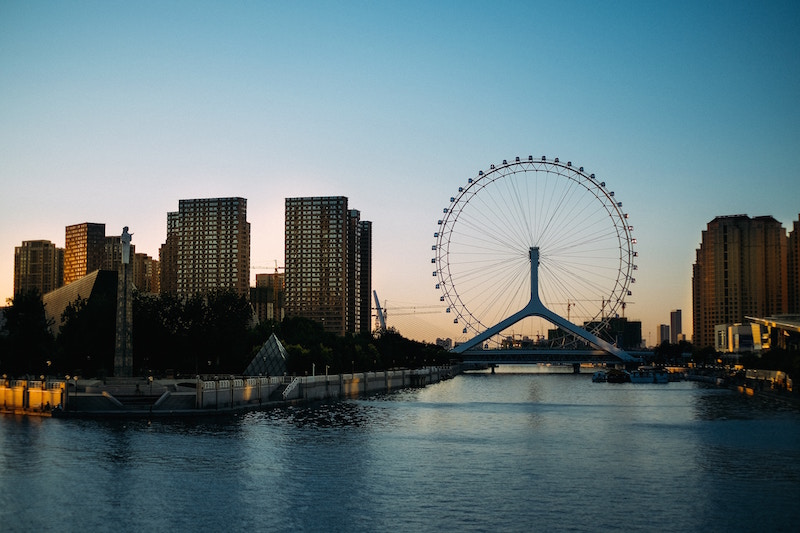 When planning a move to the UK, expats are often drawn to the popular well-known expat cities.
A 2018 HSBC expat survey profiled the UK's leading expat destinations. More than 8,000 expats based in the UK took part in the survey, sharing their views on what's great about the city they've moved to.
The survey ranked what expats enjoy most about UK cities for different aspects that are important to them and the results listed what these top expat cities were rated highly for: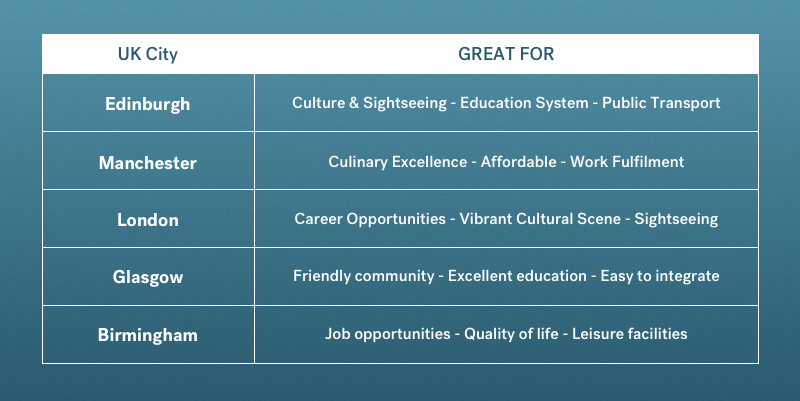 How much does property cost in the UK?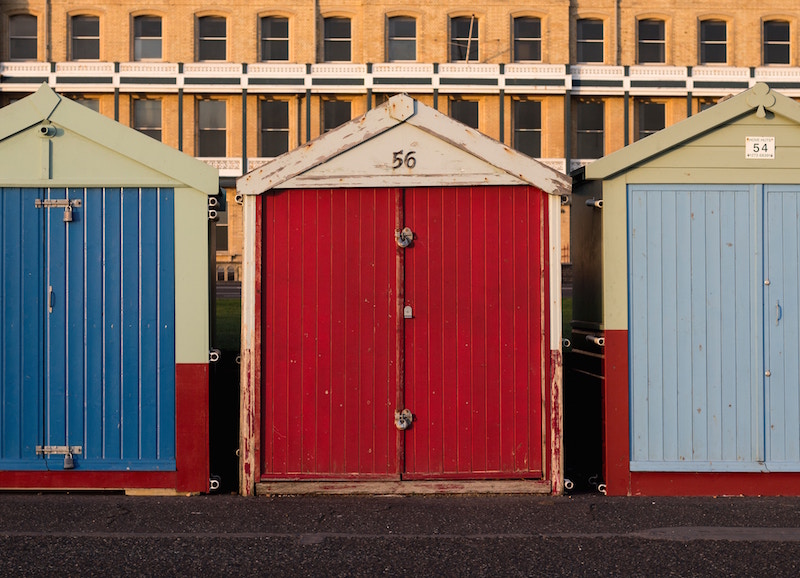 According to independent.co.uk, property prices in the UK have slowed in 2018 with a May report showing a decline in supply and buyer enquiries.
The property market is not out of the woods anytime soon. Prices dropped by 0.2% between April and May 2018, due to low stock availability and cheap borrowing rates indicating a stagnant property market in need of a shake-up.

Renting costs in the UK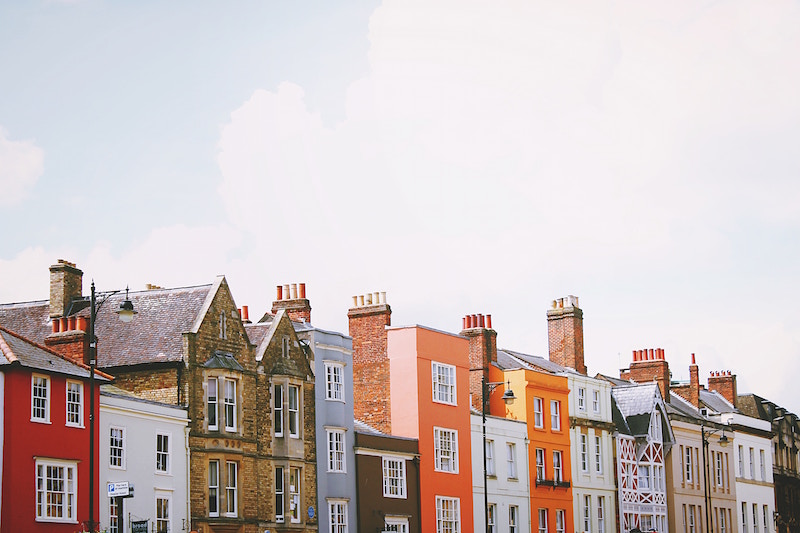 If buying is not in your plans, renting is a more affordable option for most expats moving to the UK.
Once again prices vary from city to city, and even within the same neighbourhoods. One driver of prices is overseas investment in the capital and the South-East of the UK, according to globalpropertyguide.com.
It is important to be aware of the value available and what type of property you can buy or rent as an expat when you move to the UK.
Comparing UK rent across popular expat cities using the cost of living calculator on expatistan.com, the cost to rent in an expensive area in London would over twice as much as the same size apartment and location in Glasgow or Birmingham. Renting in a normal area in Glasgow would cost the same in Birmingham, but would be almost 8% cheaper in Manchester.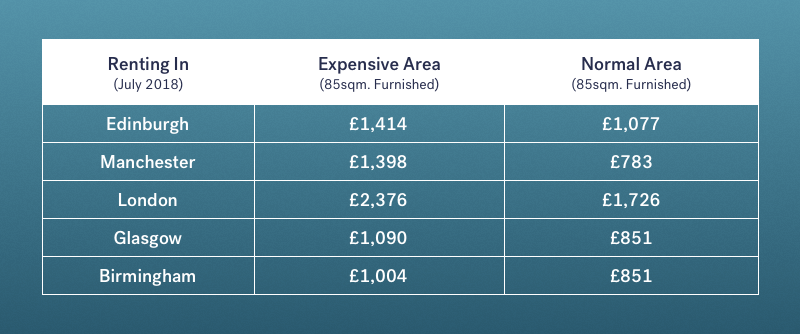 After choosing your accommodation type and finding a place to live, there are other monthly or weekly expenses you will have to consider depending on where you live.
Travel and commuting costs in the UK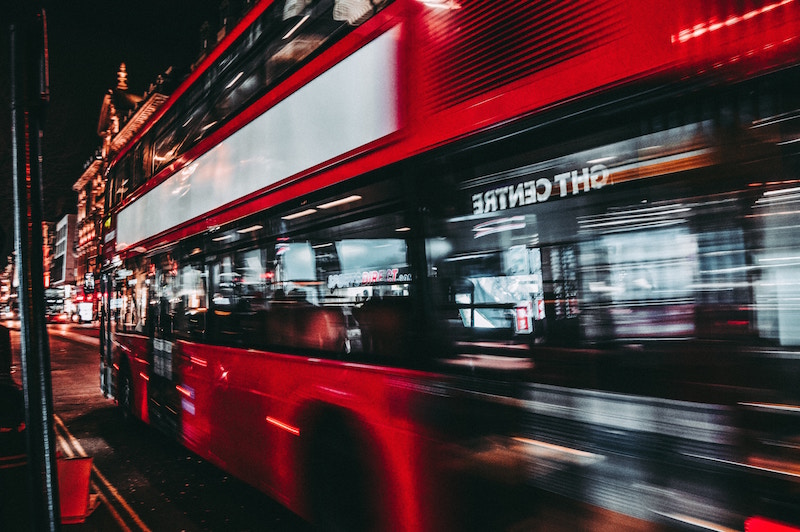 When comparing UK cities for their cost of living versus Ireland, it is important to assign part of your budget to the cost of your daily commute.
You can get to work by bus, train or bicycle when you move to the UK, or another option is to invest in a car or motorbike to get around while you are living in the UK.
Here is a breakdown of the costs you might be expected to pay for all these options: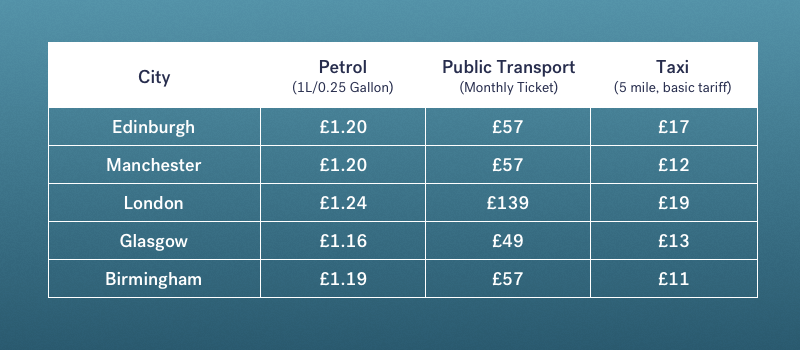 Health and fitness in the UK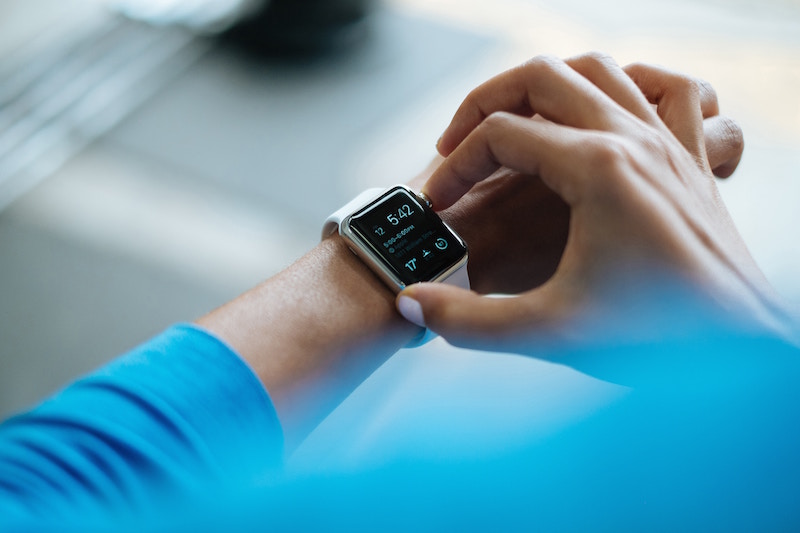 Outside of going to work, there is a huge choice of activities and hobbies to take part in throughout the UK and ways to workout. The latest trends in fitness are always quickly adopted in the UK, if they didn't originate there already.
Prices for joining a gym range from city to city in the UK, but generally you can enjoy working out indoors for a monthly fee of £37 in Edinburgh, £28 in Birmingham, £34 in Manchester, £30 in Glasgow and £69 in London according to expatistan.com while gym membership would cost you on average £39 per month in the capital Dublin.
For expats moving to the UK another Numbeo index to note is the Health Care Index which which ranks countries based on the quality of their healthcare systems. Here the UK had an impressive score of 74.24 taking 17th position compared with Ireland ranked down in 71st place, with an index of 48.19.
All this means that for any illness or medical treatment you (hopefully won't, but) may require while in the UK, you are in good hands.
How expensive is dining out in the UK?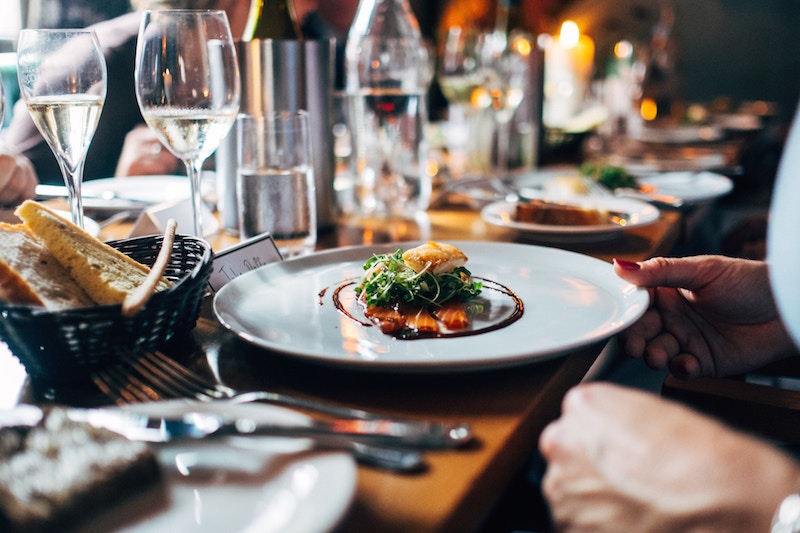 The UK has embraced and adopted all types of international cuisine to cater to the huge expat community living there. It is never hard to sample some tasty evidence of this in any of the major UK cities.
Dinner for two in an Italian restaurant in a typically expat area including appetisers, main course, wine and dessert will cost you in £64 in London compared with approx £57 in Manchester, £56 in Birmingham, £55 in Glasgow and just £49 in Edinburgh but £58 in Dublin according to Expatistan rankings.
The ultimate expat test in any city is the price of a cup of coffee. Your morning cappuccino in an expat area of London is £3.15 but is slightly cheaper in other expat cities: £2.88 in Edinburgh, £2.89 in Birmingham, £3.07 in Manchester and £3.09 in Glasgow and just £2.82 in Dublin (Source: expatistan.com).
It's not all work and no play when living in the UK. For a Saturday night at the movies, two tickets will cost you around £17 in Birmingham, £19 in Manchester and Edinburgh, £20 in Glasgow and £25 in London. These tickets would cost you £19 in Dublin and just £16 in Galway and Cork.
Is moving to the UK from Ireland a good idea?
With world-class healthcare, amazing weather and exciting growth in the tech and startup space, the UK will continue to be a top choice for expats from Ireland and offer amazing opportunities for anyone planning to move to the UK.
For when you need to transfer savings to the UK or send money from the UK to Ireland, CurrencyFair offer you the support, speed and great exchange rates for your money transfers.
Banks hide their fees in poor exchange rates, often charging as much as 3%-6% in excessive margins. CurrencyFair is around 0.45% away from the interbank rate meaning it's up to 8x cheaper for you to transfer money to and from the UK with CurrencyFair.
CurrencyFair is ideal for expats who need to:
Send regular savings home.

Relocate and setup expenses.

Make mortgage payments and other property expenses.
You get the best available rates for your international money transfers. If you want to request a rate, you can do so in our unique peer-to-peer exchange - request a rate and wait to get matched.
We hope this information will help you in your plans to move from Ireland to the UK - now you have some honest tips and advice to make sure you are getting the best start to your move overseas.
CurrencyFair specialise in being transparent and fair at all times - like when we are sending money overseas.
See how much you can save when using CurrencyFair to send money home from the UK.