This article was written by Kim Cristian. Kim is a freelance writer specialising in all things expat. Having spent many years living and working overseas, Kim has built up the insights and experience for the expat advice found on her blog.
The Cost of Living in Dubai in 2019
The March 2019 announcement of new visa rules means expats can now apply for 10 year visas in the UAE. In an effort to promote the UAE as a centre of excellence for innovation and technology, this new visa system will apply to investors, entrepreneurs, innovators and specialists in the fields of science and knowledge.
Dubai continues to be one of the top destination for expats from across the globe. It ranked in fourth place amongst expats surveyed by HSBC, with 73% of respondents stating that their earning prospects were better in Dubai than in their home country.
With the average monthly salary in Dubai coming in at approximately AED10,344 according to Numbeo, moving to Dubai looks very attractive when compared with an average salary of approximately 9,205 dirham (AED) in Dublin, AED 9,563 in London and AED 7,929 in Paris.
For an expat living in the UAE or for someone considering a move across the world to Dubai, we examine the cost of living in Dubai there in more detail.
Dubai Cost of Living Survey 2019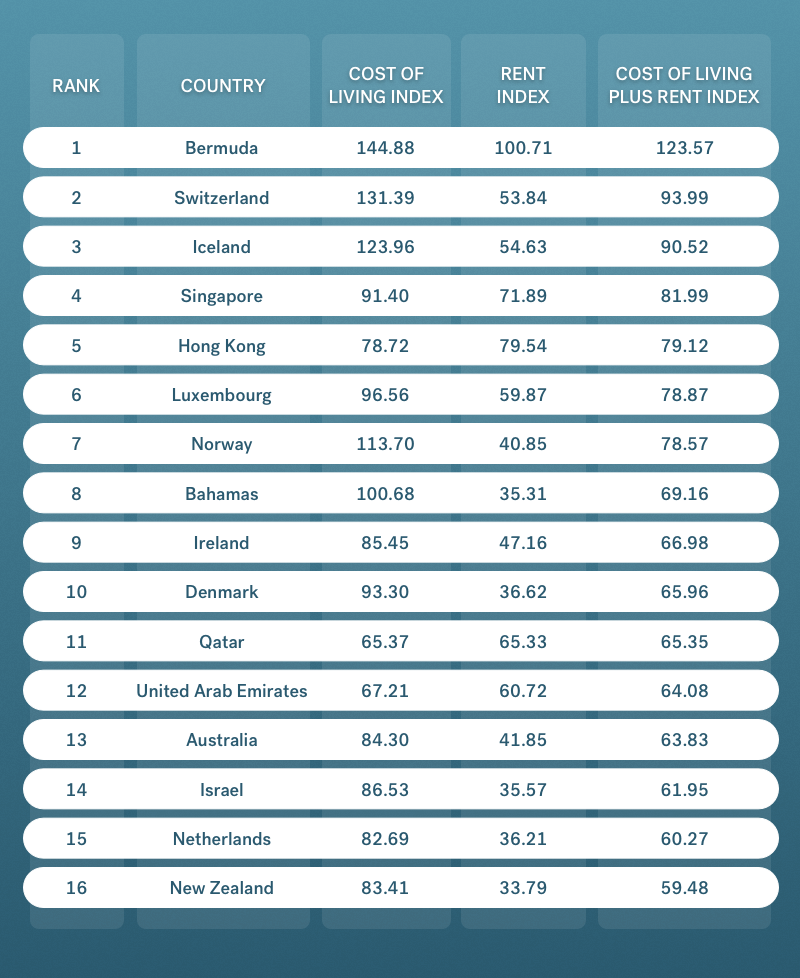 Dubai is ranked in 211th position at 51.85 in this 2019 Numbeo cost of living survey. It is rated as having a cheaper cost of living plus rent index over cities like Frankfurt (54.16), Abu Dhabi (56.62) and Toronto (66.03) however not as cheap as cities like Berlin (50.49), Strasbourg (49.81) and Ajman in the UAE (43.28). This index measured the cost of living which considers things like groceries, restaurants, transport costs plus accommodation costs like rent or a mortgage.
Another way to save money is to send money with CurrencyFair – our bank-beating exchange rates are up to eight times cheaper than a typical bank.
Property in the Dubai
Understanding the details of the cost of living in a country usually includes looking at the property market and budgeting what the rental cost is per month or if it is wiser to invest in property there.
We will examine the current conditions of the property market in Dubai.
Where do expats live in Dubai?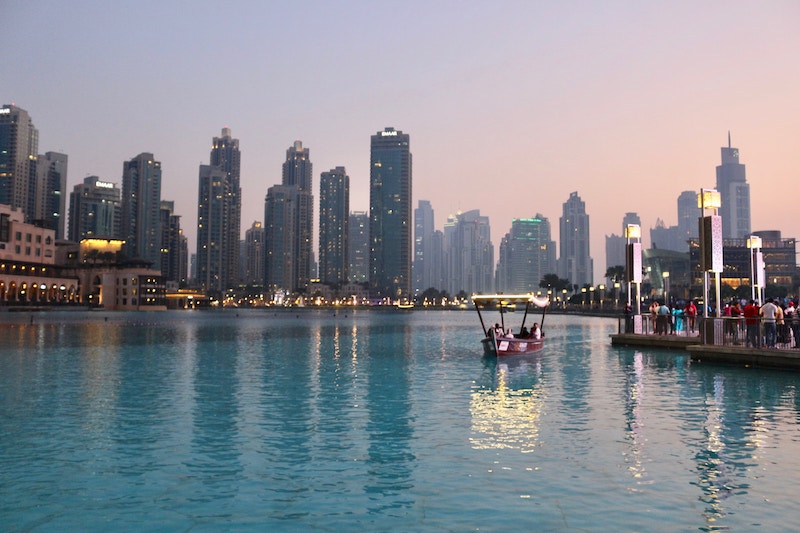 When planning a move to Dubai, expats are often drawn to the most well-known areas - Jumeriah, Dubai Marina or Dubai International Finance Centre (DIFC). However there are suburbs and small communities like The Lakes or the Meadows to discover there too.
In 2018 Mercer published a survey that ranked the 39 factors that made a city most desirable to expats. The results ranked the top 21 cities in the world and the top 5 in each region, based on quality of life.
Dubai featured in the Top 5 cities in the Middle East and Africa region. With the stunning "The World Island" artificial archipelago and Burj Khalifa to visit in Dubai, there are amazing activities, cultural attractions and a thriving expat community to enjoy.
How much does property cost in Dubai?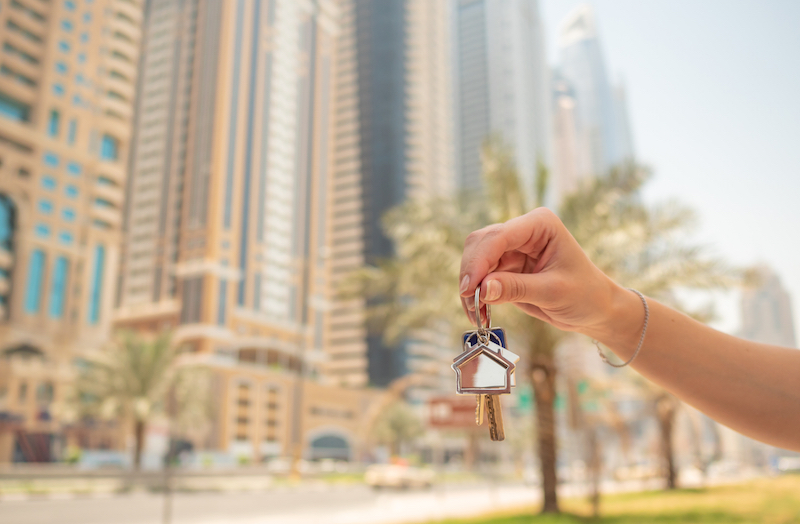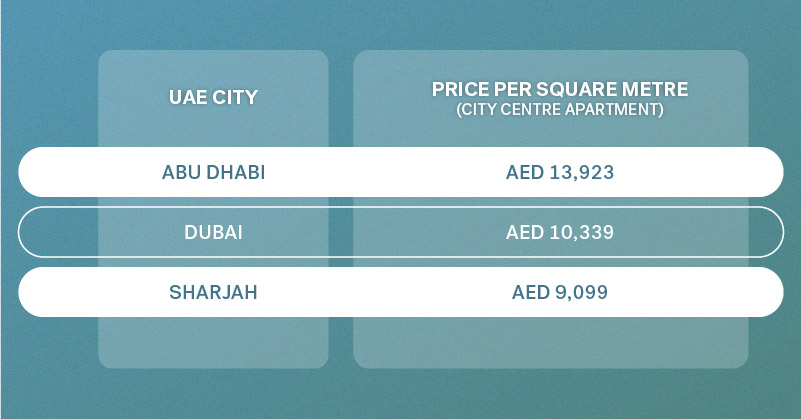 According to globalpropertyguide.com, property prices in Dubai began to soften in 2017.
Now in 2019, reports state that property prices in Dubai have fallen by 25% in four years.
This is good news for anyone planning on buying in Dubai. The completion of over 40,000 new homes in Dubai coupled with the terms to rent or buy in Dubai becoming more flexible means the market is primed for buyers.
How expensive is it to rent in Dubai?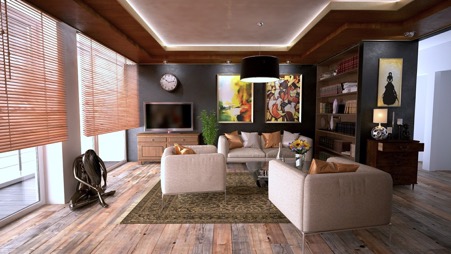 If buying is not in your plans, renting is a more affordable option for most expats moving to the UAE.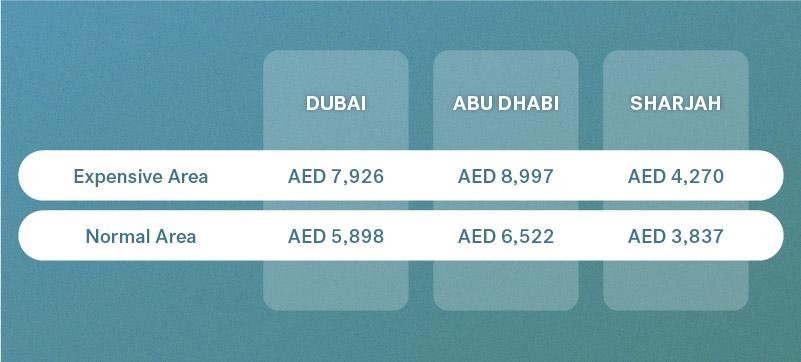 In January 2019, apartment rents in Dubai were reported to be down more than 40% from their mid-2014 peaks.
Anyone planning to rent in Dubai could find some good value in the Dubai rental market in 2019.
One-bedroom units in Business Bay are now available for AED65,000 compared to their rent of AED93,000 in 2013. In Dubai Marina, a one-bedroom is reported to rent for AED68,000, down from AED93,000 in 2013. In Deira a one-bedroom unit is now to be rented at AED48,000 and down from AED68,000. A one-bed is currently leasing for AED48,000 Dubai Sports City against AED74,000 in 2014.
Comparing UAE rent with expatistan.com, the cost to rent in an expensive area in Dubai is almost 12 percentage points cheaper at AED 7,926 than the expected rent to pay in Abu Dhabi (AED 8,997).
Rent is 46 percentage points more expensive in Dubai than in a city like Sharjah where rent is estimated to be AED 4,270 according to expatistan.com
Travel and commuting costs in Dubai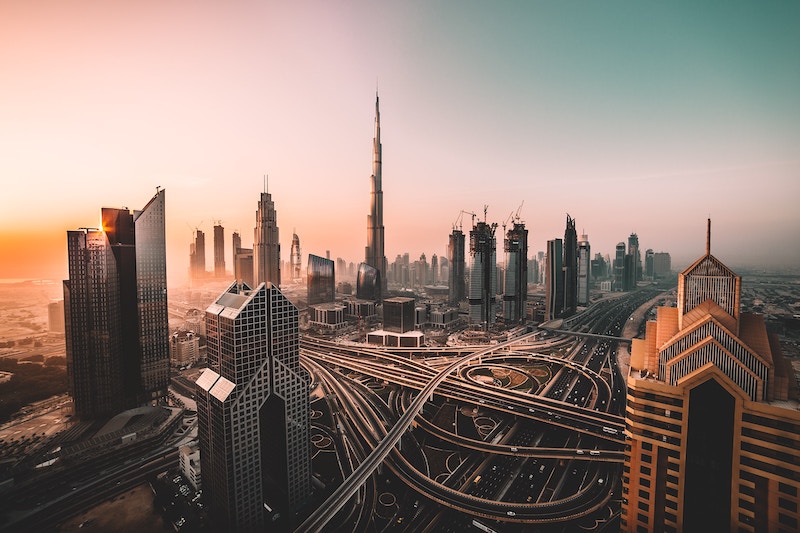 When comparing the Emirati cities for the cost of living, it is important to include into a budget the cost of commuting every month.
As with all things in the Middle East, even the metro in Dubai is record-breaking in its size and holds the Guinness World Record for being the longest driverless metro line.
For anyone who decides against investing in a car and they are living centrally, Dubai has an extensive bus network, marine transport and tram to get people where they need to be.
According to the dame Numbeo results, the average costs of commuting in Dubai are: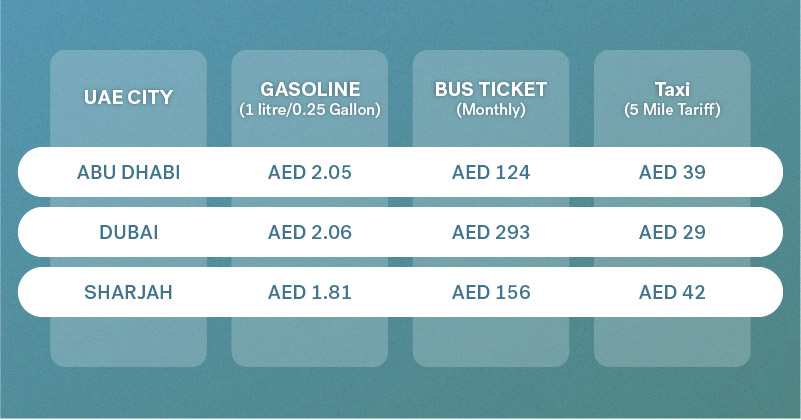 After choosing your accommodation type and finding a place to live, there are other monthly or weekly expenses you will have to consider depending on where you live.
Health and fitness in Dubai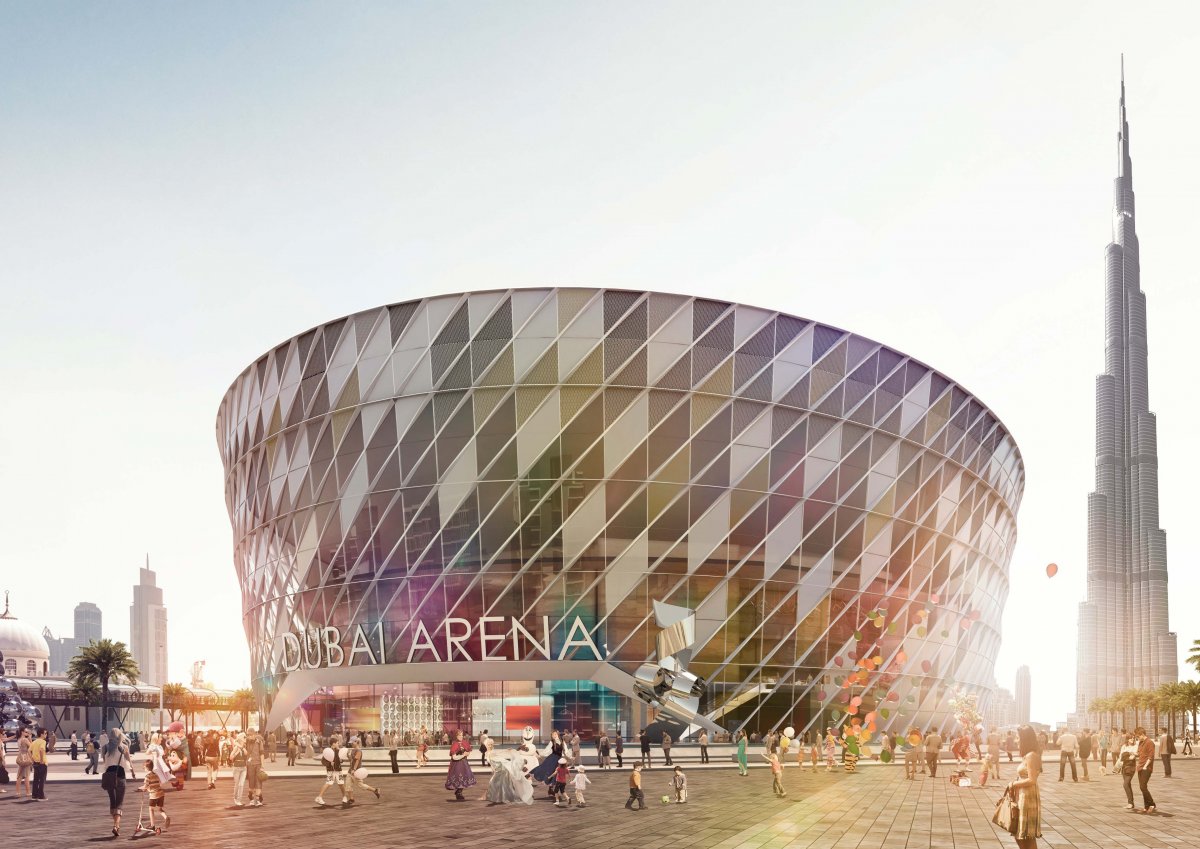 With Dubai Arena on course to open next month, it will be the largest multipurpose indoor (and most importantly air-conditioned) arena in the region with a capacity to hold up to 20,000 spectators. It will host major sporting and entertainment events including ice hockey (yes, ice hockey) and basketball games as well as international music concerts.
Al Nasr football club's Maktoum Stadium was expanded and redeveloped in time to host the 2019 Asian Cup football tournament, increasing its capacity to 15,000.
Outside of attending major sporting events in Dubai, tracking personal health is easy and gyms are widely available. Prices for joining a gym in Dubai range from city to city. Generally a workout indoors costs AED 526 per month in Abu Dhabi, AED 404 in Dubai and AED 278 in Sharjah according to expatistan.com.
How expensive is eating out in Dubai?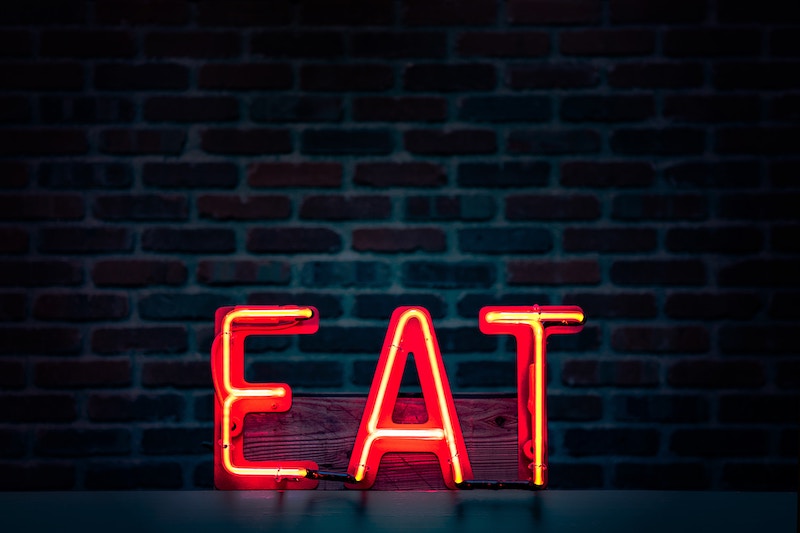 Another tasty way to enjoy life in Dubai is by dining in any of the award-winning restaurants there.
Dubai has embraced and adopted all types of international cuisine to cater to the diverse expat community living there. It is never hard to find a spot to try some tasty dishes in any of the major UAE cities. However the price paid might to harder to swallow.
Dinner for two at an Italian restaurant in a typically expat area including appetisers, main course, wine and dessert, will cost AED 359 in Abu Dhabi compared with approx AED 343 in Dubai and AED 308 in Sharjah according to Expatistan rankings.
The ultimate expat test in any city is the price of a cup of coffee. A morning cappuccino in an expat area of Abu Dhabi is AED 26 but slightly cheaper at AED 22 in Dubai and AED 22 in Sharjah according to expatistan.com data.
It's not all work and no play when living in Dubai. For a Saturday night at the movies, expatistan estimates that two tickets will cost around AED 83 in Abu Dhabi compared with the price of AED 81 in Dubai and AED 71 in Sharjah. So not a drastic difference there for anyone looking to escape into the air conditioning for 2.5 hours.
Is moving to Dubai a good idea?

With Dubai ranking as having one of the best quality of living standard in the UAE along with softening rental and property prices, Dubai will continue to be a top choice for expats worldwide and offer amazing opportunities for anyone planning to move there.
If transferring savings to Dubai or sending money from Dubai to another country, CurrencyFair offer the support, speed and value for international money transfers.
Banks hide their fees in poor exchange rates, often charging as much as 3%-6% in excessive margins. CurrencyFair is around 0.45% away from the interbank rate meaning it's up to 8x cheaper for you to transfer money to and from Dubai with CurrencyFair.
CurrencyFair is ideal for expats who need to:
Send regular savings home.

Relocate and setup expenses.

Make mortgage payments and other property expenses.
You get the best available rates for your international money transfers. If you want to request a rate, you can do so in our unique peer-to-peer exchange - request a rate and wait to get matched.
We hope this information will help you in your plans to move to Dubai - now you have some honest tips and advice to make sure you are getting the best start to your move overseas.
CurrencyFair specialise in being transparent and fair at all times - like when we are sending money overseas.
See how much you can save when using CurrencyFair to exchange your AED.
CurrencyFair Life Abroad is a series dedicated to helping our members navigate the wide world away from home. Whether it's calculating the cost of living in your adoptive city, navigating a path to citizenship or staying connected with communities from home, CurrencyFair shares member expertise across its network to help create a world of fairer financial services for all.