It's only a seven-hour flight from London to Dubai, but many British and Irish citizens end up spending years in the United Arab Emirates (UAE). The region is so much more than a winter getaway for influencers, too. The UAE. is an increasingly influential global hub for finance, media, hospitality and technology, and the plan is to double the size of the economy in the next decade. So if you're looking to join more than 120,000 British citizens currently living and working in the UAE, here's how to do it.
Sending money overseas
CurrencyFair supports international money transfers from GBP pounds sterling (and more than 20 international currencies) to the UAE dirham. Click below to find out how you can save money with bank-beating rates and fixed fees when sending money to your UAE bank account.
A brief overview of the UAE
The UAE refers to the country (capital Abu Dhabi), which is divided into seven emirates. Only three of these, Abu Dhabi, Dubai and Sharjah, have populations over 1 million. One of the most striking features of the UAE is that foreigners overwhelmingly outnumber Emiratis. In fact, roughly 90% of the local population is from overseas.
Getting a job in the UAE
The first wave of foreigners to move to the UAE from the UK discovered high-paying opportunities in nursing, teaching, engineering , and marketing, among others. While those vacancies still exist, they're now heavily oversubscribed and competition is fierce. As the UAE attempts to diversify its economy further, the best-paid opportunities today are for highly skilled workers in IT, fintech, e-commerce and corporate law.
Nowadays, it's quite rare to be offered a position while you're still in your home country. With this in mind, the UAE allows visitors to extend their visa for up to 120 days to accommodate their job search, interviews and resettlement. The best places to search for vacancies are on LinkedIn, job boards, or through local recruitment agencies.
If you are successful, be prepared to start at short notice (things move quickly in the UAE) and to forego any vacation or leave for the first six months. Note too, that if you leave a job before the contracted period, you could be penalised and liable for a fine.
Another option is to start a business in the UAE and take advantage of the region's 40 free zones where investors can enjoy full ownership and repatriation of capital and assets, among other benefits. You can set up a company and obtain your commerce licence in person or online in a matter of days. You'll need:
An economic licence for each separate business activity

A physical address in the UAE

Minimum shareholder capital of AED 50,000
You do not require an Emirati sponsor to create a business in the UAE, but many foreigners will use a local business consultant to assist with the process.
What visa do you need for the UAE?
You cannot work in the UAE without the appropriate work permit and employment visa. Luckily, there was an extensive overhaul in 2022 of the visa application process, and it's far more streamlined, digitised and simplified today.
Citizens of more than 50 countries can travel to the UAE without a visa and will receive a tourist visa on arrival, ranging from 30 days (UK, USA, Australia, Ireland, Canada) to 90 days (EU, South American countries). Other nationalities will require an entry permit sponsored by an Emirati citizen or business.
Residence visas for the UAE
Since the overhaul, there are now just 10 types of entry visas to contend with, falling into three broad categories.
Golden visa. Valid for 10 years, with no sponsor required. This visa is for investors or entrepreneurs who have deposited a minimum of AED 2 million in a local fund, business or real estate.
Green visa. Valid for 5 years and can be self-sponsored. You'll need a relevant degree or diploma, and must meet the minimum salary or savings requirements.
Standard work visa. Valid for 2 years and it's the employer who applies for the visa (as well as health insurance) on your behalf.
It is also a legal requirement to carry a biometric Emirates ID if you're living and working in the UAE. You'll need it to accomplish most tasks in the country, from opening a bank account to accessing government services. You can complete your application online and all you need is your valid residency permit, photos, and original birth certificate.
Note: It is illegal for an employer to seize or hold your Emirates ID card or passport, even though the practice has been widespread in the past.
Obtaining citizenship in the UAE
If you want to obtain the world's top-ranked passport, allowing you visa-free travel to all but 17 countries worldwide, your best option is to apply for a UAE golden visa first. Other routes will require you to speak fluent Arabic, be married to a UAE citizen, or receive approval from the Federal Authority for Identity and Citizenship. Typically, you'll need to be an investor, industry expert, eminent doctor or scientist, inventor, or exceptional creative talent.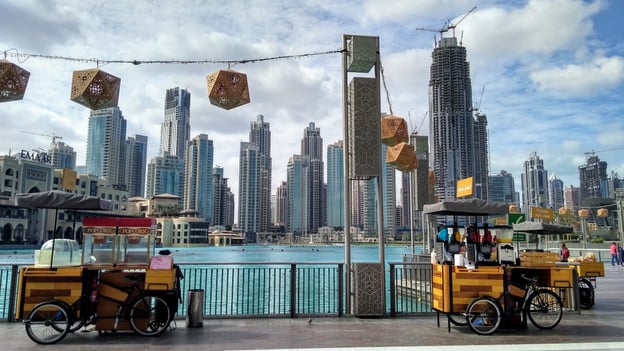 Photo by sabrina Ottaviani
Cost of living in the UAE
Dubai in particular is a landscape of superlatives and astonishing opulence. That doesn't necessarily imply that the streets are paved with gold (although they are impeccably clean). In fact, the typical salaries of the most sought-after jobs are relatively modest by UK, US, or Irish standards, while the cost of living can be high in certain categories.
Average monthly salary, according to GulfTalent
Sales Manager AED 14,000 (£3,000)
Engineer AED 10,500 (£2,200)
Teacher AED 10,000 (£2,100)
Nurse AED 8,500 (£1,800)
IT Specialist AED 8,000 (£1,700)
So what's the big attraction of life in the UAE? It's simple. You get to keep all of your earnings. There's no income tax and no corporation tax, although a 9% corporate tax rate will apply over AED 375,000 from late 2023.
That means your UAE salary goes a lot further, and (thanks to the double taxation agreement), your UAE earnings are not subject to taxation in the UK.
Important: It's a good idea to seek professional financial advice if you're returning to the UK after living and working in the UAE, especially if you were away for 5 years or less, since temporary non-residence rules may mean your assets are taxable on return.
Finding somewhere to live
If you're working in teaching, hospitality or healthcare, your employer may include accommodation in your package. Otherwise, you'll have to pit your wits and patience against the UAE's hyper-competitive property market, and accept that the bulk of your salary will probably go towards rent.
Average prices vary considerably between emirates and regions, with Dubai the most expensive, followed by Abu Dhabi and Sharjah. As a rough guide (courtesy of Livingcost.org), you can expect rent to be:
30% less in Dubai or Abu Dhabi than in London (average one-person rent $1,170 or $1,349 vs $1,730)

47% less in Dubai or Abu Dhabi than New York ($2,426)
Scour local listings or social media for vacant apartments and be prepared to move fast if you've viewed a place you like. Make sure you have your visa and Emirates ID ready, and a local bank account. It's customary in the UAE to pay rent annually, every six months, or quarterly. Traditionally, that was done using cheques (ask your parents) but the system is gradually being replaced by digital online payments.
Things to know about living in the UAE
There's no shortage of quirks to life in the UAE. Some of them are what makes relocating to the region so rewarding. Others can have serious consequences if you're unaware.
Since the UAE is a Muslim country, the working week used to include Sundays, with Fridays off. That has now been changed, however, to a more global business-friendly Monday-to-Friday (noon) regime.

You cannot drive on an international driving licence for longer than two months. As a resident, you'll need to change (relatively easily) to a local licence.

Getting into debt as a foreign resident is a criminal offence that can result in fines or jail time. However, most of the horror stories you've heard are probably from the bad debt years. The laws were amended in 2017 and you won't now automatically be forbidden from leaving the country after a bounced check or missed credit card payment. You can learn more about how to prepare for leaving the UAE here.
If we've piqued your interest, why not use the search menu to find more first-hand perspectives from bloggers living in the UAE? There's still time to take your place in one of the frontiers of the fourth industrial revolution, where demand remains insatiable (for now) for top international talent.
Sending money to the UAE
CurrencyFair supports international money transfers from GBP pounds sterling (and more than 20 international currencies - including EUR, AUD, and USD ) to the UAE dirham. Click below to find out how you can save money with bank-beating rates and fixed fees when sending money to your UAE bank account.
This information is correct as of February 2023. This information is not to be relied on in making a decision with regard to an investment. We strongly recommend that you obtain independent financial advice before making any form of investment or significant financial transaction. This article is purely for general information purposes. Photo by ZQ Lee.