CurrencyFair Versus UK Banks
"Where's the rest of my money?" Nobody likes getting short-changed, especially when the sums involved are significant. Before making your international money transfer it can pay to do some research into the exchange rates on offer and the fees involved.
At CurrencyFair, we're well known for offering great rates that save our customers money. We decided to do a little digging into just how much our users can save compared to banks in the UK.
How Much Will I Receive When I Transfer £10,000 To Euros?
We asked the same question to four leading UK banks: Halifax, HSBC, Lloyds and Natwest. If I transfer GBP10,000 to EUR, how much will I receive? We compared the exchange rates quoted and transfer fees with CurrencyFair. The results were eye-opening.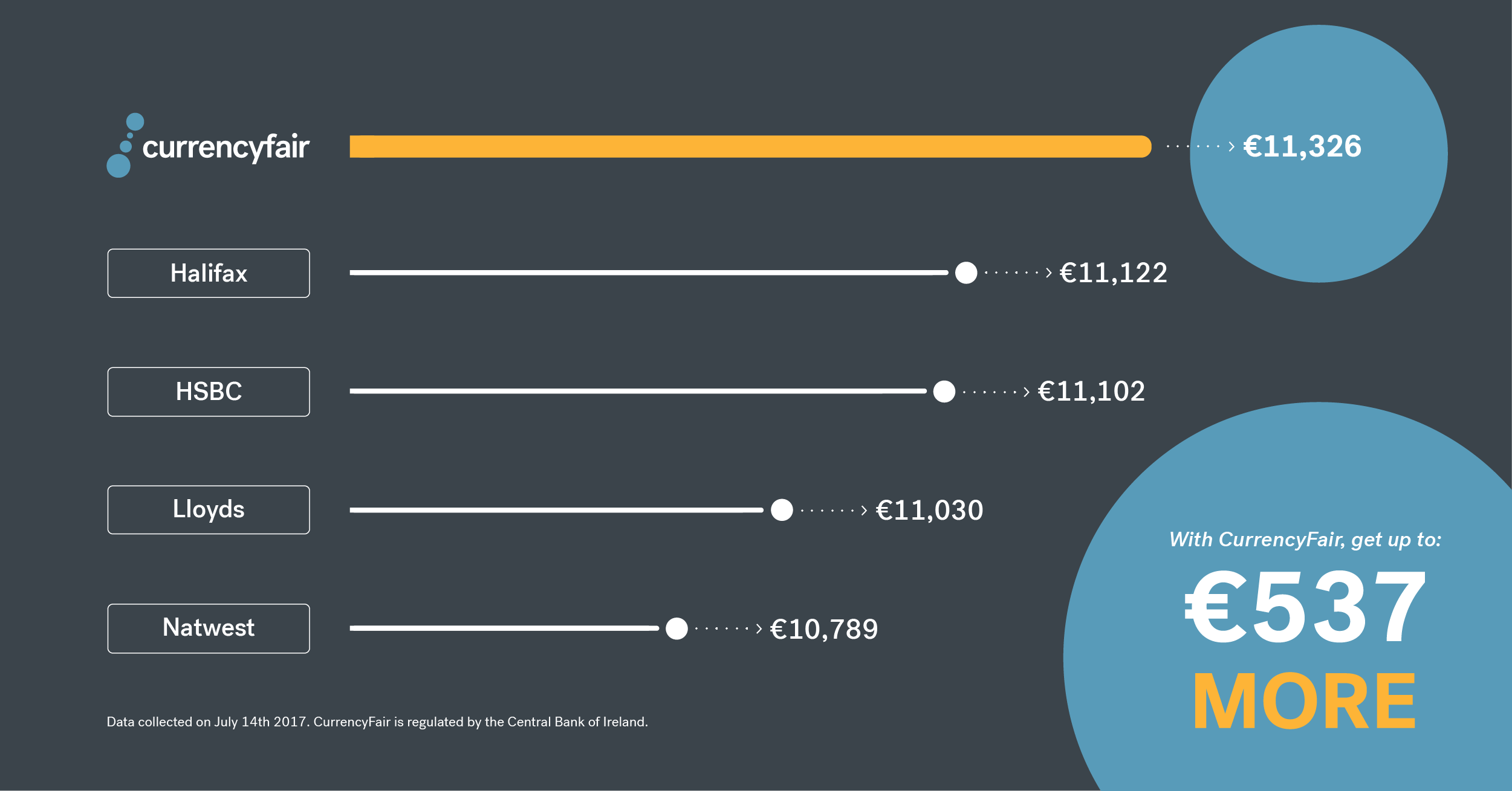 Data collected on July 14th 2017
Compared to the banks, a CurrencyFair customer would receive up to €537 more on a £10,000 transfer. These are tangible savings for anyone looking for a good deal.
[To put this into context, you can book return flights from London to New York for around €300 with certain airlines.]
My Bank Claimed To Offer 0% Commission
Many banks and money transfer companies claim to have "no fees" or "0% commission". Their real charges are secretly hidden in the exchange rate.
Banks exchange currency with each other according to the real exchange rate. However, they keep this rate to themselves and provide a worse rate to individuals like you. Let's see how much this hidden charge ends up costing you.
The GBP → EUR real exchange rate was £1 → €1.138

Transferring GBP10,000 at this rate should give you €11,380

But, the worst performing bank (Natwest) only offered £1 → €1.082

Instead you received just €10,820

You were secretly charged €560
How Much Are Currency Transfer Fees?
On top of their hidden charge in the exchange rate, many banks also charge a hefty fixed transfer fee. In our survey, this fee was as high as £30. At CurrencyFair, we are transparent about our fees, and believe everyone should get a fair exchange rate.
For GBP→EUR transfers, we charge a small average margin of just 0.41% on the real exchange rate, and a fixed fee of just €3. With CurrencyFair, a customer converting £10,000 would receive €11,326. That's more than €200 more than the best performing bank in our survey, and a whopping €537 more than the worst.
Why hand over so much of your hard-earned money to the banks? Sign up with CurrencyFair and join hundreds of thousands of customers getting a fairer exchange rate.