"Loyalty to the big four for money transfer costs Australian consumers"
ACCC final report: Australian bank customers not treated fairly
It's been over nine months since we last reported on the findings of the Australian Competition and Consumer Commission (ACCC). The ACCC was tasked with investigating leading Australian banks (NAB, WestPac, Commonwealth and ANZ - also known as the "Big Four") and how they overcharged on foreign exchange services.

Considering Australian consumers send an estimated AUD $21 billion in personal money transfers overseas each year, they have missed out on significant savings because of this–savings worth an estimated AUD $150 million to send US Dollars and Pound Sterling with the big four banks during 2017-2018 alone, according to the With such substantial figures making the headlines, the final findings of the banking inquiry have been eagerly anticipated.

The ACCC were asked by the Royal commission to investigate the supply of foreign currency conversion services (FX services) in Australia and their >final > report was published on 2 September 2019. One area examined was international money transfer (IMT) services, especially important since the tendency is for larger amounts of money to be sent in each IMT. The report examined:


the pricing of and costs associated with supplying the inquiry services (for example an IMT)

the nature and extent of competition between suppliers of the inquiry services

the existence and extent of any barriers to entry or expansion

whether there were factors limiting the ability of consumers to effectively compare inquiry services and prices
While the report found evidence that new players and providers of online money transfers are:



delivering better consumer outcomes through lower prices and improved service, the ACCC sees "scope for more robust competition, particularly in the supply of international money transfers (IMTs)."
So how exactly did the "Big Four" fare in relation to IMT services in this final report? The compared the exchange rates for common currencies like AUD to USD or GBP and the fees charged by traditional banks versus online money providers in Australia. Their verdict:



"they were never the cheapest option based on price data we collected."
For anyone wishing to send money from Australia, this is good news because this is exactly why CurrencyFair was created­–to allow consumers and businesses to avoid unfair IMT fees and poor exchange rates of traditional banks, either in our peer-to-peer marketplace or right away at a rate that is typically much better than what is on offer with typical banks.


The Sydney Morning Herald highlights a positive consequence of the Royal Banking commission. The introduction of challenger online providers has triggered a "competitive response" from the banks, causing them to shake up decades-old practices in the services they offer.
How free are "no fee" transfers?
The ACCC's final report also highlights the unhelpful practice of banks to announce their IMT's as being "fee-free":
"Services advertised as [having] 'no fee' can give the illusion that the price is lower than it really is. [...]Prices are [also] presented in different ways. For example, some suppliers display the exchange rate and note that fees may apply. Others quantify the fees but leave the calculation of the currency conversion and total price to consumers. "
The ACCC identified how describing IMT's as having no fee can mislead and customers may be unaware that this fee can also be applied in other ways for example via the exchange rate. Long before the banking commission's report, CurrencyFair shared our own thoughts on this practice here.
The Future
The fallout from the Royal Banking Commission will continue to unfold. Last month, it was revealed that the Australian Securities & Investments Commission (ASIC) was seeking up to AUD $530m worth of fines from NAB. The bank's "Introducer" program was investigated as part of the Banking Royal Commission and was discovered to have helped contribute to fraud by bankers. This is just one of 86 investigations undertaken by ASIC following the results of the Royal Banking Commission.
The work done by the Commission heralds a new era for traditional banks in Australia and places a focus on benefitting customers first and foremost–something CurrencyFair fully supports especially in relation to IMTs.
The ACCC report recommends four ways banks can improve how prices are presented to consumers for international money transfers:
How banks in Australia can improve money transfers
Up-front correspondent banking
"IMT suppliers should take the necessary steps to inform their customers up-front of the total price of an IMT, including correspondent banking fees."

✅ With CurrencyFair: our customer experience team advise on other local banking fees that may apply to a CurrencyFair money transfer. These are charges that are outside of our control. But when we can control or charge a fair fee, we do. Details for each currency sent in or transferred out can be seen on our processing page.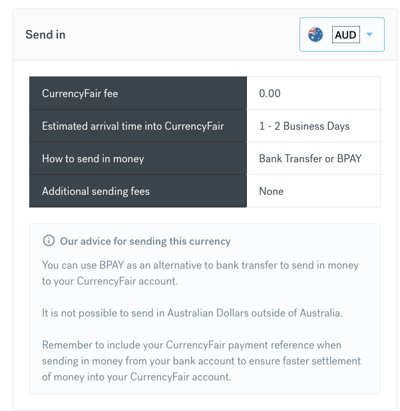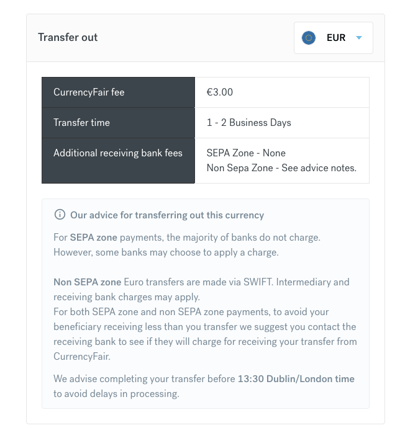 Online calculator
"Suppliers of IMTs and foreign cash should offer digital tools on their websites to calculate the total price for those services for consumers."

✅ With CurrencyFair: our calculator shows the fees we charge to send in money to be exchanged and the final amount to be transferred in the currency they require: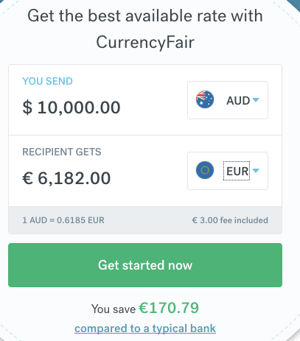 Foreign cash prices on rate boards

"Foreign cash suppliers should ensure that they provide price information that will enable an in-store consumer to understand the total price of foreign cash transactions."
✅ With CurrencyFair: Our live calculator shows the best available rates and customers can see the final amount the recipient receives: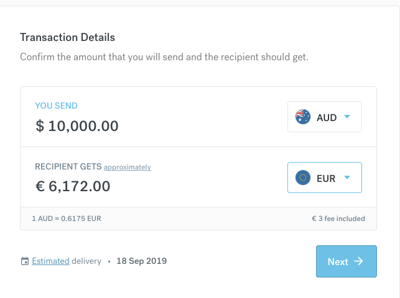 Disclosure of international transaction fees
"Merchants offering goods and services online to Australian consumers should inform consumers if they are likely to be charged an international transaction fee."
✅ With CurrencyFair: we like to be open about the fees and charges that our customers can incur at all stages of their money transfer with CurrencyFair. Where required, we advise to check the fee an intermediary bank might charge to send money to us to exchange. Our pricing page helps customers understand when and where they could be charged.
Benefits of the Australian banking inquiry
One positive outcome from the enquiry has been the setting of a date by which an overhaul of the "Big Four" banks is to be completed by. Treasurer of Australia Josh Frydenberg wrote an opinion piece in the Australian where he expressed his desire to,



"[...] shape up Australia's banking sector by the end of 2020 in the wake of the damning royal commission into the industry."
In order to achieve this, the Australian government has promised an additional review in three years' time to assess the success of the changes the ACCC and the banking inquiry wish to see and the need for further reforms, if any.

However, three years is a long time and perhaps the results and recommendations are all happening a little too late for Australian consumers. Trust is gone and now the Australian public know exactly in what way, and by how much, they were overcharged on their international money transfers. As Frydenberg explains,



"The public's tolerance has been exhausted as they now expect, and we will ensure, that the reforms are delivered and the behaviour of those in the sector better reflects expectations."


Our Australian customers have enjoyed real savings on their money transfers since 2010 and by 2022, we will have been offering superior service and better value on money transfers for over a decade. Three years is more than enough time for people to discover money transfers without compromise with CurrencyFair.