When you're planning on moving overseas with your pets, careful consideration early on will make the process as stress-free as possible - for you and them. The logistics of physically getting your pet abroad safely is only one element. There's also local vaccine policies and pet passport regulations to take into account, which can vary from country to country. Some countries, such as Australia, New Zealand and Malaysia, quarantine incoming pets. Others ban certain dog breeds outright, including mastiffs in Germany and pit bull terriers in Britain.

Moving your pet overseas can also be a very expensive process - transporting your pet abroad can cost anywhere between several hundred to several thousand euros. This article will cover everything you need to know to get your pet abroad safely, so all you need to think about next is how to teach them to siéntate or 坐下 (sit down!).

Before we get into transporting pets overseas, it's worth noting that if you're sending money abroad, CurrencyFair is up to eight times cheaper than using a bank. You can send money overseas at competitive exchange rates, from any device, at any time, and get same-day transfers on most major currencies.
Local rules and regulations on bringing pets into the country
First, look up the local pet import laws of the country you're moving to. This is crucial, as failure to comply with the conditions for your destination's import certificate can lead to your pet being held in quarantine, subject to additional medical testing, exported or even euthanised - all at your cost. Below is a list of Government webpages with their rules and regulations for bringing animals into the countries:
How to move abroad with your pets
Most countries require that your pet has a registered microchip and specific vaccinations against transmissible diseases like rabies. These rules and regulations are published on government websites for your destination countries, so familiarise yourself with these as early in the process as you can.

European Union (EU) rules make it relatively simple to travel within the EU with dogs, cats, and ferrets as they qualify for a European pet passport under the EU Pet Travel Scheme. Travel requirements for other pets, such as birds, reptiles and small animals, have their own requirements. You can get an EU pet passport from any authorised vet, who will also help you ensure you have the correct microchip and vaccination details. While a photo of your pet is entirely optional for the pet passport, we encourage it for the simple fact of how dang cute it is. If you do go for the cute photo option, it must only show your pet, be no bigger than six centimetres wide and four centimetres long, and should show their colour and markings clearly.
What to expect from your vet visit
Ensure that your veterinarian is registered to handle pet passports and vaccinations. Some countries, like Australia, provide information packs for vets that outline their responsibilities in the process.

For the EU pet passport, for example, your vet will give your pet an overall health check and confirm they're old enough - generally older than 12 weeks of age. Your pet will then need to be microchipped and registered, if they're not already, and be given a rabies vaccine at least 21 days before you travel. Your vet will be able to advise you of your destination country's requirements, but it is advisable to be prepared with your own research as well.

This would also be a good time to talk to your vet about making your pet as comfortable as possible for the trip - they may prescribe anti-nausea or anti-anxiety medication to calm them during transit. If you're planning to travel by air, health certificates are required by airlines and need to be issued 48 hours before travel by your vet.
Pet relocation services
If the prospect of handling all this by yourself seems daunting, there's always the option of using a pet relocation service. Like an old-school travel agent, a pet relocation service can provide you with assistance handling your pet's health and import certificates, travel requirements, booking flights, ensuring they travel in the right kennel or carrier and coordinating any necessary quarantines.

Ensure you're using a reputable pet relocation service by checking if they're registered with the relevant authorities, like the International Pet and Animal Transportation Association (IPATA).
Taking your pet abroad by boat
Transporting pets overseas by boat is one option to consider, particularly if you're planning to relocate with your car. You will still need to adhere to pet import laws, but for owners that don't want their pet to travel by air (such as those with older dogs or dogs with breathing difficulties), this option allows your pet to still accompany you when you move. For example, if you're travelling from the United States to Europe your pet can travel with you on the Queen Mary 2, a luxurious commercial ship.

In Europe, you have the option of several ferry services that are pet-friendly. Depending on the service provided, your pet may be able to travel with you in a designated animal kennel area or remain locked in your car. Bear in mind that the Blue Cross, a UK-based animal charity, advises to never leave your animal unattended in a vehicle due to the health risk posed by rapid temperature increases.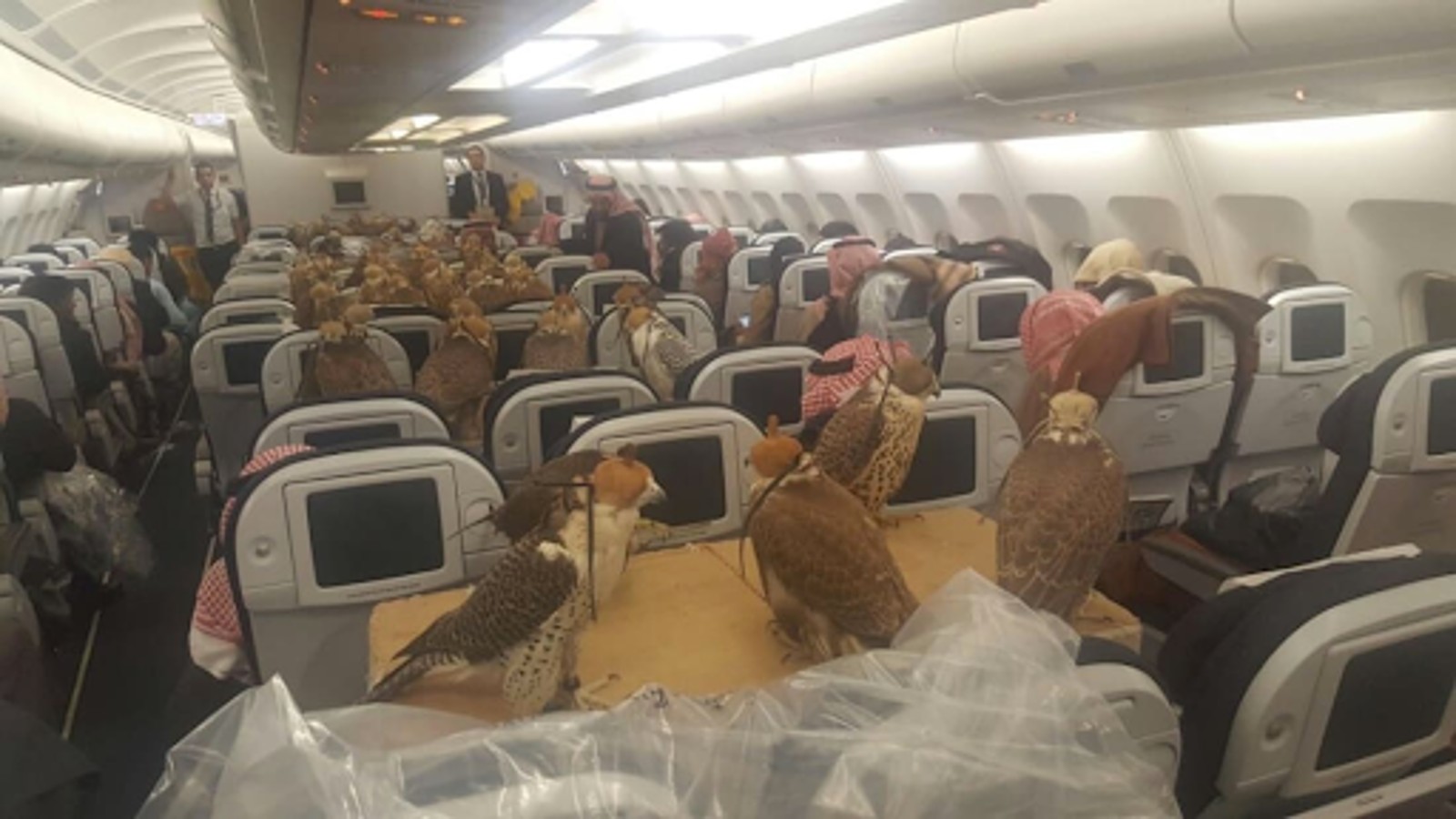 Image source: CNN.
Taking your pet abroad by plane
Airlines are getting increasingly accommodating about taking animals on board - for a price. Rules vary depending on the airline, but generally, your pet can fly in the cabin with you if they are small enough to fit in a carrier under the seat in front of you. The weight of the carrier may also be taken into account. Travelling by plane with your pet can be broken down into two categories:
1) Flying with your pet in the cabin
With this option, you get to stay with your pet onboard and be able to keep an eye on them during the flight. Not all airlines allow this and rules are subject to change, so it's worth checking with the airlines that service the route you're taking. For example, Ryanair doesn't allow animals on flights at all (except for assistance and guide dogs). On the other hand, while Emirates only allows dogs and cats to be transported in the hold, it makes an exception for falcons when it comes to cabin travel - leading to the ludicrous photo above.
2) Flying with your pet in the cargo hold
Safety concerns are one of the first things to come to every pet owner's mind when it comes to air travel. There's no shortage of horror stories about beloved pets suffering or even dying in transit, but statistically, it's actually quite rare. According to an article published by Forbes, in 2021, over 440 animal passengers died, sustained injuries or were lost during or immediately after airline travel between 2010 and 2020. This was based on data from the US Department of Transportation (DOT). While this may sound like a lot, by comparison over 4,400 people died on airlines between 2010 and 2020. Naturally, a lot more people fly than animals but it's reassuring to acknowledge that it's the worst-case scenarios that float to the top as news.

For your pet to travel in the cargo hold, you will either check your pet in in their flight-approved carrier with the airline or a specific animal check-in area. While you make your way through the airport and onto the flight, your pet will be loaded into the cargo hold, secured in an area separate from the rest of the luggage. Some airlines might provide water to your pet during the flight so it's best to enquire with them and. If allowed, include food and water bowls attached to the inside of the carrier yourself.

The specifications vary from airline to airline, but in general, the temperature in the cargo hold can be adjusted by the pilots based on the "load" - in this case, keeping your pet from over or under-heating.
Moving internationally with old pets
With all the moving parts and risks, travelling internationally with pets can certainly be a stressful experience. Planning can help, but if you have a particularly squishy-faced or older dog and a long journey, you might have to consider the difficult decision of rehoming them to a trustworthy new home. This will be the case in the minority of situations. For most, you might have a stressful day or so of travel and then it's time to spoil your pet to help them settle into their new home abroad with their favourite person - you!

Planning on moving overseas? CurrencyFair can save you money on your currency exchange, with rates up to eight times cheaper than the bank.
This information is correct as of 2 December 2021. This information is not to be relied on in making a decision with regard to an investment. We strongly recommend that you obtain independent financial advice before making any form of investment or significant financial transaction. This article is purely for general information purposes.