With many of our favourite shops temporarily closing their brick and mortar locations due to Covid-19, much of our Christmas shopping will instead be done online this year.

Traditionally Black Friday referred to a day of post-Thanksgiving deals in the US, but in recent years the phenomenon has reached European shores. This year some retailers are offering Black Friday deals across the entire month of November.

With Christmas inching ever closer and in anticipation of some postal delays in the lead-up to the festive season, it's time to start making your list and checking it twice.

Here are our top three tips for maximising your savings when shopping online:
1. Shop around
When you have your list at the ready, it pays to shop around for the best deal. If something catches your eye on a marketplace such as Amazon or Asos, check out the brand's own website to see if you can save by ordering directly from them.

Some retailers may try and tempt you with the promise of big savings, but just because something is on sale doesn't mean it's a good deal. Instead, look at the price itself and compare it with other retailers' prices to see who's offering the best value for money.
2. Use websites and apps
A handy website to use if hunting for sales on Amazon is camelcamelcamel.com. It shows you the price history of any product so you can gauge how much of a deal you're really getting.

Be on the lookout for discount codes, too. Retailers might offer a discount if you sign up for their newsletter for example. If you have your eye on something specific, follow the brand on social media as they may share exclusive discounts with their followers. Check out sites such as Groupon to source deals and discount codes on everything from paintballing trips to personalised photo prints.

Consider installing a browser extension such as Honey as well. Honey will automatically look for discount codes when you're shopping online and it takes the hassle out of manually trying to find valid codes.
3. Beware of hidden costs
As Amazon doesn't have a warehouse in Ireland, Irish shoppers are instead directed to their UK website.

There's one problem with that - currency exchange.

For the shopper whose primary currency is euro, is it better value to pay in EUR or convert to GBP at the Amazon checkout?

For a Kindle worth £171.41 for example, if your card is in euro, Amazon will give you the option to either pay exactly that in GBP, or it will offer you a conversion of €194.74. The FX rate offered by Amazon's Currency Convertor is 1 GBP to 1.136 EUR.

However, the mid-market exchange rate at the time of comparison was 1 GBP to 1.107 EUR, so the £171.41 was really only worth €189.79. Although it's only a fiver in the difference, all those fivers add up over time.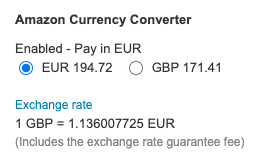 If you just pay in sterling however, you could be caught out by your bank's FX rate on the conversion, so it's worth checking what rates your bank offers and if they charge any currency conversion charges.

The best way to save money when purchasing goods in a different currency is to get a fee-free card. However, you should be aware that cards such as Revolut may charge a markup on the weekends to account for any potential currency fluctuations.
Bonus tip: Buy local
Buying local is great for the economy and environment, and it's also a fantastic way to source unique, thoughtful gifts for your loved ones.

Check if your favourite businesses have moved online, and discover your new favourite businesses by searching through local business directories. It's also worth keeping an eye on both regional and national news outlets to find great gift ideas.

Follow local artists on social media to keep up to date with their wares and search websites such as Etsy to support independent creators. Etsy is a global website, but it will let you know when a seller is local.

For even more money in your pocket this festive season, CurrencyFair has rolled out a special Refer a Friend offer. We've boosted our referral bounty to €50 - so every time you refer a friend, you'll both get a free €50. There's no limit to the number of people you can refer!


T&Cs apply, €50 referral bounty offer will end at 23:59 31 December 2020 and will revert to €30.


FX comparison data was gathered at 17:16 on 6 November 2020