This May, refer a friend for a €50 referral reward (each!)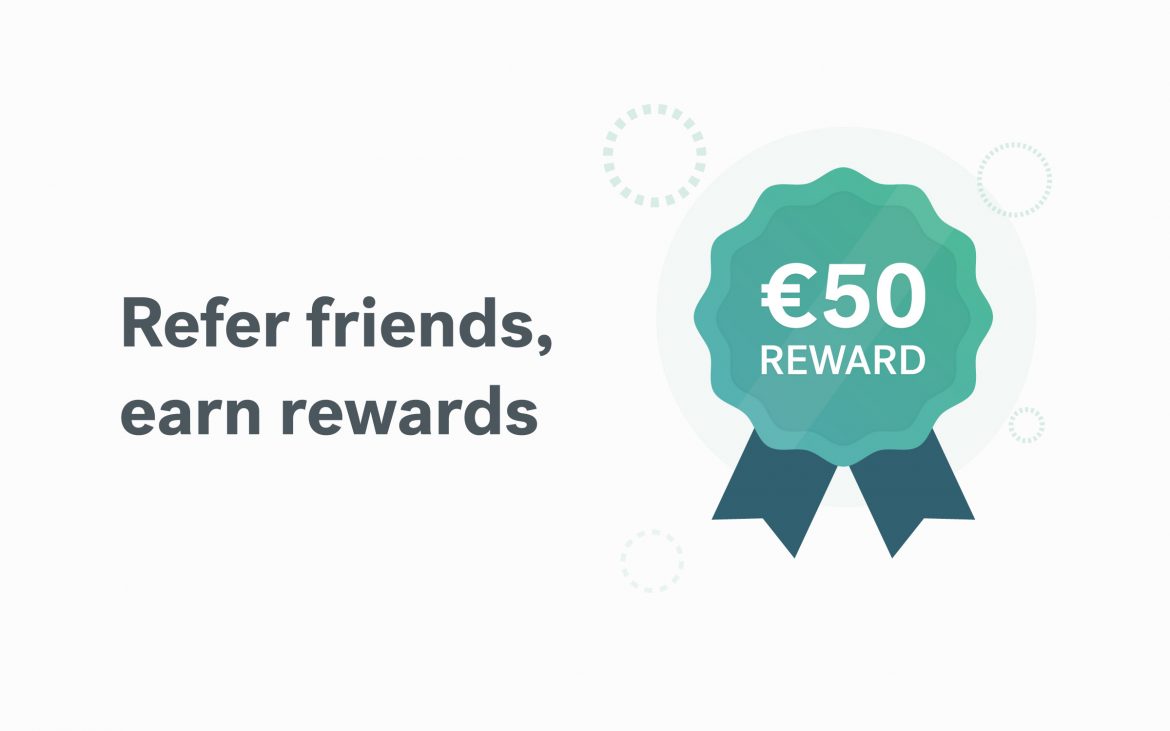 May day, may day, our boosted "refer a friend" bonus has been extended for another month! Know someone who needs to send money internationally? We normally reward referrers and referees with €30 each all year long, but this extra bonus is here until 31 May 2021.
Refer a friend to CurrencyFair with a valid referral link and when they qualify, you each get €50 added to your CurrencyFair account.*
Not only that but there is no limit to the number of friends you can refer!

How do I refer friends to CurrencyFair?
Just email your valid referral link to your friends, family or colleagues that can benefit from a great rate on their money transfers right away.
Customers in Singapore can earn S$80. Find out more.
Customers in Hong Kong can earn HK$450. Find out more.
Where do I find my referral link?
Log in and you will see where to go to find your link and refer friends. There is a button on the left of your dashboard.
If you are using our Android or iOS apps, you will find your unique link in 'Account' under 'My referrals'.
When do I get my referral reward credited to my account?
OK, so you shared your link with your friends and you're feeling pleased at your proactive productivity. What's next?
You don't need to do anything else but wait for your friends to sign up with your valid referral link and meet our minimum threshold amount plus the other requirements outlined below. Then you will each get the referral bonus added to your account.
Your referral bonus will be clearly identified as such in your Account Statement view.
What's the minimum threshold amount to qualify?
The threshold to qualify is €2,000 or the currency equivalent.
When does this current referral reward offer end?
This offer to earn €50 when someone qualifies with your valid referral link ends at 23:59 (GMT+0) 31 May 2021.
To qualify within the timeframe, your referred friend will have to transfer the minimum threshold (€2,000 or the currency equivalent) out from their CurrencyFair account before 31 May.
However, we reward referrers and referees with €30 each all year long. So no matter when you refer someone to CurrencyFair, you are earning a great reward.

How many friends can I refer to CurrencyFair?
This is the best part, there is no limit to the number of friends you can refer with a valid link.
So the sooner you start referring the sooner you could be earning!
What are the terms and conditions?



The €50 referral reward only applies to new CurrencyFair customers.
The €50 referral rewards are issued when a person referred via a valid referral link or link carries out a single trade and transfer out using CurrencyFair by 23:59 (GMT+0) 31 May 2021. The amount required to qualify for the €50 referral reward is €2,000 minimum (or the equivalent of minimum €2,000 in the relevant currency) at the time of a transfer out, which must be completed by 23:59 (GMT+0) 31 May 2021.
Referral reward returns to €30 after offer ends.
Offer ends 23:59 (GMT+0) 31 May 2021.
Please don't use your link in a commercial context.
Read more about our referral program here.
It is also important to note that:
Customers must be fully verified and activated before any rewards are issued. This reward cannot be used in conjunction with any other new customer offer. We reserve the right to revoke rewards if we deem that there has been inappropriate use of the program. You may not create more than one account in order to invite yourself; invite others that have created duplicate accounts; use the referral program in any way that breaches any applicable law or regulation; or any way that is unlawful or fraudulent.