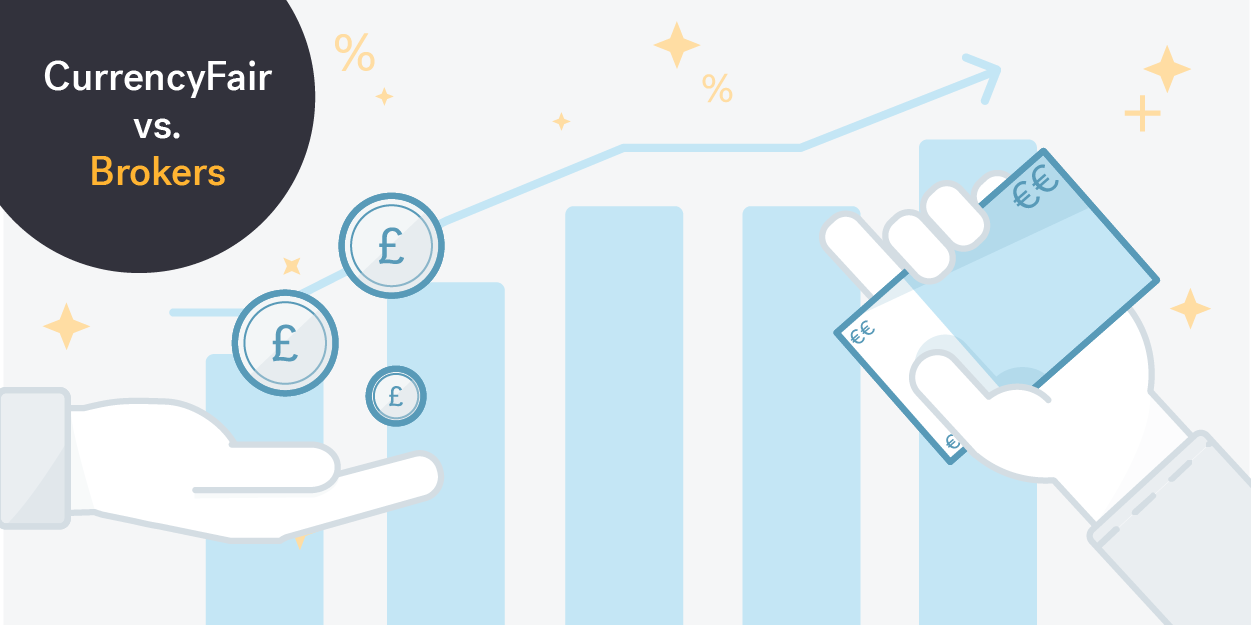 5 reasons CurrencyFair offers a better deal than exchange brokers
CurrencyFair users will be familiar with our great exchange rates and how these translate into better value when compared to high-street banks. How about currency exchange brokers?
What are they? How do they work? How do they differ from CurrencyFair? Read on to learn how CurrencyFair offers a better deal than exchange brokers.
What is a currency exchange broker?
Currency exchange brokers (also known as foreign exchange brokers, or FOREX brokers) offer currency exchange services to consumers and businesses.
They differ from banks in that they focus solely on foreign exchange, however they use a similar business model. They buy currency wholesale from the market at the real exchange rate, and sell it to their customers at a different rate. Their commission is the difference between the prices at which they buy and sell the currency at.
Take the market stall vendor with £500 in his pocket. He buys one hundred t-shirts at £5 each from a manufacturer, then sells them on at £8 each, pocketing a cool £300 profit. Brokers act in the same way. The greater the difference between what they pay for a currency and what they sell at, the greater their commission.
Let's take a look at the key differences between CurrencyFair and currency exchange brokers.
What is the difference between CurrencyFair and a currency exchange broker?
1. Consistent and transparent pricing
CurrencyFair helps its customer access the real exchange rate, while charging a small transparent margin on each transaction. While this charge varies depending on which currencies are being exchanged, the average margin is around 0.45% of the overall trade. In addition there is a small fee of €3 when transferring money out of your account.
Crucially, our pricing is consistent. This means that you'll get the same great offer whether it's your first or fifty-first transaction.
The rates offered by brokers can vary widely, and the offer you get can depend on many things. Introductory offers that give you a competitive rate might draw you in, however beware of getting stung by hefty commission on your second trade. Ultimately, brokers are commission agents who have monthly quotas to hit, so always make sure you're getting a fair deal.
2. The best rates for every customer
When using a currency broker, unless your transactions are on the scale of a billionaire tycoon, then you can be sure that someone else is getting a better deal than you. Put simply, brokers give the best deals to their best customers.
With CurrencyFair, customers transferring small amounts are able to access the same great exchange rates as offered for larger transactions. This is the way our exchange platform has been built, and one of the core values at the heart of CurrencyFair.
3. Save time with CurrencyFair
Most brokers operate through a call centre. That means you need to pick up the phone, speak to your agent and place an order. But wait! Are you sure you're getting a good deal this time round?
Before confirming the transaction, do you have time to phone around and compare the rate you've been offered? Nobody likes getting fleeced, but double checking can take time.
With CurrencyFair, you know what you're going to get: consistent pricing, with a great rate, on every transaction. Our average margin is just 0.45%, so you can be sure you're getting a competitive rate. What's more, because we are an online platform, you can save time by placing your order with just a few clicks via our website, or on the move with our mobile app.
4. Get a better rate through our marketplace
CurrencyFair's innovative marketplace allows you to request the rate at which you'd like to transfer. Should the exchange rate reach this level your transaction will be completed, resulting in a bigger rate and a better deal.
Not all brokers offer this option. Those that do will give you a one-time only offer, which you will have to accept while on the phone. Having the flexibility to request a better rate than currently available and manage those transactions through an online platform, can be very useful particularly when the need to transfer money isn't immediate.
5. Our goals are aligned with yours
Exchange brokers make their money by taking a commission on your transactions. In the long run, they need to strike a balance between extracting as much commission from you as possible, while keeping you coming back for more. When it comes to ripping you off, they play the long game.
As we've already outlined, CurrencyFair makes money by charging a small and consistent margin on your transaction. As our charges are consistent, our goal is to build a long-term relationship with every customer, helping them to transfer as much money as possible.
The only way we can maintain strong relationships with customers is by consistently offering great rates, a simple user experience and first-class customer service. By doing this, our goals are completely aligned with yours.
Sign up with CurrencyFair today and join hundreds of thousands of customers getting a deal on their money transfers.